Giselle from Texas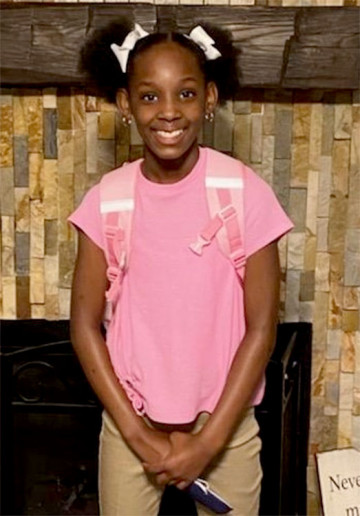 Age 10
Gender Female
Location Texas
Ethnicity African American
Case Number 95706
My Siblings Va'ron
---
Giselle is a young girl who loves to play with baby dolls, Barbies, and LOL dolls. She is your "typical girly-girl" and enjoys getting her fingernails painted. Giselle likes to dance and to watch movies. She is very creative and loves to participate in art activities such as painting, coloring, and Play-Doh. Giselle loves attending school and playing with her friends. She is very social and considers herself to be popular at school. She does well in school and makes good grades. Giselle has a great sense of awareness and enjoys learning new things. When Giselle grows up, she wants to be a doctor! Giselle also enjoys attending church with her family members. She responds well to supervision and structure within her home and school environment. Giselle's favorite food is McDonald's. She also loves to eat spaghetti, shrimp, and fish. Giselle has a beautiful, loving personality! Giselle will be a great addition to a loving and caring forever family.
Giselle and Va'Ron are a pair of siblings who are very close in age who have shown remarkable resilience and have very bright futures! They share a strong connection with each other and enjoy spending time together, especially with some of their shared interests such as basketball. Both children are protective and caring of one another, and they will always be looking out for each other. They enjoy going on outings and participating in fun activities such as going to the park and going out to eat. The siblings ask about each other frequently and look forward to when they see each other virtually and in person. Giselle and Va'Ron both have unique personalities that leave a lasting impression with everyone they meet. They are both very caring youth who are ready and eager to find their forever family who they will create a special connection with and continue to grow with together as a family. Va'Ron loves being a big brother. He is a sweet boy who enjoy playing with his toys, playing basketball, and spending time on the tablet. Giselle is a talker. She's a "girly girl" and is always fashionable.
Giselle will benefit from a family who can offer her patience and consistency. The family will provide Giselle with the assurance that they are going to support her and provide her the time that she needs to adjust. She can be shy and reserved at first but can create a bond quickly. Her family will encourage Giselle to do well by rewarding positive behaviors and helping her to better understand appropriate social skills and coping mechanisms. Giselle responds best to a highly consistent and predictable environment with clear rules. Her family will also ensure that she can continues any necessary interventions regulate her behaviors and continue to grow.