Joe from Texas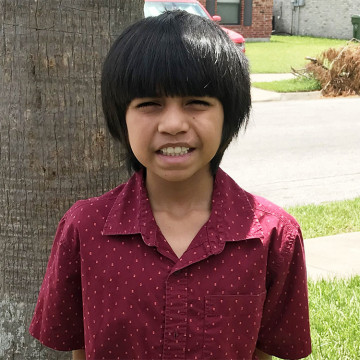 Age 11
Gender Male
Location Texas
Ethnicity Hispanic
Case Number 86699
My Siblings Jose
---
Joe Michael, who prefers to be called Mikey, is a cheerful child. He is active, full of energy, and likes to be the center of attention. Mikey likes spending time with his older brother and participating in activities they can do together. The two boys can often be found playing video games together. Outside, the two can often be found competing in a game of paintball or fishing. A few of Mikey's other interests and hobbies include, running, exploring the outdoors, and going on long walks and hikes. Mikey enjoys school and his favorite subjects are science and social studies. He is ready to meet his forever family!
Joe Michael "Mikey" and Jose "Joey" are very close. They love each other very much and are protective of each other as well. Like most siblings, the brothers have sibling rivalries, but they still support one another. Mikey is sweet, talkative and enjoys meeting new people. He really likes being the center of attention and always has a smile on his face. While Mikey is outgoing, Joey is more laid back and tends to be on the quieter side until he warms up to you. However, he is friendly and likes to interact with others. Both children enjoy spending time doing outdoor activities, such as paintball and fishing. Indoors, they can often be found playing video games.
Mikey's will benefit from a two-parent home with a loving mother and father. He needs an active family who will encourage his participation in activities and help him build on his interests and talents. His forever family will be patient, active and is willing to adopt him and his brother.