Keishawn from Texas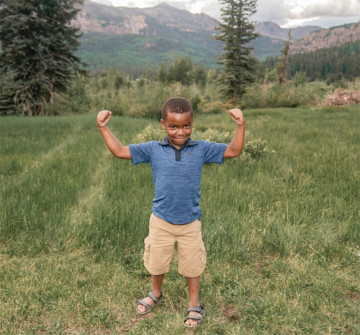 ---
Kieshawn is the oldest boy in his family and the third child in the sibling set. Kieshawn is described as a sweet and active child. He has a contagious smile and loves to make people laugh. He is friendly and easily bonds to new people and enjoys group settings. Kieshawn likes to play a protective role with his siblings, however, he also tends to enjoy pestering his siblings. Keishawn has a passion for sports, especially football. He hopes to be a football player when he gets older. Playing football and enjoying other outdoor activities helps Keishawn get his excess energy out. In his free time, he also enjoys playing with his Hot Wheels cars or his Paw Patrol toys. Kieshawn can be easily distracted at times.
Tatyana, Anyeisha, Keishawn, Kashe, and Kei'Maurion are a sibling group of 5. The children all get along well with each other and enjoy spending time together. While all the children have different interests and goals, they all strongly share the belief that family comes first and that they should always look out for each other. These children are siblings by nature but friends by choice. Tatyana is the strong leader. Anyeisha is the empathetic caretaker. Keishawn is the silly but protective big brother. Kashe is the "princess" of the group. Kei'Maurion is the sweet, affectionate baby brother who everyone helps take care of. Every child in the group plays a pertinent role in their family dynamic that makes this sibling group bonded like no other.
Keishawn's forever family will be one who lets him be active in the community and involved with sports. He would like a family who attends church or other regular outings. His family will be understanding during his adjustment period and allow him to show his full potential. Kieshawn will thrive in a structured, safe, home environment. Kieshawn would like to be part of a big family and would like to live with someone who can adopt him and his siblings together.