Maiki from Texas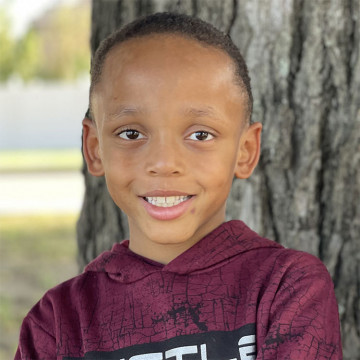 Age 6
Gender Male
Location Texas
Ethnicity African American
Case Number 95406
My Siblings Aaniyah
---
Maiki is a fun-loving and energetic boy that loves playing sports. He enjoys going to the park and burning off some of that energy. Maiki's favorite sports are football and basketball. He would enjoy being a part of a sports team one day. He enjoys playing outdoors with his sister and his friends. Maiki's favorite toys to play with are trucks and bubbles. He is very creative when it comes to playing with his Legos. He enjoys superheroes. His favorite superhero is Superman. Maiki loves to eat. Some of his favorite foods consist of crackers, pizza and cupcakes. He enjoys music. He especially enjoys playing the drums. Maiki enjoys laughing. He laughs really hard whenever he is tickled. Maiki would do well with the support of a loving and active family. Maiki will be a great addition to a loving and caring forever family.
Aaniyah and Maiki are very loving and very close. They enjoy playing with each other but they also enjoy their alone time. They enjoy watching movies and playing games together. Aaniyah's favorite game in UNO. They both enjoy listening to music. Aaniyah loves to sing and listen to music. Maiki enjoys playing the drums. Aaniyah is very protective over Maiki and is constantly looking out for him. Maiki looks up to Aaniyah and will at times mimic her behaviors. Maiki enjoys playing sports. His favorite sports are basketball and football. Aaniyah's favorite sport is soccer. Maiki and Aaniyah love to laugh. They both make each other laugh by being silly and making funny faces. Aaniyah and Maiki enjoy desert. Aaniyah likes cake and ice cream, while Maiki enjoys cupcakes.
Maiki's forever family will be resourceful. His forever family will use positive reinforcement techniques with parenting and provide a structured environment with clear boundaries. His family will also be active and enjoy the outdoors.