Shadale from Texas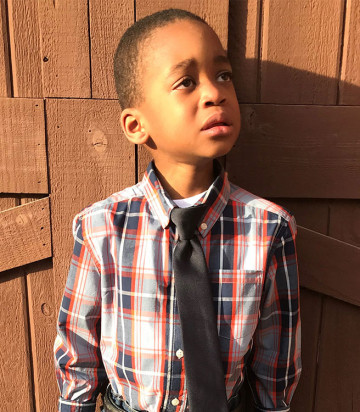 Age 8
Gender Male
Location Texas
Ethnicity African American
Case Number 90822
My Siblings Noah
---
Sha'dale is a sweet and loving boy. He enjoys being in the presence of others. He prefers small group interaction. He is diagnosed with Autism Spectrum Disorder and faces several challenges, such as needing assistance with daily tasks. Although he is nonverbal, he understands what is being said to him and is able to follow directions. He likes playing with anything that moves, makes noise, or lights up. He is a hands on kind of boy. He loves to be silly and will frequent engage you in handshakes and wants you to play with the toys he's playing with. He has a huge smile that lights up the room. He is a gentle, kind-hearted boy. He is very bonded with Noah. He likes dogs and being able to go outside and explore.
Noah and Sha'dale love each other. Noah is always hugging on Sha'dale. Noah and Shadale love bear hugs. Noah will look at Sha'dale and they giggle together. Noah and Shadale will share their snacks with each other. Noah and Shadale enjoy each other's company and they enjoy watching cartoons together. Noah and Shadale like playing interactive games together such as tossing a ball back and forth or jumping on the trampoline together. Noah is more talkative and expressive than Shadale, but they both will look at each other and smile and laugh. Noah and Sha'dale have an evidently strong bond with each other. Both boys love playing with each other, by themselves, swimming, and being outside.
Sha'dale requires a family that would be willing to adopt him and his younger brother, Noah (age 5), together. His forever family will be a loving and patient family who is able to work with him on meeting his developmental milestones. A family who has experience with children diagnosed with Autism Spectrum Disorder would best meet his needs. He would do well in a big and busy family, or a small and quiet family. He would do well with other kids in the home. He needs a family who is committed to caring for him long-term.