Trey from Texas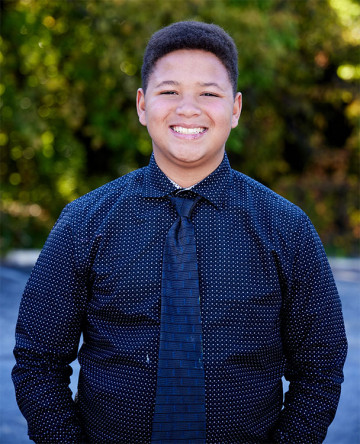 Age 14
Gender Male
Location Texas
Ethnicity NA
Case Number 85120
My Siblings Tavaris
---
Trey is an active and sweet teen who loves being outside and participating in all sorts of outdoor activities, especially sports, such as football and basketball. He enjoys having the freedom and space to play and engage with other kids his age. He is a bright, outgoing, and confident youth who loves and thrives on social interactions. Trey likes superheroes, board games, video games, Legos, listening to music, and collecting Pokemon cards. He enjoys arts and crafts and plays the clarinet, which he is quite proud of and loves to share his talent with others. Trey is an avid fan of Harry Potter and the Beatles. He has a lot of compassion and likes to show affection to those he knows by giving them big hugs and high fives. Trey displays leadership skills and is very vocal with his thoughts and desires. He has so much love to give others and is ready to find a forever family!
Trey and Tavaris are a sibling group in need of an adoring and dedicated adoptive home! They are very bonded to each other and have a connection that cannot be broken. Trey and Tavaris love being twins but they are also starting to come into their own identities and personalities. The boys can be competitive with each other but can also work well together. They especially enjoy building Lego sets, playing board games and video games together, or simply watching a movie together. They both enjoy playing sports such as a game of catch with a football or shooting hoops. They have also both recently really gotten into fishing and love doing it together. Although the boys are twins and are close, they are also especially unique, and both are excited to find a home that will celebrate their shared needs and their individual interests. They deeply desire to be adopted together and are ready to find their forever family. They deeply desire to be adopted together and are ready to find their forever family.
Trey is an active youth with lots of energy and will do well in a two parent home. He will excel in a family that supports him playing sports and participating in various activities. His forever family will provide structure and stability that will encourage him to learn and grow. His forever family will provide a highly nurturing environment as well. Trey is sensitive to his surroundings. His forever family will be patient with him as he adjust to his forever family. His forever family will support his need to be comfortable by helping him adjust to changes in his routine.