[font=Arial,Helvetica,Sans Serif]http://groups.myspace.com/hrhalumniI just started a little alumni group on myspace. So far we have 2 :) members. It's specifically for people who stayed at Hillcrest Receiving Home in Southern California. If that's you then your welcome to join! Maybe you'll meet up with old friends! Or vent/reminisce a little.Take Care![/font]
I was in Hillcrest several times in my young life from 1962 through 1974, so were my 5 siblings. I remember being placed in a crib the first time and briefer memories other times, what I remember most was that first bath they give you,and the really good food, I could not believe how it tasted so good and warm and I got to eat till I was full, It was oatmeal with real milk and toast with butter and jelly and OJ. I felt like I was in heaven, my clothes they supplied me after my bath fit and smelled so good, I loved the tennis shoes and the tee-shirts. I loved helping to feed the babies and bathe the toddlers I earned enough points to buy myself a baby doll. I remember the closet in the big room with the pool table that only big kids could use. The closet full of toys candy and hair ties we could buy with points, I never could figure out how I earned all my points! I remember the TV room with all the chairs and constantly hearing "NO PC" no physical contact not with each other or the workers, what kids need most gentle safe touch was never allowed. I remember the school and how no one made us go and the yard overlooking the freeway and CMH, The big kids used to tell the little kids that when you grow up that is where the kids will end up, that was scarey and I dreaded it for years, The last time I was there I was 13, always being sent back home each time the abuse and neglect was worse than before, some foster parents were nice but I never felt a part of the family, some homes were down riight cruel but I survived. My final childhood destiantion was Boys and Girls aid in El Cajon and I have been searching for my friends from there for decades to no avail, if you are one of them please contact me,I left there at 17 almost 18 and have had quite a journey through life fostering and adopting once I got over my abandonment. My goal was to love my children so they could feel love and not go through thier whole life without it. i believe I have suceeded as my kids have gentle tender love in thier souls, I get told more than once a day by my kids that they love me and I return the words and feelings back to them. Everything happens for a reason and mine was to love and be loved eventually.:clap:
Advertisements
I was in Hillcrest in 1967, as were some of my siblings. Does anyone recall a young male, probably age 14 or 15, nicknamed the "chicken name?"
I was at Hillcrest on at least 3 occasions. The first time I don't remember as I was too young. But I remember going there about 1981, at two different times. The first time we were there, we were there for about 2 months. My sister, 10 yrs and me, 11 yrs, got placed in foster care in Poway. We got taken out of that home about 4 months later because they hit my sister and the neighbors heard the screams from my sister and they called the child authorities and we got picked up from school one day. Best day ever! felt like a day of liberation! Went back to Hillcrest, was there for probably about 4 months (so it seemed) and then got placed in the Crutchfield home, where I was later adopted.I remember a lot of things about Hillcrest. I remember a lot of kids came from all backgrounds of life, each with their own struggles. My sister and I came with the title of "neglected". While that might mean a lot of different things to a lot of different people, we felt fortunate that that was all we were in there for. My mom lost the house due the recession of the 80's, so we had to sleep in our car for a while. While the timetable is debatable, I am pretty sure we only had to do that for about 6-8 months. The child authorities said about 2 years. Anyhow...I remember making some pretty good friends. I don't remember names. Basically when I got placed, it was like that world got left behind. When I went back, everyone was new. I do remember one kid who was still there when we returned. I remember a black guy named Ray Gun. I guess he was a counselor, but he was cool. I remember the clothes closet, the dorm style rooms, the common room, the outside activity area, standing at the fence staring down at the 163, wondering where my mom was. I also remember that if you got caught jumping the fence to get out, you had to wear pajamas for a week as punishment. Happened to my sister. I never jumped the fence as I was too scared of getting caught. I remember the clothes they gave you to were. Jeans and t-shirts and blue shoes. The food was good. They always seemed to be doing things with us. The let us go on walks around the area down to Balboa Park. I remember going to the drive in movies. I remember seeing the Howling and the Children. Why on earth they took us to see those movies, I don't know, but it is what it is. And I remember the Christmas party they threw for all the kids. I remember a gift I got was a little radio with a built in flashlight and the first song I heard was "Don't Stop Believing". I kept it for the longest time. Wish I still had it. I remember going to school on the campus there. They had a building or a couple of trailers for classrooms. The teachers were cool. I remember meeting a girl that lived in the apartment complex next door and talking to her through the fence. I had a good experience there. I wish I had the presence of mind at the time to keep the names of people that I met. But life was so on the move for most of us that it was impossible to write or call. No one had a permanent address and you had no idea where you and anyone would end up. I hope everyone turned out ok. I know I did. Not my sister so much, but that is a whole new story. I consider all these things a part of my life a positive experience. They made me who I am now. And a cool story I get to tell my daughter one day.
My brother and I were at hillcrest in1983 or 84. I was about 8 or 9, my bother was about 13. I have also tried to get my records from hillcrest and they said there are no records of me being there. I was told that the kids there, before they switched over to computers, were lost because we were on paper records only. I would love to see the records. I remember the night we were taken in we had to speak with a counselor, and they wouldn't let me and my brother talk with them together. My brother went first so he knew what they would ask me. He came out he told me to lie about questions of being hit and abused by our mother because they wouldn't let us go home (we were young and scared). I always wondered what they wrote about us in that big folder. Lol
Advertisements
Just found this Forum and can't wait to come back and read everything that' y'all have written. Dennis, Oklahoma City, Jan 28, 2016
Dennis Heaton, did you go to hillcrest? If so, when were you there?
I was at Hillcrest in 1978 with my brother and two sisters. I remember hearing a lot about Hillcrest as a kid in San Diego. It was considered a very scary place synonymous with juvenile hall and that scared me a lot as I was basically a juvenile delinquent raising hell all over downtown San Diego. Our family were drifters who spent many nights in movie theaters, parks, "borrowed" abandoned buildings, etc. Well, we were living at the Blue Bell Motel on PCH when my mom and stepdad decided to move to Hawaii. When the welfare check came, they bought tickets and took off, but left us with a baby-sitter in Linda Vista. Ten kids in the baby-sitter's home, constant stream of men hooking up with two of the lady's daughters, and a lot of drug use and physical abuse. When she heard nothing from my parents in Hawaii, she reached out to my grandma in Seattle to have use taken off her hands, but it was too late. We were seized from the home by child services and went to Hillcrest. HIllcrest was definitely institutional, but not as bad as I feared. The caretakers were nice. We when to a Padre game, movies, ice-skaingWe earned points by being good and helping out, so I was a kitchen helper and did my best to stay out of trouble. My sisters were sent to the younger unit, so I did not get to see them at all once we went to HIllcrest, so that was sad. I remember going to a small school there, but don't remember learning anything. I liked the playground, which overlooked the canyon. Very high fence. I also remember everyone asking, "What are you in here for?" Everyone talked about what had happened to them as if they were the ones who did the mis-deeds for which they were in the home. Child abuse, molestation, neglect, parents in jail, etc. For me it was "abandonment." Sad to know that kids take the blame for the shit their parents do, but I guess I did. I thought, if I had just been good, maybe my mom would have taken me to Hawaii, instead of dumping me off with the crappy baby-sitter. We were at Hillcrest for a couple of months until Child Services found a foster home in Poway for all four of us. That would be another blog post, but they found my mother in Hawaii and charged her with abandonment. My step-father had taken off. After two years in the foster home, we went to live in Hawaii with her. Another long story, but two years later she took off again and we went to a foster home in Hawaii. Haven't heard anything from my mom since then.
This is my first time providing my email info to any online group but I came over on this website with Hillcrest Receiving Home friends and family and I was over whelmed with what I read.My story (our story), my Brother and I (Don & Tom Maurer) was in Hillcrest Receiving Home for many months. I can't recall the dates or years but my closest guess is during 1970-1973. Saying that, we spend at least 9-12 months there at one time and 2-4 Months there after... We seen most every child that came in, go out to foster homes or back to their parents during our stay. What I remember the most about Hillcrest was the share-rooms, bumper pool table, the point system and buying things from the closet. I loved to weave that plastic line together too. Making key rings? Can't remember the name of the stuff, but I enjoyed making things with it. You made like knots which turned into a rope like plastic. I don't think I have ever had a better Christmas in my life since being in Hillcrest. We received lots of toys. I was so surprised about the love of the San Diego Community for us kids. The place was all decked out with Christmas trees and lights. I'll never forget those memories so long as I live. I made MANY friends over the years there, with other kids and counselors. I can't recall their names, but every child there was treated fairly and loved. Even if we were locked in a bldg. I too remember looking over HWY 163 and hearing the jets take off from San Diego Airport (during the rainy days) and wishing I could be on one of them. I would think about trying to jump over the fence, but my Brother kept telling me that we'll find a home together. Don't worry. What a Brother he turned out to be. I miss him so much, but he committed suicide 10 years ago. I truly don't think he ever got over the years of when we were children and he always felt bad. Depression got him! Beleive it or not, My Brother Tom and & ended up as Foster Children with one of the School Teachers from Hillcress Rec. Home. Her name was Elanor Chodos. She taught middle & high school students there. What a blessing it was to finally have a place to call home. I can't deny that their love was unconditional. They could relate to our situation, dealing with our problems. Best foster parents we had out of the 3-4 families we were part of. Her husband was the nicest person on earth. She was too, in her own way! " RIP" Elanor & Adolph Chodos. Great, great people!!!For all of you who that may have known my Brother or I, I truly wish you all well and know that we all were much more luckier than children today when I look at the world today. It's so sad. Keep your Children close and NEVER let them down. Never put them in a situation like we had to deal with. Unconditional love is forever! Good or bad!!! Love them for who they are... Unconditional means just that. Don't let them down.Take care and thanks for reading my memories of Hillcrest Receiving Home in San Diego, CADon Maurer
Advertisements
Rainbow Sheep...I sure did. I was there several times over a period of 3 years in the mid 1960's. I have to admit that I forgot all about this forum. I am going to come back here in a few days and share my story. Someone mentioned "Mama Simms," and I can say I definitely remember her, and Donna, and Jim Wilson, and the Secretary...Vicki. There are several others I can "visualize," but can't remember their names. As far as the "kids" go...I remember the Ruiz brothers and Barbara Glover, and their was little Donnie, maybe 6 years old, whom everybody loved. Need to call it a night. Take care. (Feb. 26, 2018, 10:30 PM)
Hello. Gosh this thread began in 2006 and myspace no longer exists. I wonder if we started a group on facebook if that would be a place we could have a HRH alumni of sorts. I actually was a keynote speaker recently, and shared my experiences in foster care with a large group of teens. I came across this photo of the day I left Hillcrest Receiving home. My journey began there at the age of 2 when my mom left me in their parking lot, and it ended there at the age of 17 when I was able to contact her through a reunion service while living in Hillcrest for the umpteenth time. I have photos of many of my friends and the staff there, and letters as well as fond memories of the relationships I formed there with staff and kids alike. I was googling about Hillcrest because I am planning to be in San Diego and although I know it no longer exists, I thought it may be cool to bring my kids to where a huge part of my life story took place. I found this thread while I was googling it. My First time there was in 1978-1979 and my last time there I was 16-17 and it was 1992-1993. I had several visits in between. I think it would be nice to have a group for us to share our experiences and connect. I did find a group on facebook but it was created in 2014 and no members or activity. I sent a join request to see what will happen.If there is interest in creating a group, let me know how to invite you on facebook and I will create one :) If anyone has a better idea, I am happy to hear it!Here is a photo of the day I left Hillcrest for the last time.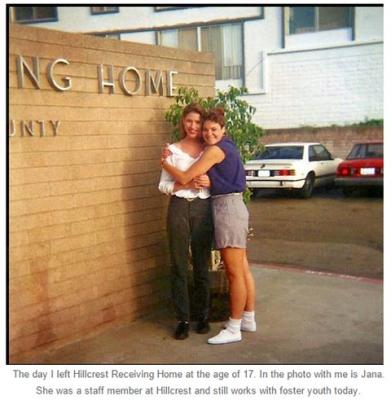 hello everyone I was at Hilcrest early 90s and I just started a facebook group, for those who were there from the late 80s early 90s, please join and share your story maybe some of you remember me, hope to see some old friends
GreetingsI have to say ! SO Happy I found this ! I too was at Hillcrest in San Diego from 78-79. So many memories. I NEVER thought I would ever find anyone who spent time there. I would love so much to connect with those who had been there around the time I was there so please reach out.Liane G.Blessings
Advertisements
This is absolutely great! I was turned onto this site by my "Home Study" worker as we are going through the process of becoming foster parents ourselves. I and my six siblings have such a LONG history w/ HRH. From 1973?-1981 So many memories! I don't know where to begin. The School that you only had to, maybe, do one page of problems then you got to sit in the been bag chair and read comic books. I still don't know all my times table! LOL There was a man from India who taught us how to use a checkbook. We also watched a movie in School that, even as a child I thought was inappropriate for kids, where a man lived in a remote cabin w/ his wife who died while he was away, he wrapped her body for burial and left it on the table overnight. During the night a mountain lion got in and he shot it. During the light of day he found that the lions paw was in his wife's mouth shot off! SMH The PRIZE CLOSET! I remember buying "Gee Your Hair Smells Terrific" shampoo? One time my brother, sister and I used all our points to buy b-day presents for our little brother that was in the "primary" unit. If you ran way you lost all your points. How about, seemed like hundreds of pairs, the red jeans w/ green frog on them?! I was there when the powers that be told "Mama" Simms that we could no longer call her that and she couldn't give us hugs anymore. Anybody else remember when there was a road kill deer donated. I worked in the kitchen then. I didn't eat meat for over a week just in case they served it! LOL Some of the staff..Marcia Bottoms Jim Height, (Former Charger) Mr Watson, Mr Wadson, (Tall, white haired older man. He once drug a teen boy by the collar up to the front bc he had tried to molest me) Tom? Skinny guy w/ long, thin, blond hair and a bad leg. Tony? He had real curly hair and used to play his guitar and sing to us on the field.So many times I ran into my siblings coming from other foster homes. At one point my older brother was there for 12 Months and I was for a little more than 13. At the time that was a record! The court clothes closet! When I was there at one time I broke my thumb when a boy hit a baseball as I came around the corner. Headed straight for my face. I deflected w/ my hand. I din't go to the Hosp. for two days until another kid was sick! BUT. That meant I got to go on field trips w/ the Seniors. I was an Intermediate. One of them was a fancy political dinner at the Marina. The saddest part for me was when I had my youngest there and he was locked behind the gate in Primary. We only got to touch him through the fence. Soooo much more I could bring up!! I spent more time there than an actual home! All in all it was a good experience.
hello everyone I was at Hilcrest early 90s and I just started a facebook group, for those who were there from the late 80s early 90s, please join and share your story maybe some of you remember me, hope to see some old friends
My siblings and I were at Hillcrest in the late 80's and early 90's too. I'm starting to unpack and process all of my childhood traumas and I remember being at Hillcrest pretty clearly. I remember going to school in the classroom trailers and the strange feeling of being in a place where all the kids had the shared experience of being from rough/neglected/troubled homes. I remember attending the big Christmas party at a fancy hotel. I would love to connect with other people who share the Hillcrest experience