Feedback on your query would be most welcome to the browsers of this forum. While we wait for the feedback, and for you to reveal where the records are, allow me to give a general opinion. In my opinion, maternity homes will not be a good source of information for adoptees in search. Usually, they were not licensed as adoption agencies and felt no obligation to provide postplacement support for adoptees or birth mothers. And they became out-of-fashion, perhaps in the 1970s or 1980s. Some pregnant women were housed in foster homes under the auspices of social agencies. Other pregnant women decided they didn't feel ashamed and wouldn't give up their babies. So maternity homes closed all over the U.S., and an unknown percentage of them destroyed their records. Reg Niles
RegNMINiles@cs.com
Advertisements
Dear Diane, Would you please share with me the location of the records from the Zoar home in Pitts. PA. I too have a need to contact them.
Zoar Home records are located at the Senator John Heinz Pittsburgh Regional History Center, Library & Archies Division, 1212 Small St., Pittsburgh, PA 15222 (412) 454-6364. Good luck! I've contacted them 4 times & they never even respond. The hospital that was used in the late 1960's was the West Penn Hospital, but their records from that time have been destroyed. I did find my daughter; just wanted to get more info for her. I'm now trying to get her birth records unsealed through the state.
Lynn, I've tried to contact the Sen John Heinz Pittsburgh Regional History Center, but got no reply. How did you get your records....did you have to put in all in writing? did it cost you anything? Any info would help. I've already found my daughter & we're in close contact, but even with that, nobody wants to give us any information. It's crazy! Thanks for your help. Diane
Advertisements
I am a Zoar Home birthmother trying to help a young man born in 1973 in Alleghany. I searched and found my birthdaughter born in 1971 at Zoar. Any tips on finding birthparents.
I was born at the Zoar Home in 4/25/43. The records are at the Heinz Center in Pittsburgh and I did talk with David Grinnell. Due to PA. regulations, with out an order from an Allegheny judge, he was not able to give me any info but could confirm what I already knew. I did learn I have a half brother born in 1949 but haven't made any attempt to find him at this time. I talked with David 2 years ago and he was moving to a different job at the University of Pittsburgh the day after I talked with him. I also talked with a lawyer in PA. and he said it would cost me about $4000 or more to get a judge to open the records. Pa. is one of the most restrictive states to get adoption records open. The reason the records ended up at the Heinz Center was because Mr. Grinnell was on the board of the home when it closed and he was going to work at the Heinz center. I hope this helps as to why the records are so hard to obtain.
I was at the Zoar Home in 1975 and gave birth on 11/11/1975 to a baby boy I named Nicolas Mentrek. My name was Hilary Mentrek then and now is Hilary Thompson.
Advertisements
Hello everyone, my name is Kayla, I am looking for my older brother that was put up for adoption, born April 9th, 1984 at West Penn Hospital. The birth mother was rehomed during the pregnancy at Zoar Home in Pittsburgh, PA. The records are sealed but should be a one way communication to be opened if the son wanted to contact her or the family that he could. I uploaded the pictures I have with the only information I have access to. I have been searching for him since 2011, actively posting on adoption forums with no success. And as suspected, all agencies either don't return phone calls or suggest hiring a lawyer or PI to unseal the records, with the basis of a legitimate reason like a medical issue that the son would need to be aware of.The initials on the infants outfit was from a picture the adoptive parents sent of the boy at 6 months old, which looks to say STA.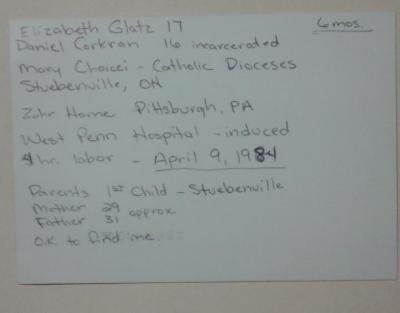 Last update on January 2, 12:52 pm by Kayla Black.
https://historicpittsburgh.org/islandora/object/pitt%3AUS-QQS-MSS244/viewer
#idp0
Guide to the Records of Zoar Home, 1916-1993Detre Library & Archives, Heinz History Center
Last update on January 2, 12:13 pm by Kayla Black.