Maria from Texas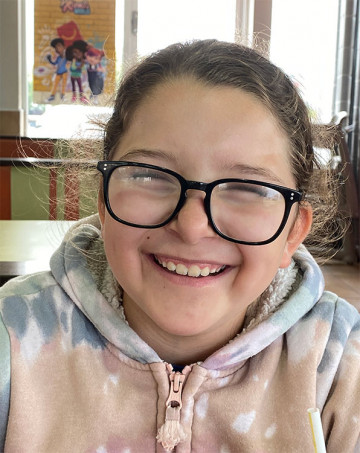 Age 10
Gender Female
Location Texas
Ethnicity NA
Case Number 106351
---
Maria is a very outgoing and sociable child. She describes herself as a nice, kind and caring person. Maria is thoughtful and enjoys making people around her happy. She likes to joke around and play with her caregivers and especially loves when they can make each other laugh. Maria can be very active and tends to jump from one activity to another. In her spare time, she enjoys playing with playdough, making jewelry and playing on the X-Box She loves her stuffed animals and likes to have them displayed across her bed. Maria is learning to cook and enjoys when her caregivers teach her how to cook different foods. She is also known to cook "supper" for the family on occasions. Some of her favorite foods are spaghetti and watermelon. One of Maria's dreams is to have a horse one day. Her favorite colors are pink and purple, and her favorite toys are cars and dragons.
Aspen, Hailey, Maria and Rosalina are a very loving and outgoing sibling group. They are a very active group of girls, and each has their own way of having fun and making you laugh. Their personalities range from being quiet and reserved, to loud and vocal. Aspen is the eldest sister. Hailey and Maria are the middle sisters, and they are attached at the hip. These two sisters enjoying doing a variety of activities together and often one will want to do what the other is doing. While Rosalina is the youngest sibling, she is also the boss of the sibling group and is the most independent of them all. All the girls are respectful of others. This sibling group has many interests, and they look forward to being able to engage in different activities after school.
Maria's forever family will be one that provides her with a routine, structured and nurturing environment. Maria desires a two-parent household that can adopt her and her siblings together. She would enjoy having pets and has a dream to one day own a horse. Ideally, her family would enjoy cooking as Maria is looking forward to learning how to cook. Her family will need to be actively involved in Maria's activities within the community. She would like to be able to participate in dance or cheer activities after school. Her family will also need to be involved in her schooling. Her family will benefit from being trained in Trauma Informed parenting.