Myla from Texas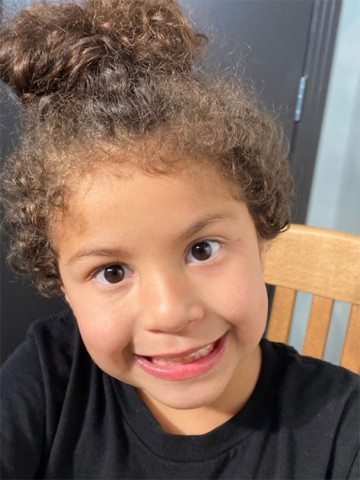 Age 7
Gender Female
Location Texas
Ethnicity Hispanic
Case Number 105695
---
Myla is a caring and loving little girl who wants to please everyone. She is very easy going and can be funny. She will intentionally do funny things to get your attention and to make you laugh. Myla likes to be the boss of her twin sister. She likes vocalizing her opinions to the adults around her. Myla feels most comfortable when her twin sister is around. She can be very well-mannered and easily directable. Her hobbies are painting and arts and crafts. Her favorite foods are pizza and hamburgers. Her favorite toys to play with are "Anna" dolls from Elsa and games. Her favorite activities are playing with siblings and games. Myla will be a great addition to a loving and caring forever family.
The sibling group, Ydin, Myli, Yasmani, Myla and Myra, are fun and loving sibling group. The older siblings, Ydin, Myli, and Yasmani, are very protective of Myra and Myla. The older three tend to parent Myra and Myla. Ydin is the one who is always watching out for his siblings. When he was unable to do, he relies on either Myli or Yasmani to fill in those gaps. In recent months, all the children have been able to just be kids and enjoy not having adult responsibilities. Ydin is able to be a typical teenager without having to parent his siblings. Myli and Yasmani are out to make you laugh and have a good old time. Myla and Myra, twins, have developed their own personalities over the last year. Myla tends to be the leader of the twins and wants to direct others around. Myra will make sure that her desires known. Both are very outgoing and vocal about their wants. Ydin and Myli are enjoying being able to enjoy life without the additional responsibilities. This group of siblings wants to be adopted together into a loving forever family.
Myla wants to be adopted with all her siblings. Myla wants a two-parent family that consists of a mom and dad with a house with a big yard with a pool. Her family will be structured in a nurturing way. Myla would like an active family that does different activities.