Sammarra from Texas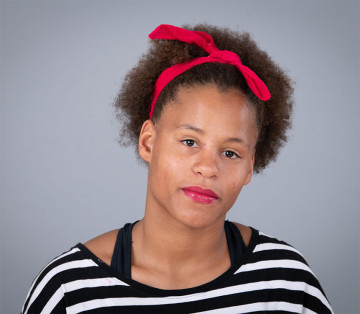 Age 17
Gender Female
Location Texas
Ethnicity African American
Case Number 90340
---
Sammarra is a very sweet and polite girl. She prides herself in being respectful and having manners. She enjoys being creative and loves to make all types of arts and crafts. She especially loves to make jewelry. She can get lost in her jewelry designs and loves seeing them on others. She dreams of owning her own jewelry shop someday and styling others when she gets older. She hopes to make creations that will one day be ordered by others around the world and sharing her creations. She is very close with her siblings, Desmond and Jaeden, and loves to spend time with them. It is very important to her that she be accepted in a family along with her brothers. Family is important to her and she have an immense love for her brothers. She hopes to feel that same love from a family someday. Desmond is her twin brother and she considers him her best friend. She also enjoys going to school and participates in choir. Sammarra also has an immense love for faith. God, attending church and church events with her peers is an important part of her life.
Sammarra, Desmond, and Jaeden are a special sibling group. Sammarra and Desmond are twins, but Sammarra loves that she is the oldest twin. Sammarra, Desmond, and Jaeden are a lot of fun when they are together. They are each full of energy in their own way, but when they are all together it instantly increases. They each love spending time with one another and they are very protective of one another. They are all very close. Sammarra is very mother-like with her siblings and she enjoys watching out for them. Desmond has an energetic energy, especially when he is around his little brother, Jaeden. Jaeden is very active and enjoys outdoor activities. These siblings share a lot of love for one another and are a joy to be around.
Sammara desires a mother figure to go shopping with and to learn how to create jewelry with her. Her forever family will be one she can open up to and depend on when life gets hard for her. Sammara desires a father figure who will be there to show her how to be independent. She has a strong desire to be with her brothers and to continue to grow with them. Sammara's faith is significant to her as well. Her forever family will support her and allow her to go to church and attend youth events. Sammarra will do best with a two-parent family, specifically with a mother and father. They will do best in a family where she and her brothers are the only children in the home. She would also love a family who has pets and who like to stay active and do many fun activities. Her family will be understanding and supportive of Sammarra. Her family will be understanding and able to navigate daily with Sammarra. Her forever family will support her, encourage her, and makes her feel loved in every way.