Do you listen to podcasts? If you don't, you should! And if you do, you should check out ADOPTION NOW! April Fallon, and her husband Noah, are the founders and hosts of the international podcast, ADOPTION NOW. A platform where they interview adoptees, birth parents, and adoptive parents. After 7 seasons, they have been able to tell the stories of so many members of the adoption triad. They bring the joys and trials of adoption to the public from all perspectives. April and Noah are the parents of 4 beautiful adopted children. Through their own adoption experiences, and interviewing other members of the triad, they are an incredible source of adoption advice and knowledge. I had the great honor of interviewing April for Adoption.com. She shares her personal family story and the story of her very successful podcast. She also shares many words of wisdom for adoptive parents and the rest of the triad.
Tell me about yourself.
My name is April Fallon. I was raised in Michigan, went to college in Denver, graduated and moved to Africa for 3 years. I developed a deep love for children and served in many orphanages. I loved it so much! After my 3 year commitment was up, I decided to move back to the United States and go to school for media arts. My hope was to move back to Uganda, Africa.
Tell me about your husband, and how you met and got married.
A few months after returning from Uganda, I met Noah. I was running events for a big apartment complex in the Denver Tech area to save money for broadcasting school. When we met, he asked me out and I told him, "NO WAY!" He continued to chat with me and told me his sister was planning on visiting Uganda! At that point I was interested in meeting his sister! I let Noah know that I planned to either return to Uganda after school, or adopt children. He shared that his youngest brother and sister were adopted from Cambodia and Vietnam! It was so unbelievable, but shortly after meeting I was accepted to broadcasting school and I was headed to Detroit. We continued talking long distance, and in 2007 we were married!
Tell me about how you came to adopt, and what caused you to choose adoption.
In 2008 I was working in broadcasting and loving my career. I did miss Uganda every day, and in 2010 we took a trip to visit the country I love so much. We served for 3 weeks in a home with children rescued with their mothers from abusive fathers. They would teach the mother a trade, and help her get a job. They helped heal the children by giving them a safe environment and an education. We brought in music and the joy we saw on their faces healed even a part of us. It really changed us both and we decided it was time to pursue adoption.
Tell me about how you started the process of adoption, what was it like? How long did it take?
We came back to the States and searched for an agency. We thought we were going to do international adoption. When we would talk to the different agencies, we did not connect or it was too expensive or we weren't married long enough…etc. It seemed like a dead end for us. But then someone mentioned a very small local agency that was affordable. We went to meet them and it was an instant connection. They were small so we knew it might be a long wait, like 3 years, but we got our home study done. We planned a trip with friends AND…. 2 weeks later….AJ was born! I remember the agency calling us and saying a baby was in the hospital and we could go get him!!! WHAT??? We had nothing for a baby! We were at the store throwing baby things in a cart. When we saw him for the first time, a love I never knew filled my heart. I was a mother, and I would do anything for this little person. AJ was what they call a "hospital drop," so the birth mother had signed papers right away and left. When we started the process I was scared of open adoption. I thought for sure the mom would someday just take the child back, and I would be left crying like some terrible scene in a movie. Our agency helped train us, and I met other families that had wonderful open adoptions. I became excited about the opportunity of having an open adoption. So to walk in the hospital and never meet the birth mother was hard and sad. She wanted a closed adoption. I felt a piece of the story was missing, but even though we were sad, we respected her decision. I often wish I could see her and just thank her. Her son is a gift, and I want her to know how amazing he is. We hope one day we will get to do that, but on August 31, 2010, AJ was waiting for parents to come get him. We showed up and the medical team had bad news for us. (I share the full story on the podcast) They thought AJ had a rare brain condition. He was missing part of his brain and they let us know he would possibly never see, hear, talk or walk. It was a lot to take in but we trusted that no matter what, we could do it. After many tests, the doctors were amazed. When AJ was 6 months they told us nothing was wrong with this baby boy. His brain formed correctly and he does not qualify for any child development services. Total miracle!
Tell me about your other adoptions, and those experiences –
After that experience, we were ALL ABOUT ADOPTION! We wanted to adopt again and so in 2012 we started the process and hoped to self-match. We thought if we just made it known we wanted to adopt someone could connect us to someone who knows someone, right? Well it did happen, a mother had a baby boy that she did not want. She met us, went to our agency to do the therapy hours, signed the paperwork, and literally handed us an 8-month-old baby boy. He was very sick, so we took him to the hospital and we found out that she had been starving him. They took x-rays and saw a button in his chest, carpeting…etc. I mean whatever he could try to eat, he did. When the mom found out we were at the hospital, she showed up and said she changed her mind. The paperwork had not been processed yet so she had the right to change her mind, but she could not take the baby home because of abuse. We learned he stayed in the system for 4 years. The whole experience was a lot and it was hard to have a baby, and then not have a baby. We went on to get matched in 2013 to a baby girl being born in Florida. Her birth mom was due in 2 months. I flew out to meet her and the birth dad, and loved them so much! We knew drugs were involved but the information we got was very vague. We did not know we were working with a crooked lawyer who was stealing money from us and not getting birth mom the medical help he had promised. It was a huge mess. She said she was very sick so we took her to hospital after hospital but without prenatal care, no one would take her. FINALLY, I pulled an ER doctor aside and explained that I was the potential adoptive parent and that I would pay out of pocket to have an ultrasound. She did it and it saved the birth mom and the baby's life! They had to do an emergency c-section and baby Lily was born! That summer in 2013 we walked through a long hospital stay for Lily and her birth mom. We had to fire that bad attorney. We hired another one, and somehow it all worked out! This adoption is an open adoption. The birth dad told us, "You guys love us more than our own parents do." At that point, we learned about the amazing journey of open adoption. Shortly after, we got matched again! The birth mother was due in December of 2013. We got all the paperwork ready and flew out to Florida to meet her. We were so excited to bring home another baby, and the birth mom really connected with Noah. I think she felt he was a good father and she wanted that for her baby. She delivered on December 28th. We were celebrating Christmas with family and we bought tickets that day to go. As we were boarding a plane, she texted that the birth dad changed his mind and was taking the baby. It was a hard loss. We had such an empty feeling. I think because I knew she did not want to raise the baby. We had learned to be very gracious and loving. We told her we supported his decision, but if he changed his mind we were only a phone call away.
In 2014 we brought home a 2-year-old boy to foster. They asked if we would take him but told us he had been severely abused. We had never experienced RAD (reactive attachment disorder) before. It was a very challenging time. AJ was 3, and Lily was 10 months. This was our first time with extreme trauma in our home. Our agency told us that it would be best to find a family who did not have other small children. As he became adoptable, we helped them find his forever home. That experience was truly wonderful and hard. The family who adopted him was so happy! We were honored to be a part of that, but it left us feeling like we had somehow failed.
We wanted to isolate ourselves and not answer any questions about the experience. We loved that little boy, as we have loved all the children we have potentially adopted and adopted. We knew it was a foster care situation but it was hard to see him go, but we also knew he was exactly where he needed to be. Isolating was not the answer, we opened our lives up to other adoptive families and they became like family to us. They understood the depths of pain that adoption had opened our eyes to. We often just tell the joyful parts but many of us in the adoption world have seen both sides. We learned that sometimes in adoption the journey does not end with the child in your arms. Sometimes you play a different role in the adoption story. That little boy is thriving and we get updates on him.
At this point, we were pretty tired! We took some time as a family of 4 and thought maybe we were done. I was working in media for CBS Channel 4 in Denver and we took an adoption break. In 2015 we got a call from where birth mom that we were going to adopt the baby from in 2013, the one that the birth dad took the baby home. She was pregnant and asked us to adopt. We were not ready to jump in again, but we did update our home study just in case. We got the call in March of 2015 that she was in labor. I jumped on a plane to Florida and was there for the birth. Baby Vivy was born, and when they went to hand the birth mom the baby, the birth mom said "I am not the mom, she is." They placed that 4-pound baby in my arms and I was overwhelmed with gratitude. We have an open adoption. We closed our home study and felt complete….3 children.
As we grew our adoption community, I started realizing I was talking more about adoption than anything else. My boss at CBS suggested I start a radio program about adoption. ADOPTION NOW was born 2016. It started as a pilot show with just Noah and I telling our stories. Then we grew and started interviewing adoptees and birth parents. My life was forever changed by these interviews and we decided to put the show on iTunes. It then became an international podcast. We were so honored to tell such deep, true stories that were teaching so many aspects of adoption.
Then we got the call…..
As the show was growing, we became a non-profit and we got a call from Vivy's birth mom that she was pregnant again. She asked if we would keep the siblings together.
Tell me about the circumstances surrounding your children's adoptions.
Let me tell you, I said no to the last baby! How was I going to grow the show and go on an adoption journey? Then we had a family on the podcast that went to adopt in the DRC, 3 sisters. The country said you can pick 2. The adoptive mom could not leave one sister behind, so she jumped on a plane and flew to the DRC and for months fought to bring them ALL home. She inspired me so much that we were compelled to keep the siblings together. Maliyah Kate was born March 2017. She is the baby that tied our whole family together.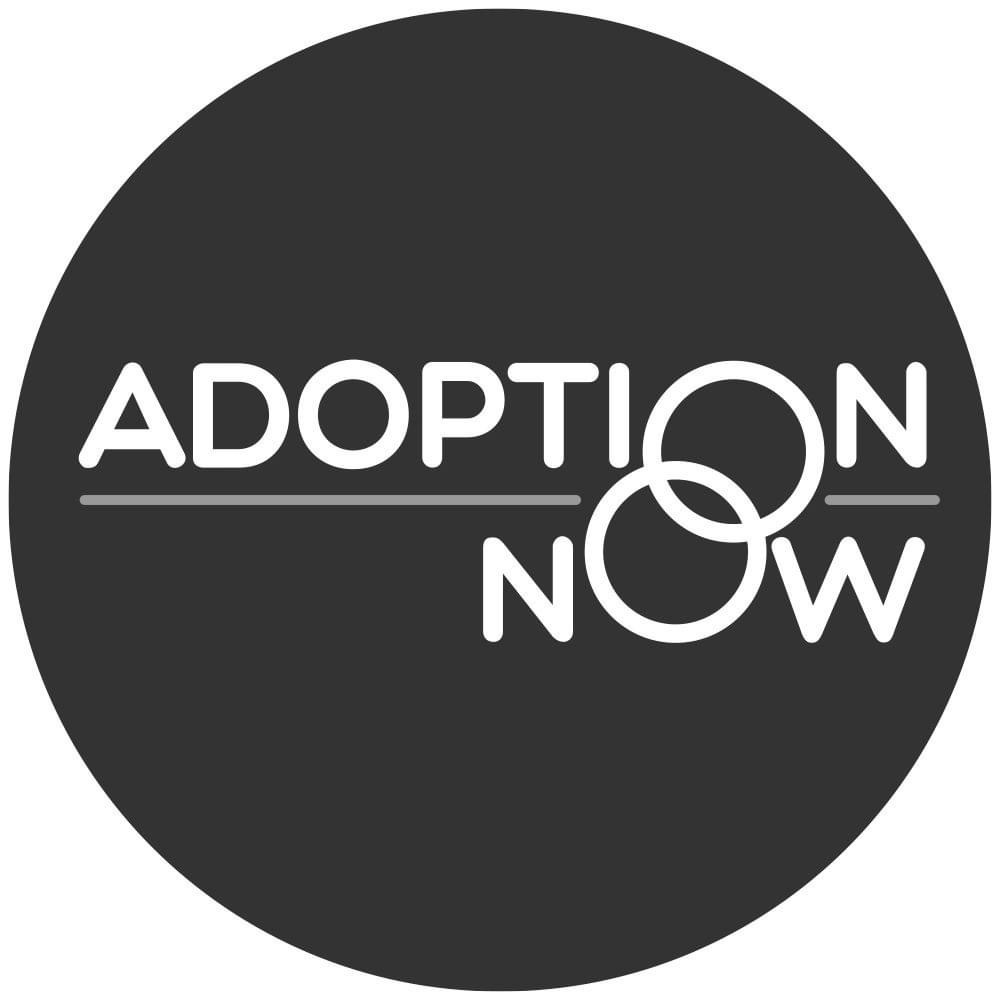 Tell me about ADOPTION NOW, the trials and triumphs.
The trials are so small compared to the joy that the show has brought us. The guests and their stories have helped me become a better mother.
Is there a favorite episode you would recommend to people?
I love all the episodes because I really love everyone who has been on the show for the last 7 years. I think the one that was a special gift to me was when I interviewed an adoptive dad from Uganda. It was a full circle moment of two parts of my life that I am passionate about, coming together in one lively episode. When I spoke to Peter, I had peace that I was doing exactly what I was meant to do.
How do you raise your adopted children? Is adoption an ongoing conversation in your home?
Our 4 children are the biggest fans of ADOPTION NOW. So because of that, they talk about adoption a lot. They ask about the show and they learn from other adoptees. We raise them in an open environment, so they can ask the questions that are hard. I like what AJ said to me when he was 5, it sums up adoption for us. "Mommy, when I was at the hospital as a baby, you needed me." That is exactly true! I needed my children as much as they needed us. I needed their birth parents in my life as much as they needed us in theirs. Adoption is a match, a match of lives joining together to create a really beautiful story.
Do you plan to adopt more?
No, I love the thought, but we are tired!
How has adoption impacted your life and the lives of those around you?
As I say on the show, "We have adopted the whole story." We are in it to win it. Even as we have children with special learning needs, we have been on a mission to find the answers and get the resources we need. We encourage our listeners to not give up, and stay in it! We know it can be challenging but once you find that awesome doctor or teacher or therapist and you see your child thrive, there are no words to express the "parenting win" you feel!
I quit my job to do ADOPTION NOW. When I have days where I think "will I ever stop telling adoption stories?", The answer is no, because I will never stop being on the adoption journey. Adoption is for life, and as an interracial or multicultural family, no matter where we go, people see it!
What is one thing you would say to adoptees?
What would I say to an adoptee? I say it all the time to all adoptees, "Tell me your story so I can become a better, more understanding adoptive parent."
What is one thing you would say to birth parents from an adoptive parent?
Well I can say to our birth parents, you are really the hero in the story. You gave your baby life. You chose what you thought was best for your child, and your unselfish act made me a mother. I am forever grateful for the gifts you gave me.
I am a huge advocate for birth mother care. We must make sure our birth families get the therapy and the healing they need. As the adoptive family is rejoicing over the baby, we must remember a mother is leaving the hospital with empty arms. We must have compassion for the adoption process. As Lily's birth dad said to us as he signed the paperwork, "your greatest day is my worst day."
What is some advice you would give to hopeful adoptive parents or parents who have adopted?
To hopeful adoptive parents, I tell them to not be afraid. There was not one thing on our journey that did not change us for the better. You need the story and the story needs you. I always say on the show, your baby/child is coming, do not give up. And I really believe that.
To parents who have adopted, I say come join our community! Come tell your story! Someone else might need to hear exactly what you have been through.
Is there anything else you would like to say about your journey or the podcast?
Adoption has changed my life. In this journey, I have been stretched, heartbroken, and crushed. But I have also been strengthened, joyful, and filled with hope. The episodes on ADOPTION NOW are so down-to-earth and truthful. The guests are real people, sharing real experiences, and through storytelling, we learn so much!
In closing, I want to say thank you to April for being willing to be interviewed by me. I am so grateful to April for all she does for the adoption community. ADOPTION NOW was the first adoption resource I found as a young adult adoptee. April's podcast got me through some very difficult times related to my adoption story. I now consider myself a super fan of the podcast. I have listened to every single episode, some of them twice! She gives voices to adoptees, adoptive parents, and birth parents. "Adoption is a match, a match of lives joining together to create a really beautiful story"… this quote sums up April's heart for adoption and her mission in the adoption community. If you are a member of the adoption triad, you should consider telling your story on ADOPTION NOW. And if you haven't already, check out ADOPTION NOW on Apple Podcasts, Spotify, Instagram, and YouTube.
Interested in telling your adoption story with April on ADOPTION NOW? Click here.