Renee Hettich's emotionally, honest firsthand account of foster care and adoption, My Kids Know More Than Me!: 15 Life Lessons from Foster and Adopted Children, encapsulates the life-changing experience she has seen through the vantage point of her four unique and inspiring adopted children—Rose, Pearl, Marco, and Wu LeBin—as well as several foster children, all of whom you will grow to love and learn from right beside the author.
Organized into 15 life lessons (or chapters), the author provides the reader with interesting passages taken from her children's real life experiences—starting with several heart-wrenching foster placements and heart-tugging adoptions—and leading up to the parenting joys and challenges she encounters present day. Each chapter concludes with her explanation of what she has learned from the children through their stories, conveying to the reader these lessons from the children's perspective, rather than her own.
As an adoptive parent, I also found myself nodding my head at more familiar circumstances that were easily relatable.
I found myself looking forward to learning more about each and every child, and what they had to share with Renee as I made my way through the pages that seemed to turn more and more quickly as I was drawn deeper into this family's extraordinary journey. At times, pausing only to re-read (sometimes in shocked disbelief) some of the more dire situations they have faced together. As an adoptive parent, I also found myself nodding my head at more familiar circumstances that were easily relatable.
Renee's journey of meeting her children, Rose, Pearl, Marco, and Wu LeBin, began with fostering children over the course of several years. Her service and love for these children led to her desire to take the next step toward adoption, as well as her reaffirmed commitment to "finding forever families for orphaned children throughout the world."
Renee shares her learning experiences with us from unforgettable foster children like four-year-old, John, who taught her a deeper meaning of bonding and attachment under the most confusing of circumstances. And from six-year-old Cole, who taught her to "listen to the spoken and unspoken" while dealing with gut-wrenching issues much too difficult for any child to bear. These children shaped her understanding of what communication and perception may look like to children who have experienced life situations that don't fit the parameters of traditional parenting books.
Along the way, we meet Rose, adopted at eleven months of age from an impoverished orphanage, who must fight for her life. Rose is nourished and encouraged by the unwavering love she finds in Renee's arms, as the two learn to read and trust one another in a dated Chinese hospital.
Then comes Pearl, at nine months, whose persistence to beat the odds is evident, even at a young age. Pearl's "never say die" attitude toward sports and life in general reminds her mom of the importance of never giving up even when the going gets tough.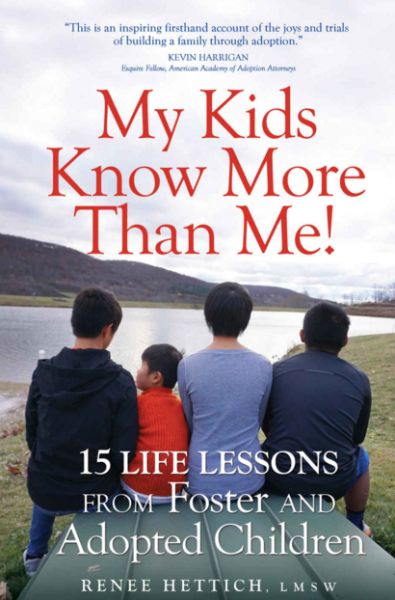 Marco, a 10-month-old boy with dark brown eyes from Guatemala, unexpectedly makes his way into Renee's growing family and through a series of unplanned events, teaches her that not having all of the answers doesn't necessarily have to be a bad thing and can sometimes open our hearts to new possibilities.
While Wu LeBin, adopted from an orphanage for disabled children at 8-years-old, enters the Hettich home with much uncertainty surrounding his misdiagnosed medical conditions. Renee learns to read the signs others could not and responds to his needs as she advocates for the care he deserves in order to reach his full potential. Though it all, Wu LeBin reminds his entire family of the power of giggling in the face of overwhelming stress.
While Renee's passion for children and her background as a social worker in the field of adoption is impressive (she could easily offer her readers valuable information based on this alone), she instead shares stories that reflect how she has grown as both a parent and a social worker. She purposefully adjusted her comprehension of what it means to be a parent and social worker, taking the time to better understand what her children have shared with her instead of focusing on what she has shared with them.
While Renee's background as a social worker is impressive, she instead shares stories that reflect how she has grown as both a parent and a social worker.
I loved each and every chapter of My Kids Know More Than Me! and suggest it as a must read for anyone who wishes to better understand how children process the world around them and communicate their wants, needs and feelings, especially for anyone interested in fostering or adopting children of any age, domestically or internationally.
My Kids Know More Than Me! is written in a way that makes you feel as though you are on a journey of learning life lessons "important to parenting and personal character." The author skillfully weaves incredible and awe-inspiring stories spanning 25 years to show the wisdom she's received through her foster and adoption experiences in a way readers will find equally entertaining and educational.
The voices of Rose, Pearl, Marco and Wu LeBin, as well as Renee's foster children, can be heard loud and clear, sharing valuable messages that adoption professionals, as well as prospective foster and adoptive parents, will gain important insight from. Renee describes in her book about wishing for a sort of parenting superpower to be able to experience the world through the senses of her children, and through My Kids Know More Than Me!, we are giving a glimpse of what this superpower might actually feel like, while she and her children remind us to stop and listen to what children are saying in both their verbal and nonverbal ways.
For more incredible adoption books, visit AdoptionGifts.com.