Aysia from Texas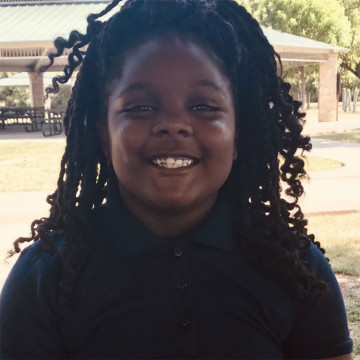 Age 8
Gender Female
Location Texas
Ethnicity African American
Case Number 89283
---
Aysia is a very outgoing girl. She is very active young girl who enjoys outdoor activities. She enjoys talking and playing with others, but she also does well playing by herself. She is a self-starter who can be very helpful. She likes drawing and also finds pleasure in singing. She likes to eat and loves pizza. She enjoys electronic devices and dolls. She respects adults and has a very helpful personality. She is creative and likes to create her own songs to sing. She enjoys music and art. She has a very close connection with her sisters. She longs to have a sense of belonging and she has a warm-hearted personality. Aysia will be a great addition to a loving, caring, and nurturing forever family.
Aysia, Aryana, and Addyson are a friendly and talkative set of sisters. These three girls are children who love to smile and talk. They all love to give hugs and be helpful. The sisters have a very close connection to one another and like to play with each other. They enjoy receiving compliments and praise. Aysia, Aryana, and Addyson like coloring and talking with each other. These are regular activities for the sisters. Eating all types of food is another thing the girls share along, with being little helpers in the kitchen. The sisters show each other emotional support, companionship, love, and comfort. Aysia is the eldest and has the brightest smile. She also likes to be the leader. Aryana is the talker of the trio and enjoys big hugs. Addyson is the youngest of the sisters, but has great creativity.
Aysia will benefit from a two-parent family. Her forever family will be patient and offer consistency. Her family will encourage her and are supportive of her. Aysia's forever parents will love her unconditionally.