Dustin from Texas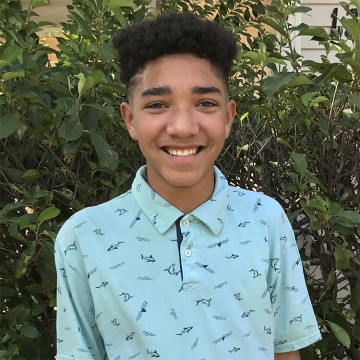 Age 14
Gender Male
Location Texas
Ethnicity Hispanic
Case Number 90481
My Siblings Valerie
---
Dustin is a very caring, and helpful youth around the house. He is very curious about how food is cooked. One of his favorite foods is fried chicken, and he is interested in how it is made. He will ask his caregivers many questions related to cooking. Dustin is soft spoken with an engaging smile and laugh. He has a great personality and likes to make others laugh. He is very playful and competitive. Dustin likes video games, swimming, telling jokes, and sports, including playing basketball. He enjoys being outdoors. Dustin has an adventurous personality and loves exploring his environment. He enjoys going on outings and enjoys the Boys and Girls Club. Dustin would like to join an organized basketball team. He would also like to attend college someday and play sports. Dustin likes to receive attention, and benefits from positive coaching to thrive in his environment. He is affectionate and displays happiness with open communication with his caregivers and being able to tell jokes. Dustin likes to feel included and being part of the pack. Dustin is very protective of his older sister, whom he loves very much.
As brother and sister, one of our favorite things to do is sit and talk about our days together. We enjoy talking with each other about our friends, school, and everyday life. We also look forward to having discussions as a family. We like to tell jokes and joke around with each other, or make others around us laugh. This is also bonding time for us. We enjoy playing video games and competing against each other. We enjoy going swimming and will compete who is the fastest swimmer. We both enjoy attending family events such as birthdays, holidays, and amusement parks, such as Six Flags. We both love school and talking about school together. One of the activities we highly enjoy is movie night as a family on the weekends. Visit us at the Heart Gallery of the North Texas.
Dustin is looking for a family who is nurturing, energetic, fun and loving. He will benefit from a family who enjoys discussions and spending time as a family. He will do best with caregivers who can set clear, understandable expectations with rewards for good behavior and lack of rewards for unwanted behavior. His family needs to be patient, understanding, and build trust with Dustin to make him feel like he is a part of a forever family.