Matthew from Texas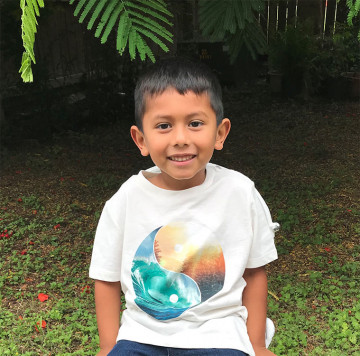 Age 6
Gender Male
Location Texas
Ethnicity Hispanic
Case Number 86381
---
Matthew is sweet and shy, but tends to warm up within a couple of minutes of meeting someone. Matthew is an energetic and dynamic child who likes to run and have fun. Matthew is a burst of energy and it is never dull when he is around other children. Matthew enjoys making new friends and playing kickball with others. Matthew enjoys playing around with his siblings, playing with his toy cars, being outdoors, and flipping through books. Some of Matthew's other interests and hobbies include, playing with animals, coloring, completing arts and crafts, and playing video and computer games. Matthew loves to eat fruits and pizza! Matthew can never have enough ice cream. Matthew's caregivers state he has a good appetite and often eats anything that is given to him. Matthew enjoys attending family gatherings, going to church, and celebrating holidays and special occasions.
Mya, Alinah, Jenissa, Andrea, Martin, and Matthew are ready to find their forever family. Although they have individual interests, they enjoy many activities together such as playing with toys, enjoying the outdoors, and visiting parks and restaurants. The children enjoy celebrating all occasions, having fun times together on trips to the beach and zoo, and love competing with one another in bowling. Martin and Matthew are the youngest of the group and spend a lot of time with their oldest sister, Mya. Mya takes care of them and guides them through their daily activities. Mya is usually in charge when it comes to games or leading in tasks with her siblings. Alinah, Jenissa, and Andrea have a close bond and usually help Mya with caring for Martin and Matthew. Mya, Alinah, Jenissa, Andrea, Martin, and Matthew are close to one another and can usually be found entertaining each other with games and activities.
Matthew desires to be adopted by a two-parent household along with his siblings. He will benefit from a family who is active and will encourage him to participate in activities such as soccer or baseball. He needs a family who will provide an environment with structure and stability.