As an educator and adoptive mom, I'm always searching for new literature for my library at home and my school library. I want to do my best to create an inclusive environment in the classroom and share that families look different. There are stories about adding a new brother or sister that I typically place in the classroom library because I believe some students would relate to the story. It was not uncommon to have a family who adopted their child in my classroom in the past. Raising Hope is a story that can be used for a classroom or personal library for a growing family through adoption.
Written by LaKeisha Norrils and her son Malachi Norrils, the story details the series of events that led to their family adopting a child from foster care. Complete with beautiful pictures and narrated by Malachi, the son, the book paints the full picture from the youngest child in the family to being an adoptive brother through adoption. Throughout the story, the reader is learning some of the process from a child who is walking through the foster care system and the adoption process. In my short interview with LaKeisha Norrils, she shares the thoughts and heart behind the story's message. For Norrils, this book is for anyone "who is looking to expand their family through adoption."
Meet the Norrils Family
The Norrils family resides in Ohio. Norrils shares that she and her husband have been married for 19 years. Together they have six children and three beautiful grandchildren. Two of the children are through adoption. In addition to the children and grandchildren, they've fostered 20 children throughout their foster care and adoption journey. Malachi is one of their biological sons who played a huge part in the adoption of his younger sister, Hope, whose adoption is the main topic of the story.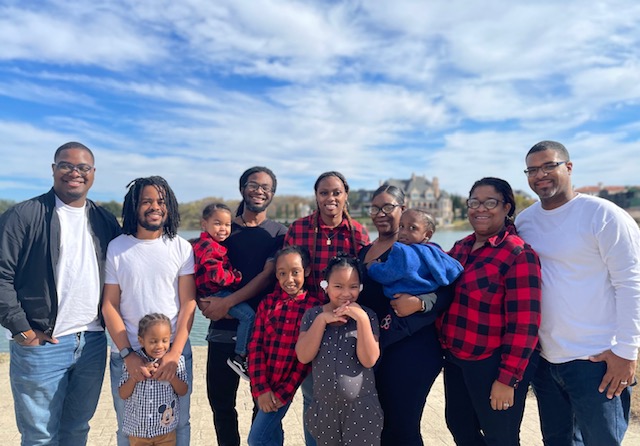 Realities of Foster Care
Norrils and her husband always dreamed of adopting a child, and they did so through foster care. According to the Child Welfare Information Gateway, foster care is a temporary service provided by States for children who, for various reasons, can not live with their families. Children in foster care may live with relatives or with unrelated foster parents. Foster care settings can be group homes, residential care facilities, emergency shelters, and supervised independent living. Rachel Skousen writes in her article The Realities of Foster Care, that "no two foster care situations look alike."
To be a foster parent, you must go through training and a home study. In Skousen's article, she writes about a foster parent named Jackie Searle, who speaks about the classes that she had to take before being a foster parent. "The ladies who taught our classes were women who had been foster parents themselves for many years–and they were full of good information." LaKeisha and her husband had to go through this process through their state as well to become foster parents. LaKeisha said, "We chose to foster to adopt because we always knew that we wanted to do at some point in our lives."
Synopsis: Raising Hope
In the beautifully illustrated story, a little boy loves being the youngest of his siblings, but he wants to be an older brother. Norrils writes that "the idea of the book came to me as I watched my youngest son's excitement as we started our foster to adopt journey. He was so excited about becoming a big brother I knew that I wanted to tell his story one day." His mother and father sit him down and share the potential of adopting a baby. This means that he, the main character, would have a baby brother or sister and thinks of the endless possibilities of being a big brother. Once the family is matched with a child, they can meet the baby on Easter Sunday. The story, from there, goes through the little boy's adoption journey with his baby sister, from placement in the home, to her adoption hearing, and his acceptance of the ups and downs as a big brother.
According to their dedication, this book" celebrates becoming an adoptive family from a child's perspective." Both mother and son hope that the book "touches the lives of all current and future adoptive families."
I found this story unique because typically, these stories are told by the birth parent, adoptive parent, or the adoptee. It is rare to hear the story written by the sibling of the adopted child.
Why are books like this important?
It is natural for children to have questions about adoption. This can be their particular adoption or adoption in general. In her article, Will Other Kids Ask My Child About Adoption? Jamie Giesbrecht shares that when children have questions, it is essential to empower the child with information. "Give your child a firm foundation in who they are so that they can stand up under an unexpected question." Not only does this story share the different steps that happen for a child to be adopted, but it also shares the importance of an entire family being involved in the adoption process. To Norrils, adoption involves all members of the family, not just the adoptive parent, birth parent, and the adoptee. "I want everyone to know that the decision to adopt involves everyone in your household", Norrils shares. "We talked to our children and let them be involved in every part of the process right along with us, and we learned just how rewarding the journey was going to be for all of us."
The message is clear with the story Raising Hope, that adoption is the opportunity to grow your family. It was fun to read the story to my son and revisit his adoption story. The moment between my son and me reminds me of what adoption means to Norrils. Norrils shares that adoption "means that I have the amazing opportunity to love, nurture, protect, and provide for a child as my own, which has been one of the greatest blessings in my life." I recommend adding Raising Hope as a helpful resource for families throughout their adoption journey.