My experience with placing a child for adoption was, in most aspects, a whirlwind, because I had hidden my pregnancy up to delivery from everyone in my life except for the birth father. You can read all about that experience in my new book, Not My Plan, by the end of June. I needed a support group.
Because I hadn't worked closely with an adoption agency throughout my pregnancy, I was unaware of what type of support there was for young women like me.
Shortly after connecting with an adoption agency, via a phone call made by the birth father right from my hospital room, they showed up with a stack of family profiles for me to look through to find a family. Later that same evening they sent a young woman, a birth mother who had only placed her son a few months prior, to be a comfort and support to me as I made this monumental decision.
She was quiet. She didn't make much eye contact with me. She gazed at my baby. Then she melted down and told me how much she missed her baby, and, through sobbing and uncontrollable tears, told me she didn't know if she had made the right choice.
For obvious reasons, this was not helpful to me. I remember thinking that she was the one who really needed some tender and loving support.
A couple of weeks after I'd placed my daughter, I was feeling a mix of emotions, but I felt very confident that I had made the best decision for my baby. I felt completely confident in the parents I'd selected, and I had a continued warmth that surrounded me any time I felt weak and ultimately hit my knees to pray for help.
Even though I felt like I was doing okay, my caseworker encouraged me to visit a birth mom support group, if I just hadn't yet let the trauma of the situation penetrate my daily mindset.
So I went. Two times. And I just couldn't go again. Not then. There was only one option presented to me and it was in a dismal conference room at the adoption agency, and the environment was less than uplifting and hopeful.
Now, 16 years later, the game has changed a lot. I never had a great experience with a support group, but in being active in the adoption community now, I can see a few BIG and simple factors that we should consider when seeking a support group or program.
1. Format
We live in an amazing time where support is literally a click away. There are several support groups right online and in Facebook groups. You can interact as much or as little as you want. While this is great for convenience's sake, you may find comfort and solace with a group that has in-person meetings or retreats. Being connected to groups of that nature are also easy to find through social media resources. Google it. You'll see what I mean.
At the time I could have used some support, we didn't have this kind of immediate and global connection. And, beyond handling this sensitive situation that birth mothers find themselves in, local support groups these days offer events and gatherings and retreats where you can find help in healing while building an ongoing support group through friendships made.
Whether you like the in-person vibe, or simply want to join groups online for connectivity 24-7, there are options for everyone. (Even for birth fathers!)
2. Frequency
It's okay to spend time mourning and grieving, but it's equally important to take those bold steps forward to healing. Admittedly, my heart aches for some birth moms who seem to join online discussions and cling, white-knuckled, to the hardest parts of this experience, dwelling a lot in the sadness and heartbreak associated with placing a child.
I believe there is so much joy in the healing process. Obviously, it takes time, and no one should rush you beyond a pace you are comfortable with, but consider allowing yourself, over time, to find a way to become the supporter for the new birth moms. They will need to learn from your experience and latch onto the strength you will develop.
Spend as much time as you feel appropriate in these supportive environments, but as time ticks on, I encourage birth mothers to shift their role to help others. Even more joy and confidence in your decision to place your baby will come as you become the shoulder to lean on, thus avoiding letting yourself get into an emotional rut by using support groups to mope around in despair.
When we are in the thick of this life transition, it's hard to see beyond the immediate situation. But, don't neglect your other relationships and life responsibilities for too long. Keeping busy and productive with other obligations and hobbies will help you to calibrate the new you.
Pregnant and considering adoption?
Get your free adoption benefits and support bundle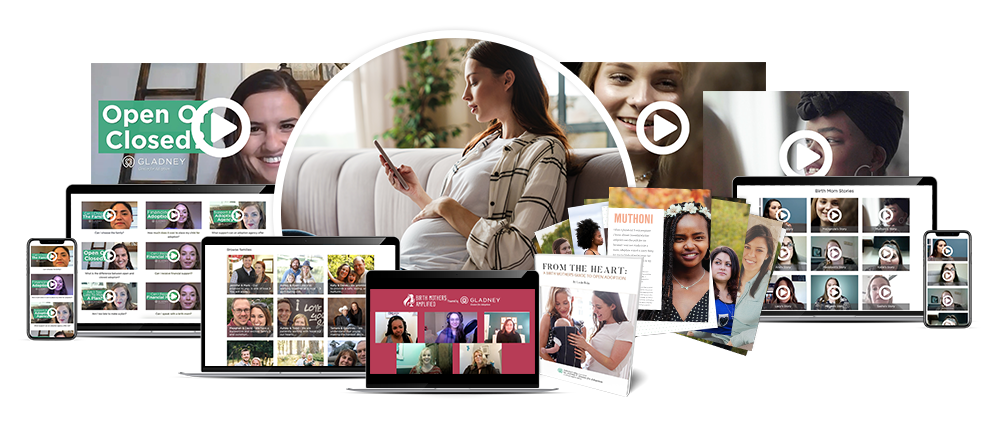 3. Friendships
Seek to build friendships with other birth moms in your area or Facebook groups. Talk about more than your adoption stories. Talk about YOU and ask about THEM. Common interests and talents will draw you closer together with a handful of ongoing supporters and forge lifetime friendships.
Relationships that can reach beyond the connection of being a birth mom will open doors to deeper healing. Share more about YOU and your life, your hopes, and your dreams to connecting with people with who you can see the big picture.
Remember that you are not alone in this. There are many amazing birth moms out there who can support you, and there will be many more birth moms in the future for you to be an example to, and even a mentor or friend.
You Are a Birth Mom – And So Much More
Above all. Know your worth! Being a birth mom is a special title of love and sacrifice, and once you get to carry with you forever. But remember that you are even more than that. I'm a birth mom, a mom of three kiddos of my own with one more on the way (Fall 2016), I'm a wife, a comedian, an entrepreneur, a Jeep lover, and a goofball. I'm afraid of the water, I love taking naps, telling stories, and eating Oreos . . . and that's just for starters.
So, now that has me wondering . . . What makes you, YOU? I'd love it if you'd share more about yourself in the comments below.
Are you considering placing a child for adoption? Not sure what to do next? First, know that you are not alone. Visit Adoption.org or call 1-800-ADOPT-98 to speak to one of our Options Counselors to get compassionate, nonjudgmental support. We are here to assist you in any way we can.