50 Most Inspiring Adoption Stories with Beauty Revived: Part 20
Beauty Revived has joined with Adoption.com to bring you the 50 Most Inspiring Adoption Stories. We have found 50 amazing photographers with big hearts to donate a session to tell the story of an inspiring adoption story in their community.
Want to learn more about Beauty Revived and see the rest of the pictures? Check it out here and on Instagram.
Photography by KarenAnn Campbell Photography Website
"I had a moment of vacuuming in the foyer, in December. That moment of vacuuming and praying for that fourth baby was the closest that I've ever felt to just knowing without a doubt that God was saying, 'You will have another baby. That baby's not going to look a thing like the babies that you've already had.' That was the clearest thought, obviously, from the Holy Spirit that I've ever had. I knew at that point that if I said, 'No, I don't want to do that,' that would be saying, 'I'm not going to do what You're asking me to do.'"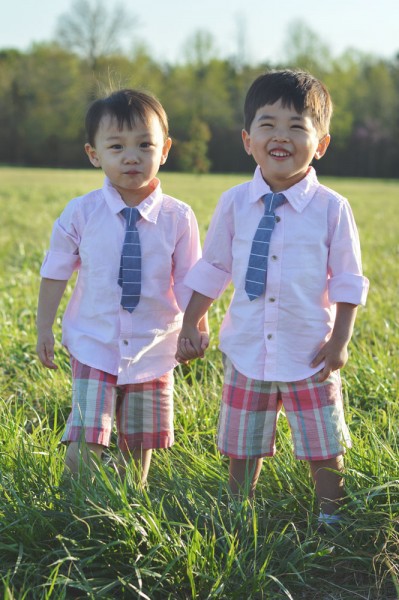 Tim and Tanna Roush are the proud parents of five beautiful children. They have three boys and two girls and are in the process of adding another sweet one to their bunch. When I had the opportunity to meet them in person I completely understood what their friend, Carrie Ann Gregory, was talking about when she said, "These two are a super amazing couple. Committed to each other, their family, and God!"
Their adventure of adoption starts with secondary infertility, but that isn't the forefront of their story. Tanna tells me, "God put adoption on our hearts. On my heart since I was a teenager. It wasn't something that I ever knew I would do for sure, necessarily, but it was something that I was always very sensitive to and always had in my mind, but I didn't know why." They always dreamed of having four children, but little did they know what God had in store for them. A year after she was vacuuming her foyer, she was in China on the way to meet her boys.
"The day we met our boys, I was filled with more fear than excitement. In fact, when our bus pulled up to the smoky Civil Affairs office in the city of Zhengzhou, and our guide excitedly told me that my first baby was already inside . . . I froze in place. Twelve months had led up to this moment, yet I wanted to start running away and never stop. What if I wasn't enough for this child? What if he didn't like me?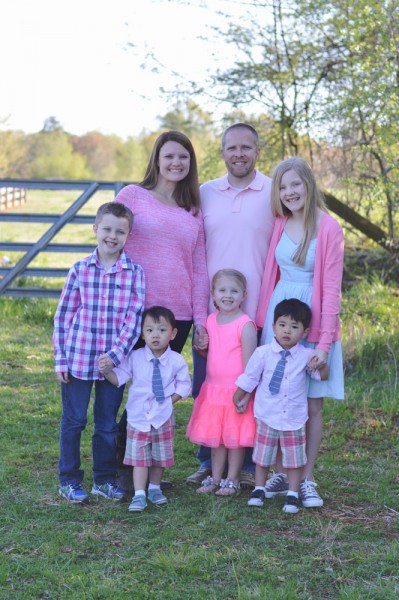 What if today would completely ruin the delicate balance of our home life with the three children waiting for us in Georgia? Yet somehow, my feet managed to lead me into that big room. A room that held my new son, and later would hold another. Hayes cried for hours and Baylor didn't shed a tear. The remainder of our trip was a whirlwind, centered on the four of us figuring each other out. We experienced Christmas in China, without our other three kids. We learned more about Chinese culture and the hearts of broken children. And it was already so very hard. I'm learning that adoption is always hard because it comes with so much grief. Our boys experienced the loss of their birth family, birth country, and many loving caregivers along the way. And our family has had to learn how to blend two toddlers—with their own likes, dislikes, personalities, and preferences—into our already very established life."
The family spent the first couple of months together, getting to know each other and their new dynamic. As a family, they visited the beach and Disney World and started to learn a little bit more about the world around them. Most importantly, "The boys learned about a place called home. They learned what it is like to be known and loved and treasured." This family of seven is a really special one. You can see the love, support, and grace they have for one another. I am excited to see what their next adventure holds.