It took a few weeks after discovering my unplanned pregnancy for me to come to terms with the fact that adoption was best for my baby. Most would say that I decided on adoption quite quickly, especially since I found the adoptive couple at only 12 weeks pregnant. For me, with all the emotion, pain, prayer, and admittance I experienced, it felt like many months. I learned that I was pregnant at five weeks along, and in just seven weeks I managed to get engaged, plan almost an entire "shotgun" wedding, call off the wedding, choose adoption, mourn the loss of being this child's mother, search for hours for potential parents for my baby, meet the couple, and finally choose my child's parents.
While I've shared my story multiple times, answered numerous questions, and shared it from different angles, the subject that I've managed to avoid for the most part is that of the birth father, my baby's daddy. Considering the fact that I was engaged, it's quite obvious that he was involved at some point, right? What I fail to mention is his role in everything post-engagement.
After admitting to myself that I did not want to marry the birth father, I immediately knew that adoption was the answer. I weighed every option in my head multiple times, and even continued to do so as I shopped for a wedding dress and visited venues, wedding planners, and cake decorators. I couldn't get rid of that knot in my stomach that marriage wasn't right, and continually searched for a way that being a single parent would work.
After finally admitting to myself that I did not want to get married, and that I wouldn't be able to give my child everything he or she deserved as a single parent, I knew in my heart that adoption was right. I didn't want it to be right. Every ounce of my soul ached at the thought of willingly placing my child into another woman's arms, letting her take on the role of being the mother to my child. It hurt to think of sitting back as she became "Mommy" and kissed owies, sang lullabies, and smothered my baby in kisses every day.
But I just knew that this was the right choice. After spending weeks of heading down the road of marriage, knowing it wasn't the right decision, it was pretty easy to tell that adoption was the right one. The amount of peace I felt amid the heartbreak was undeniable. So when I approached the birth father with my new decision and he didn't agree, the thoughts and feelings that came to my mind were all over the place.
1. Shock. Before even deciding on marriage, the birth father had expressed to me that he would support whatever decision I made. He reassured me multiple times that he would be there for me no matter what. So it came as quite a shock when I approached him about adoption and he disagreed. He was not okay with this decision and refused to accept that I was really going to follow through with this option.
2. Anger. At first, I thought he just needed to come to terms with my decision to place; I was confident that he would come around eventually. But after I chose the adoptive couple, which he refused to have any part in, he still wasn't on board. He didn't want to play any role in the process. He didn't even attend any doctor appointments. He sat back and pretty much ignored every aspect of the pregnancy. After I told him it was a girl, he began taking steps to stop the adoption. While I'm unsure as to how far into the process he got, I know he was at least trying to find the information he needed to give to a lawyer. This angered me. I could not believe that he was doing this. I couldn't understand his thought process, especially because I just knew that adoption was right.
3. Embarrassment. When I learned that he was taking steps to stop the adoption, I invited him to dinner to meet the adoptive couple. I was just sure that once he met them, he would have a change of heart.
Boy, was I wrong. He was nothing but cold and rude to them the entire time and by the time we left, not only was I beyond livid, I was embarrassed, completely humiliated that I had been with someone who could act so childish and irrational in a situation like this.
4. Fear. After the dinner, I began to fear the future. I was terrified that he might actually stop this adoption. Terrified that he was going to prevent me from giving my sweet baby girl the life I wanted for her. And I was scared for the adoptive parents, who were, without a doubt, this baby girl's parents.
Pregnant and considering adoption?
Get your free adoption benefits and support bundle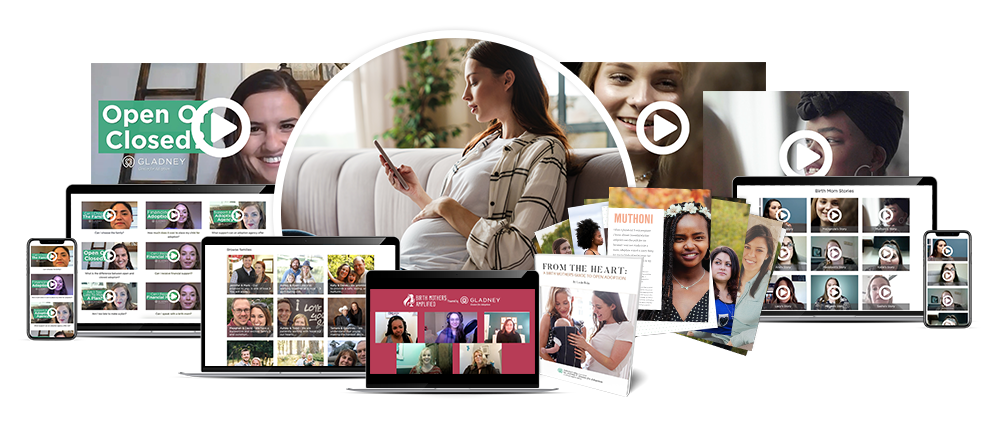 5. Relief. I was at a loss as to what to do at this point. I had no idea why he was doing this until he made a comment to my mom that sparked something. He told my mom that he was sorry for acting the way he was, but that he really wanted to marry me. It was like a light went off in my head after hearing this. In his mind, if he stopped the adoption, we would get back together, get married, and live happily ever after. It was then that I decided to meet up with him and explain my reason for calling of the engagement. I made it clear that whether we parented this baby or not, we would never get married. I expressed that I had called off the wedding because I knew that we were not meant to be together and that it had nothing to do with the baby. In fact, the baby was the only reason I had agreed to marry him—and a baby is never a reason to get married.
It was after that conversation that he seemed to really understand. Shortly after this conversation, he announced that he was moving to Texas and would come back near her due date. He asked that I let him come see her in the hospital before placement so he could say good-bye.
6. Saddness. After things died down and he moved away, I was sad. Sad that I didn't have his support. Sad that I had to go through this without him by my side, supporting me the entire way. I couldn't understand why he would move away and leave me to handle everything by myself, as if he didn't play a part in it all.
7. Peace. After a few weeks of feeling sad and even bitter, I let the feeling of peace take over. I knew that it would all work out the way it was supposed to. I began to realize that I didn't even want him around. There was no reason for it, especially because he didn't agree completely with my decision to place. He may have left, but I had the support I needed. My family, especially my mom, made the most incredible support system. They were there for me through everything. I also had a couple of friends who made sure I was still getting a social life. They experienced things with me that I didn't get to experience with the birth father . . . but experiencing it with these friends was so much better!
While things didn't go as smoothly with the birth father as I would have liked, in the end, he let the adoption happen. He was able to see her in the hospital like I promised, and things were peaceful and quiet when he did. She was placed into the arms of her mommy and daddy as I left the hospital, and that was the ultimate goal. In the end, that is really all that mattered.
Are you pregnant and considering adoption? Click here to connect with an experienced, compassionate adoption professional who can help walk you through your options.