Adoption is a beautiful way to start your family or grow your family, and it can happen in many ways. There are, of course, international and private domestic adoptions, which can both be expensive. You can do matched adoption in Texas where a family is placed with a child in the foster care system in need of a home. In Texas, there are nearly 1,000 children currently in need of a family because their parents' rights have been terminated or relinquished. You can also adopt through foster care. This option has typically been called "foster to adopt" in Texas but is now being called "foster care and adoption" by some agencies in Texas.
The terminology for "foster to adopt" has changed because the term can be misleading. If you have no prior experience in the foster care world, you might think that foster to adopt means that you can foster a child who has been removed from his home and then adopt him after a period of time. However, this is a grave misunderstanding of the process and disregards the complexity of the foster care system. This misunderstanding can create unrealistic expectations for what adoption looks like through the foster care system.
Any agency in the U.S. will tell you that their goal in foster care is family preservation and family reunification—first with the immediate family and then the extended family. This is overall a healthy and positive movement in the United States as it is an effort to keep families together. If it is possible and safe for families to stay together, they most certainly should. Family preservation prevents more trauma that children could face if they are separated from their biological family through adoption, and it provides families with a second chance to thrive. When children are separated from their families, even in the "safe" homes of those who adopt them, it can profoundly impact their development and affect their brains. Adoption is and should be a last resort for children who have been removed from their families through the child welfare system.
If the primary goal is to reunify with family, then you can probably understand why foster to adopt can be a confusing term. Families who are interested in adopting are looking for ways to grow their families. They are wanting to find babies and children that are available for adoption. Foster to adopt makes it sound like you can foster a child for a few months and then adopt him or her. However, this idea couldn't be farther from the complex truth.
When you sign up for foster to adopt in Texas, you are signing up for foster care with the slight possibility of adoption. There is never a guarantee of adoption. Basically, you are choosing to be a foster parent, keeping in mind that the goal is always reunification with the birth family. However, you also should prepare for the possibility that the child in your home may end up becoming a part of your family through adoption.
In Texas, biological parents generally have one year to follow through on plans that the state has given them for reunification to occur. They will be required to pass sobriety tests, have a stable job and transportation, and possibly take classes (such as anger management or parenting classes). During this time, the foster parent brings children to visitations with their birth family. Sometimes, biological parents can appeal for a six-month extension if they are unable to complete their services for legitimate reasons (they were in jail; they had to care for another member of the family, etc.) If it is still not safe or reasonable for children to be placed back with their birth family, birth parents will either choose to relinquish rights, or the state will terminate them. After this takes place, the court will ensure that there is no other biological family that can take the children. The state of Texas is very serious about this matter as they truly believe that the children should stay within the family. Sometimes, this means that they will even seek out an extended family in different states. Judges have differing viewpoints about the extent to which this part of the law should be carried out, some believing that they should go across the country if that means they can stay with their birth family. Others believe that it is worse to disrupt a child's placement just so she can be with the family she may or may not have met before. As a foster parent, you must prepare for both options.
If all family is ruled out, the foster family will have the opportunity to adopt the child in their care. In our experience, it takes three to six months from the time you find out you can adopt the child to the time that the adoption can actually take place. However, this differs depending on your case, your lawyer, your agency, and if you are licensed to adopt beforehand.
Many families who get involved in foster care because they want to adopt end up abandoning the system because they didn't have the right expectations. They may have had the idea that they welcomed a child into their families through foster care and then had to "give the child back." Saying goodbye to a child you have become attached to is always going to involve grief. However, it will be even more grievous if you expect that you will be able to adopt when that is simply not the case. Family reunification is the goal of foster care. And if reunification is the goal, then a child's return to his birth family should be celebrated. Of course, the families who foster undergo sincere grief when their child is reunified with his birth family. But it is also a joyous occasion because you, as the foster family, get to witness a family's second chance, a new start. Foster families play an integral part in bringing these families back together. Many people begin their foster care journey with the intention of adoption, but through the process of joining foster care, they become excited to serve entire families. Foster care is like adopting an entire family for a time to help them regain their footing in life. Although this may not be what you expected from foster care, it is beautiful to be involved in the restoration of the family.
If you choose to foster to adopt in Texas, I suggest starting with the mindset that you are going to become a foster parent with the possibility of adoption. It is a small perspective shift that can completely change the way you view foster care and adoption, but for the better. This allows you to see foster care through the eyes of the biological family, to root for family preservation, but also be available to be a family to a child that needs one if family reunification is not a possibility. Adoption through foster care is about bringing a family to a child, not necessarily about bringing a child to a family. Because who should adoption be about? Should it be about growing our families or bringing us our "dream" child? Or is it about providing and stepping up as a family for a child who no longer has one?
In Texas, you can become licensed as a foster and adoptive parent through DFPS (Department of Family and Protective Services) or a private agency. Many agencies will provide training for you to become certified to foster and also licensed to adopt. If adoption becomes an option, becoming licensed to adopt will be one less item on your checklist to complete. It can be somewhat overwhelming when thinking about where to start. Here are some simple steps to becoming licensed to foster and adopt in Texas. You will need to pay for some items such as CPR classes and fingerprinting, but other than that, there are minimal costs.
1. Choose whether you want to go through DFPS or a private agency
In Texas, you can choose to go through DFPS or a private agency that partners with DFPS to place children and train potential foster and adoptive parents. Here you can find a list of private agencies by region.
2. Fill out the paperwork
You will need to fill out initial paperwork and background checks as well as get fingerprinted. Some agencies require more than others, but you will need to indicate some basic information about you, your family, your background, etc.
3. Prepare your home and take classes
There are many things you will need to do in your homes such as complete a health and fire inspection, get a fire extinguisher, and lock up medication. As you are preparing your home and filling out the paperwork, you will also need to take classes in preparation for fostering and adopting. This will help you be prepared for the kinds of behaviors and trauma that you will encounter in your home. Some of the classes will involve some basic information about children in foster care, CPR, and medication. I am truly grateful we had access to amazing classes through our agency (CK Family Services) because it was through our classes that we learned what our future children would need from us as their parents and how we could provide healing in our home.
4. Complete a home study
After you have completed all the paperwork, finished the classes, and prepared your home, you will need to complete a home study. This generally involves a contracted home study writer coming to your home and interviewing all members of your family. The home study writer will interview you about your childhood, health, family life, and work to find out more about your home life. They are gathering information to paint an accurate picture of your family.
When choosing to foster to adopt, almost nothing will go according to plan. We have found this to be true in our adoption journey. When we started the process to become licensed foster parents, we checked the boxes for "foster" and "foster to adopt," but our true desire was to become foster parents, serving any child who came to us for as long as he or she needed a home. We went into it thinking that we would be willing to adopt if that were an option, but we thought that we would only be able to adopt after at least 12 to 18 months. Honestly, we didn't even really prepare our hearts for adoption because we were too busy preparing our hearts for foster care. But you can never be "prepared" enough for the beauty that will enter your home when you choose to do foster care. We thought we were signing up to be foster parents; we ended up adopting two beautiful children. We prepared our hearts to say goodbye, but we ended up becoming a forever family. We arranged the two rooms in our house for two precious children to stay—whether it was for three months, three years, or forever. However, many people become foster parents because they want to adopt and don't get the opportunity to adopt for many years. As a foster and adoptive parent, you can never be sure of the outcome, but you can be present with the children in your care.
Being a foster and adoptive parent has been the best, most challenging, most rewarding, hardest experience I have ever had. Foster care will take you on the wildest adventure of your life and will open your eyes and heart to a different world. It will increase your compassion and awareness of brokenness, but it will also introduce you to little souls who will point to the sky and say "Look! It's stars!" or tell you that you're beautiful. Foster care will bring children into your life that will change your life and will change you. Whether or not you adopt them, you will play an integral role in the story of their lives, and they will play an integral role in the story of yours. What small step will you take today to get closer to becoming a foster parent (and maybe even an adoptive parent)?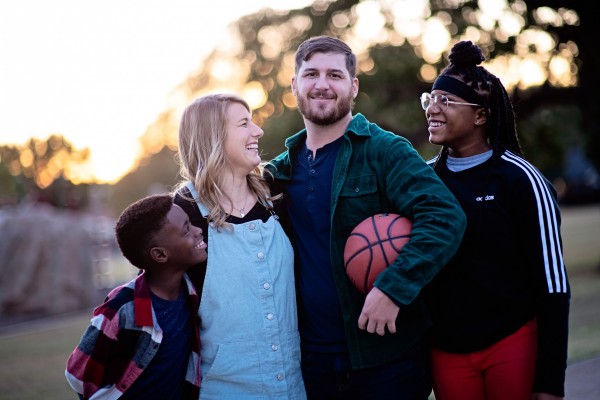 *Photo credit to Jen Armstrong Photography*
Are you ready to pursue adoption? Visit Adoption.org or call 1-800-ADOPT-98 to connect with compassionate, nonjudgmental adoption specialists who can help you get started on the journey of a lifetime.