On March 2nd, Adoption.com launched a new version of its popular adoption profiles site, Parent Profiles. The new site is located at adoption.com/profiles, and sports a modern new look and many new features. It is our hope that the new and improved site will provide users with even more opportunities to create meaningful adoption connections.
New Location, Greater Exposure
One of the major changes that has occurred in this transition is that Parent Profiles no longer has its own domain. Instead, it is now a part of Adoption.com, located at adoption.com/profiles. "The reach and exposure that Adoption.com can offer hopeful adoptive parents is unparalleled. Adoption.com receives millions of monthly page views and is visited over 600,000 times per month," said Mindy Jensen, the Director of Social Work at Adoption.com. "Adoption.com is the first organic search result when you search for 'adoption.' That's why we joined Parent Profiles to Adoption.com–because of the reach and exposure our parents would get."
A Safe Place for People Who Are Pregnant and Considering Adoption
In designing the new Parent Profiles, a central consideration for Adoption.com was ease of use for people who are pregnant and considering adoption. Parent Profiles empowers people who are pregnant and considering adoption to be able to have choices available to them.
Parent Profiles also needed to be a place where they could find exactly what they were looking for. "For expectant parents, our search capability enables them to easily search criteria to find parents who meet criteria that are important to them." There are currently hundreds of profiles listed on the site, allowing for a wide variety of families to review.
The new Parent Profiles provides expectant parents with the option of creating a private account that will enable them to use a built-in video chat system to connect with hopeful adoptive parents.
More Features Create More Connections
The new Parent Profiles profiling system utilizes up-to-date technology to help expectant parents and hopeful adoptive parents get to know each other better. "The new profile format provides an easy way for hopeful adoptive parents to show their personalities," says Jensen. "For example, parents love that we have video capability because videos are really powerful."
Jensen adds, "One of the cool features is the recommendation and endorsements, where you can ask your friends and family to recommend and endorse you for qualities."
Check out some of our favorite features:
1. A Pinterest-like "favorites" board that provides a visual way to share interests.
Pregnant and have questions? We can help answer your questions by telling us what works best for you.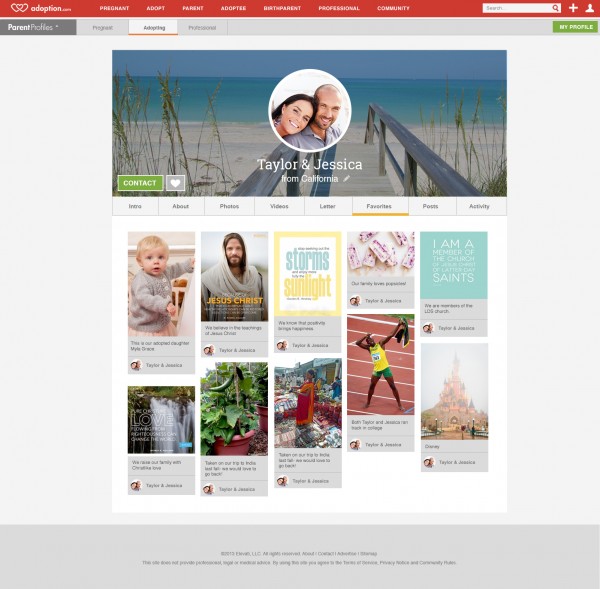 2. Easily organizable photo albums.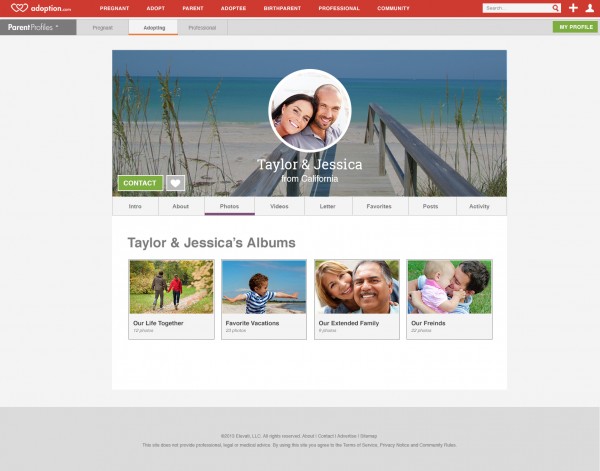 3. Recommendations and endorsements, similar to something you'd find on LinkedIn. Friends and family can write letters of recommendation for hopeful adoptive families. While they're at it, they can also endorse them for strengths.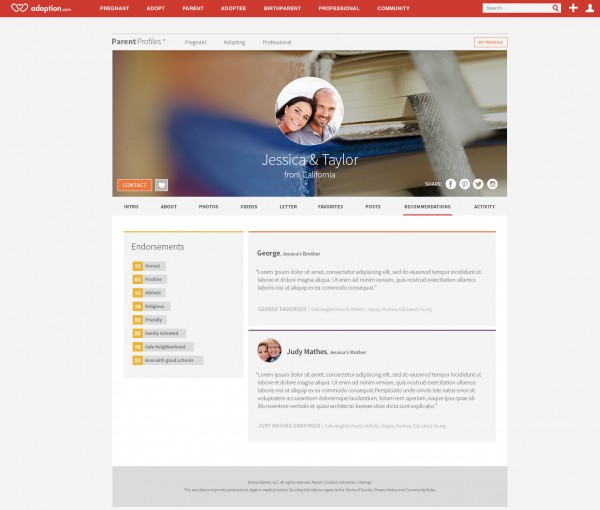 4. A post feature that enables hopeful adoptive parents to keep everyone up-to-date on their adoption journey by posting content such as photos, text, and videos in a stream.