"My friends and I were talking about what kind of things we are today," she tells me with a grin. I don't have to prod her to go on (this kid tells me everything—I hope she always will). "I told them I'm American because you are American. And I'm Canadian because Papa is Canadian." She goes on to claim the heritage of every member of our family, her biological family, and even her foster sibling's biological family.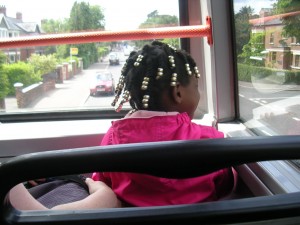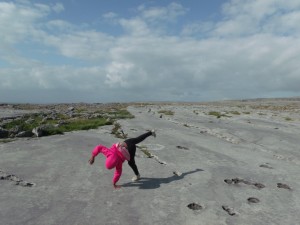 I chuckle a little. But the truth is, she's not wrong. "Adoption sure makes everything . . . " I start. I almost say, "more complicated," but it catches in my throat. I settle on "bigger," and it feels right. She agrees and moves on to the next bit of elementary school drama.
We all like to claim our Irish heritage around St. Patrick's Day. My great-grandparents were born in Ireland. They were Murphys, so it's hard to tell for sure, but we think we actually tracked down some of our distant relatives on one of our trips to Kilkishen. At any rate, they invited us in for tea and cake and plenty of gracious hospitality.
Though we don't know for sure, it's pretty unlikely that any of my daughter's biological relatives hail from Ireland. But here's the thing . . .
This little girl is as Irish as any other American I know.
She's toured Dublin (twice) on land and water, wearing a Viking hat no less.
She's skipped along a shady path at Power's Court Garden, popping out from behind trees and claiming to be a leprechaun.
She's turned cartwheels on the barren rocks of the Burren.
She's ridden in the front seat at the top of a double-decker bus careening through the streets of Belfast.
She's hummed and clapped along with traditional music in a pub.
She's danced until midnight at a castle with the family who promised her forever.
Truthfully, if this doesn't give someone the right to claim Irish heritage, I'm not sure what does.
In adoption circles, we talk often about maintaining our kids' cultural heritage.
This is important. I want my daughter to be proud of the biological roots that help to make her who she is.
I also believe it's her right to claim whatever parts of our family's heritage that she chooses. I am her real mom. Our shared life and experiences matter. These, too, are shaping who she is becoming.
And so, on St. Patrick's Day, I will wear the sweatshirt that I bought on that trip to Ireland with my daughter (she has long outgrown hers). We will dream together of traveling back someday. And we will claim our Irish heritage with pride. Just like every other American.