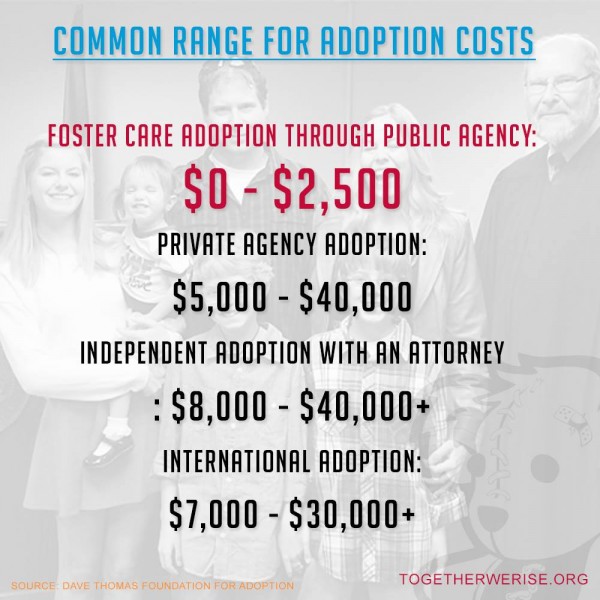 Recently, foster care advocacy group Together We Rise shared this photo on Facebook. The point of this information is not to downplay the importance of international or private adoption, but to draw attention to some of the benefits of adoption through the foster care system.
As a foster and pre-adoptive parent, I run into many people who are interested in adoption but are intimidated by what they've heard regarding the costs. In an ideal world, money wouldn't be a factor, and everyone who has a heart for adoption would be able to adopt and there would be no waiting children. But this is not an ideal world. There are costs associated with adoption, and for some would-be adoptive parents, $30,000 is a debilitating amount of money, especially when adoption, unlike childbirth, is not partially covered by insurance.
The good news here is that most states really want to help waiting children find forever families. There are children waiting for a family in every state in the US, and most states are willing to pay for at least a portion of the legal costs associated with the adoption process.
In Illinois, where I live, the state will pay up to $1,500 of the legal costs. The Illinois Department of Child and Family Services also provides a list of approved attorneys who will actually complete an adoption for $1,500 or less and who will bill the state directly. This means that any adopting foster family will have no out-of-pocket legal costs.
With nearly 400,000 children in foster care, and more than 50,000 children legally free for adoption, the need for loving families is there, and the state is willing to remove some obstacles. Adoption through foster care can make adoption a reality for many families who would otherwise be unable to offer a forever family to a waiting child.