Whether you're considering making an adoption plan for your child or considering adoption as a way to grow your family, you have a lot to think about. There are multiple things that you are juggling as you navigate this process and it is my hope that this article helps answer some questions that you may have.
It is always best to find the support that is local to your area, whether that be an agency, counselor, social worker, etc. to guide you through the process. Though I recommend reading and doing your research as well as talking to others who have had the experience of considering adoption, agencies and adoption professionals have the best ability to explain the laws, requirements, etc. in your county, city, and state.
There is no one right way to go about considering adoption, but I'm a firm believer in doing your research to make sure that you understand what you need to do.
Since there is no one right way to adopt a child or make an adoption plan, then you should do what you feel is best for you and your family. There are many professionals ready to assist you every step of the way.
Considering Adoption for your Unborn Child
If you are considering making an adoption plan for your unborn child, you'll want to find an agency near you that can help support you as you make your decision. Adoption specialists like caseworkers, social workers, and even counselors can help talk you through the steps you will need to take and help you understand the adoption process.
Furthermore, adoption professionals can offer additional support that you might need during your pregnancy. If you decide to parent, but need some extra help to do so, adoption agencies can help guide you to the support you need. If you need help finding an adoption agency that will meet your needs, this guide will help. Not everyone chooses to use an agency. Adoption attorneys can help, if you are considering adoption. Please note that you don't have to make a decision right away.
If you're making an adoption plan for your child, you will need to consider whether you'd like to have an open, semi-open, or closed adoption. Years ago, adoptions were typically closed, but today there are a lot of options available. Many of those options allow birth parents to still be a part of their child's life to some extent.
An open adoption typically will allow some level of communication or even visitation depending on everyone's comfort level. There is no one way that open adoption is completed and you can read more about the variety of options in an open adoption here. Open adoptions are becoming more and more common and many feel that this is the best choice for children and parents alike.
Semi-open adoptions usually mean that birth mothers and/or fathers would receive emails and photos of the child. Usually, these are received once a year for a certain number of years, but the frequency and length can vary. Read this article about semi-open adoption to learn more about that option and creating an adoption plan. Many people in a semi-open adoption exchange emails, pictures, etc. In a closed adoption, there is no communication. Though this isn't typical today, a birth parent can still choose that route.
As you consider your options and what adoption may look like for you, you will need support. So, if you can't find that from your family and friends, make sure to keep in contact with the professionals you've been working with. They're there to help you. You may also want to speak to others who have made an adoption plan. There is likely a birth mother group that you can join to learn more from other's lived experiences. Considering adoption and making an adoption plan is an emotional journey, and you'll want someone to talk to about all of your options.
Learn more from the perspective of other birth mothers.
Find adoption guides and professionals to support you.
Are you interested in learning more about those who are looking to adopt to build their families? Find families hoping to adopt.
Considering Adoption to Build Your Family
There are many reasons that you may choose to adopt a child. I had back surgery when I was a teen and giving birth wasn't advised by my doctors at the time, so we made the choice to adopt. Many like Becky Fawcett, co-founder of Helpusadopt.org, chose adoption to build her family after failed IVF attempts and miscarriages. However, some people choose to adopt without having medical or infertility issues. Whatever your reason, you'll need to start by doing your research and understanding the process fully.
"In my opinion, I think the two most important things to think about when considering adoption to build your family are cost or how you will afford to adopt and openness," says Becky.
"Being open and transparent about adoption is really important. This isn't just my opinion, all of the signs point there. If you adopt domestically, open adoption research has shown that open adoption is best for all involved. If you adopt internationally, it is so important to be open and to honor your child's culture and heritage that is a part of who they are."
Becky also notes that you should know how easy it is to love a child that doesn't have your DNA. It's interesting that she mentions this concern because I often get questions about this as an adoptive mom myself. People have apprehension about forming a bond with a new baby, but though I've never given birth or known that experience, what I do know is that the moment I held my daughter I knew she was mine. I loved her so much I honestly thought my heart would burst. Love builds a family. Not DNA.
In talking with several adoptive parents, they said that there were things they hadn't considered properly prior to adopting. One of those concerns was understanding the impact adopting another child could have on siblings. Encouraging the entire family to be a part of the process can help with this. There is also the added consideration that your child could potentially have his or her own biological siblings. For various reasons, you might not adopt your child's siblings along with your child. If that is the case and it's possible, you may want to have a relationship with them for your child's sake. Read more about that here. There are a lot of other things you'll be encouraged to think about when considering adoption. If you're working with an agency, you'll be asked a series of questions to help you work through these things.
In my own personal experience, when we were considering adoption I did all of the research and found people to support me, but I wasn't quite aware of the emotional toll that this would take on me. I can't even begin to imagine what birth parents are going through. However, through my own experiences, I learned that this is a long process for adoptive parents. Though they're well-meaning, friends and family will ask when you're adopting or say things like "I bet when you adopt, you'll get pregnant with one of your own." This kind of statement is both hurtful and disrespectful to adopted children, and you'll constantly get asked when you'll be placed with a child. Have someone you can talk to. Our agency provided counselors to talk to and I heavily relied on other adoptive parents and adult adoptees who could share experiences with me to help me through that time, but also to prepare me for what was to come.
When you're considering adoption, make sure to learn about the processes and procedures in your state and county, understand what you have to do prior to being considered, and ensure that you're doing everything you can to continue to learn about the adoption process.
Learn more about the Home Study Process and adopting a child.
Considering Adoption and Understanding Transracial Adoption
My husband and I were open to adopting a child of any race. We did a few trainings, but there was still a lot to learn when we brought home our daughter. I encourage you to speak to people of color, particularly adoptees who are a different race than their parents. There are a lot of unique nuances to this type of family dynamic.
Our daughter was three when she noticed she didn't look like us and that there were clear differences in our family from others. Obviously in her infancy, the outside world noticed and some people said things.
You need to be prepared to be an advocate for your child. Expose him or her to people that look like them as best you can. Attend cultural events, have toys that represent them, etc. I have joined hair groups to help me better style my daughter's hair appropriately. (You can learn more about my experience by reading my article Salon Mommy). I continue to ask women of color for help because it is my goal that my daughter looks culturally appropriate, whether she's at school or playing in her room. This has always been important to me, but it's also important to her and that is what matters the most.
Pregnant and considering adoption?
Get your free adoption benefits and support bundle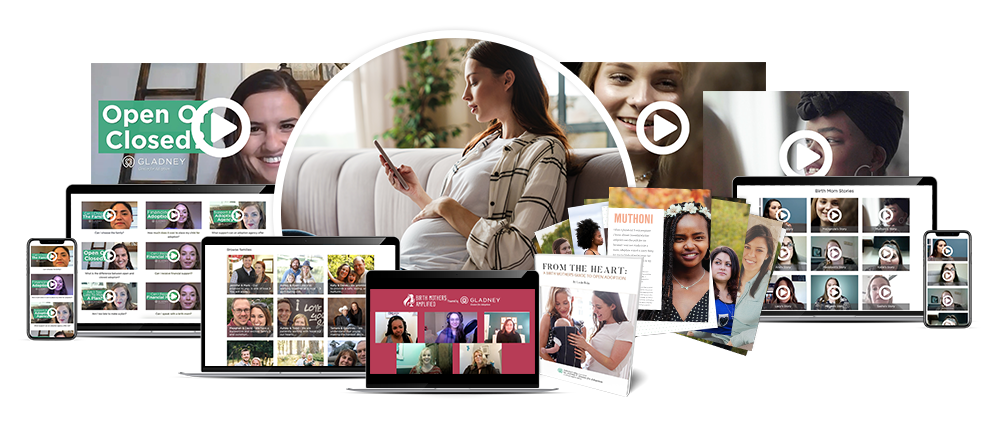 When considering adoption, you need to be prepared to understand the unique nuances of parenting a child of another race and culture. If you're adopting internationally, you'll have to do further research to ensure that you are prepared to help your child learn more about his or her culture.
When considering transracial adoption, do your best to research experiences from adult adoptees. Rhonda Roorda is an adoptee and speaker about transracial adoption. Her book In Their Voices: Black Americans on Transracial Adoption has been so helpful for me. My copy is worn and overly highlighted and noted. If someone asks to borrow my copy, I order them one because my copy is so important to me. If you're considering transracial adoption, I simply can't suggest this book enough. There are a lot of other books that you can read and a lot of articles about the subject. It's important to understand things that you might not have considered previously.
For more information about transracial adoption, read 5 Things to Know about Transracial Adoption.
Considering Adoption: Books and Articles to Read
When individuals reach out to me and I hear that they are considering adoption (either to make an adoption plan for their child or to build their family), the first thing I always tell them to do is to read. There are so many amazing articles, books, and online content available to help you learn from other's experiences. Since I now have my own experiences as an adoptive parent, I am a firm believer in reading the experiences of birth mothers and adoptees. Their stories will help you better comprehend what you're embarking on and you'll definitely find nuggets of information that will help you and also have a lasting impact.
When I started reading (and let me preface this with the fact that I'm a researcher and a writer, so reading is a major part of what I do both personally and professionally), I found so much information that helped me then and continues to help me now. I reached out to authors of these articles and books and many of them are now my friends who I rely on to ask questions when my daughter or I need support.
Adoption.com is a great place to start to get information. I've also listed several links that can help people who are considering adoption. I find equipping children with books about adoption is also key
The Not In Here Story is a great book for children.
These are great books about adoption for all ages.
Read a review about a book written by an adult adoptee about her perspective.
Remember that whatever you personally decide, there are people to support you along the way when you need it. So, be sure to reach out.
Learn more information about how adoption works.
Considering adoption? Let us help you on your journey to creating your forever family. Visit
Adoption.org
or call
1-800-ADOPT-98.
Are you considering placing a child for adoption? Not sure what to do next? First, know that you are not alone. Visit
Adoption.org
or call
1-800-ADOPT-98
to speak to one of our Options Counselors to get compassionate, nonjudgmental support. We are here to assist you in any way we can.