Jason and Kelly made one of the hardest decisions of their life to place their daughter Julianna for adoption. From the very beginning, the birth parents wanted to have an open adoption relationship with their daughter and her parents, Chris and Jaime. Chris, Jaime, Jason, Kelly, and Julianna have become one big family through open adoption.
Chris, Jaime, Jason, Kelly, and Julianna meet up as a family once every year. For these past few years, the group has made it a point to meet up around the holidays. As the 2017 holiday season was approaching, Jason and Kelly received an invitation from Chris and Jaime to come visit them and Julianna that December in Pittsburgh. The time Jason and Kelly spend with their Pittsburgh family is invaluable, and what better time than Christmas? Spending time with family and expressing your love and gratitude for one another is what the Christmas season is all about.
Jason and Kelly were thinking of possible presents to give their family in Pittsburgh, and then one day, an idea popped into Jason's head. In honor of the season, Jason came up with the perfect gift, creating them a Christmas tree ornament. Jason had a vision in his head of an ornament that would symbolize the strong foundation of love that enables the adoption triad's relationship to thrive. Jason used his talents to create a wooden ornament that looks like a heart-shaped puzzle. Everyone's names are carved on their own puzzle piece, starting clockwise with Julianna's at the center top of the heart. In the exact center of the heart, Jason carved the message "Together we make a family" with the date June 25, 2016 (Julianna's birthday), carved directly below the message. When one turns the heart, it reads "Love Always" on the back. Jason also made an acrylic version of the heart as well.
When Chris and Jaime opened the handmade gift from Jason and Kelly, they were both touched and blown away for so many reasons. The gift Chris and Jaime had bought for Jason and Kelly carried the same idea and message both literally and figuratively. When the birth parents opened their gift from Julianna's adoptive parents, they found themselves holding an ornament that could ultimately be a replica to the handmade ornaments. Both ornaments were a heart-shaped puzzle with each piece naming all the members of the triad. In the center of the ornament that Chris and Jaime bought for Jason and Kelly it also reads, "Together we are family."
The uncanny resemblance between the two Christmas ornaments is solely a coincidence. To both parties, the ornaments represent the family's commitment to one another, and most importantly, their dedication to Julianna.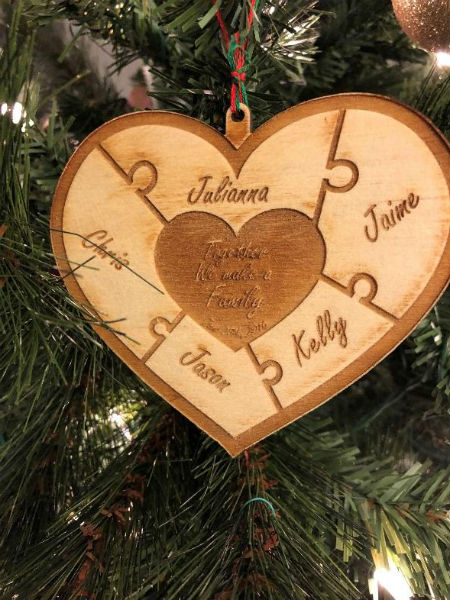 Jason's handmade ornament #1 (Front)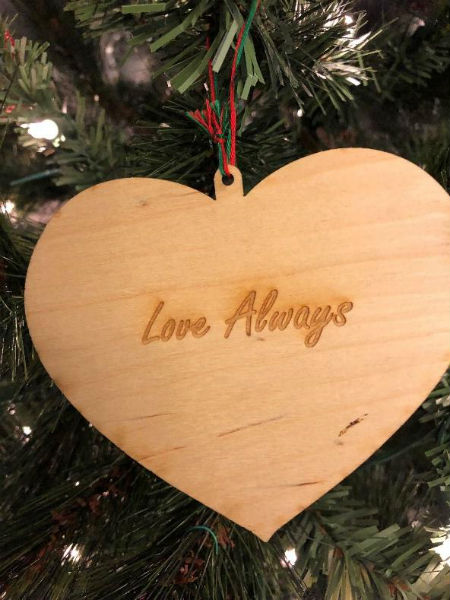 Jason's handmade ornament #1 (Back)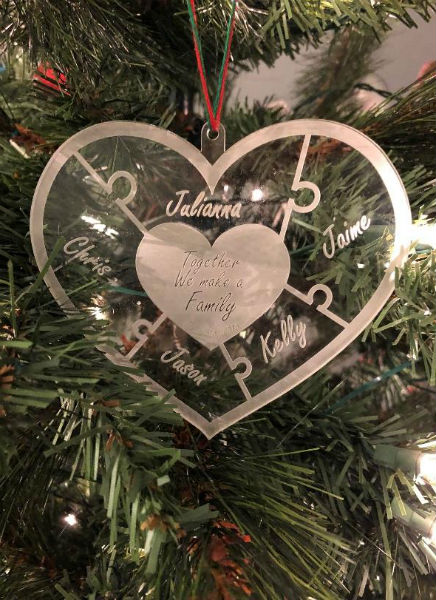 Jason's handmade ornament #2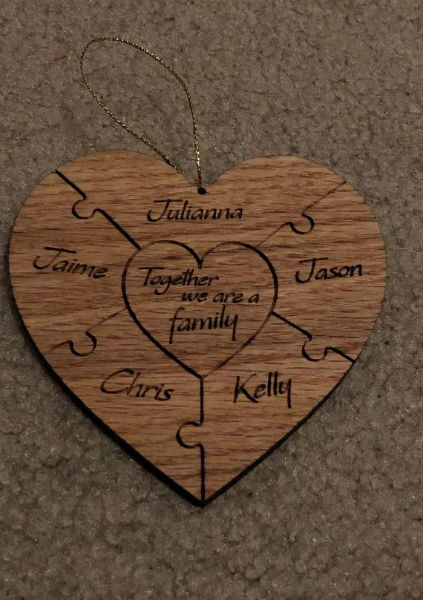 Chris and Jaime's gift to Jason and Kelly