Are you facing an unplanned pregnancy? Is something inside you telling you to consider adoption? Are you wondering how open adoption works?
Open adoptions allow birth mothers to continue communicating with their child after the adoption is completed. And they are now the norm in American domestic adoptions.
How do these relationships work, and what are the open adoption rules?
Let's take a look.
What Is Open Adoption?
Open adoption is a situation in which birth parents and adoptive parents have information about each other and maintain contact after the adoption is complete. Identifying information includes full names, phone numbers, and emails where each can be contacted.
In many cases, contact may include texts, photos, or updates that are sent to the birth mother on occasions like birthdays or holidays. In other instances, there may be regular phone calls or even in-person visits.
As a birth mother, you'll be in the driver's seat in terms of the type of arrangement you'll want to have with your child's adoptive parents. You can discuss it with your adoption agency, lawyer, or social worker before you begin reviewing the profiles of prospective adoptive families.
Remember that you can specify other requirements for adoptive parents, such as their religion or parenting philosophy. You may want your child to grow up in a rural area with lots of space to run around or an urban neighborhood with plenty of cultural opportunities. You can talk over all of these wishes with your agency, lawyer, and prospective adoptive parents. Don't be afraid to talk about all of your hopes and dreams for your child.
What Are the Benefits of Open Adoption?
Open adoption can allow you to have some kind of relationship with your adoptive child after the adoption is complete. You can rest easy as you get updates on how your child is progressing.
Maybe, for example, you chose adoption so your child could have opportunities he or she wouldn't otherwise have, such as lessons or chances to travel. An open adoption situation can provide you with evidence that your child is getting just that. As you see photos of your child's trip to London or his first baseball game, you can rest assured that your child is growing into the healthy, happy person you dreamed he could be.
Open adoption also allows children to get information about their biological background right away. Questions about birth parents can already be answered. This is also helpful when it comes to providing medical information that is useful for your child's doctors to have.
Remember that adoptive parents must undergo a rigorous process before they're approved as prospective parents. They will need to be interviewed both inside and outside their home, pass several background checks, get medically examined, and supply personal references. They'll need to answer questions about their reasons for adoption and their parenting philosophies. Adoptive parents must also provide proof of their employment and other necessary financial documents.
Studies show that over 85% of children who were adopted are in excellent health and exhibit happy social behaviors. Most children who were adopted also do well at school.
If you're looking for an option that will result in the well-being of your child as well as your own peace of mind, you may want to give open adoption some thought. It may give you the confidence that your child is growing and thriving in a happy home.
Open Adoption Rules
According to FreeAdvice Legal, open adoption can be entered into as a legal agreement between birth parents and adoptive parents that is part of the adoption decree. It can also be an informal arrangement that is not legally binding. Open adoption agreements specify the type and frequency of contact between the adoptive parents and birth parents.
In most cases, birth parents relinquish their parental rights in an adoptive arrangement. Specific laws vary from state to state. If the birth mother plans to maintain certain rights, the open adoption rules can be specifically or generally written out in the adoption agreement.
In other cases, there may not be a formal agreement between birth parents and adoptive parents. These situations are not as secure for the birth mother.
According to HG.org, birth parents have parental rights until the court, adoption agency, or lawyer finalizes the adoption. After this, the court will terminate the birth parents' custody. The birth parents can seek to maintain communication with adoptive parents as their agreement allows.
If birth parents wish to visit their child outside of the agreed terms, a lawyer is usually necessary to help facilitate. The professional can persuade the court why more frequent visitation is in the best interest of the child.
There are cases where the birth mother may be denied visitation rights after adoption. This occurs when there is excessive drinking, drug use, or other illegal activity.
In some cases, birth parents may be able to retain their parental rights if they can prove that they proceeded with the adoption because of coercion. Birth parents and adoptive parents must consent to the reversal of the agreement. It must also be deemed to be in the best interests of the child.
Preparing for Open Adoption
Placing a child for adoption is a weighty decision that will require you to bring all of your heart and head to the table. If an agency is facilitating your adoption, they can usually provide you with a counselor who can help you make a good decision that you are certain you're comfortable with. They can help you weigh the pros and cons of all of your options and guide you to think about how you'll feel about your decision in the distant future.
Good counseling can help you make sense of all of the emotions involved in making this critical decision. You may be feeling loss, confusion, and even a little relief. Journaling, discussions, and clarification of your goals for the future can all help you to make your reasons for choosing adoption clear. As you move forward, you can be confident that your decision was based on the best interest of your child and her future when you selflessly chose adoption for her.
Your adoption agency is a great place to start if you need medical or material assistance. They may be able to help you find affordable housing, medical care, and counseling while you await the birth of your child. If you aren't working with an agency, a crisis pregnancy center may be able to help you find housing, medical care, and counseling. Many of these centers are not-for-profit and provide services for free.
You'll want to be taking care of your body if you're expecting an infant. Be sure to keep up with your medical exams. In some cases, birth mothers like to have adoptive parents present for their prenatal visits as well as childbirth. This is a personal decision you'll have to weigh carefully. If, however, you already have a strong relationship with your child's adoptive parents, it could work to strengthen your bond.
Strengthening Your Baby
Many women are too sick to eat a well-balanced diet during pregnancy. You should, however, try to get some nutrition whenever possible. For example, you'll want to eat lots of leafy greens and legumes, which are high in iron and folate. These provide enough oxygen to your baby's organs and muscles. They also help your baby's brain to develop normally. Folate helps babies to develop healthy new cells.
You'll also want to be getting lots of protein as it's made from amino acids that are the building blocks of your baby's cells. Protein is particularly important during the second and third trimesters. Eggs are a great source of protein, as well as choline, which helps with a baby's brain and spine development. Meats like beef and pork are other great sources of protein.
You can pair proteins with foods rich in Vitamin C, which can help with tissue repair and allow your baby's bones and teeth to develop properly. Vitamin C can also serve to boost immunity in both of you.
Pregnant and considering adoption?
Get your free adoption benefits and support bundle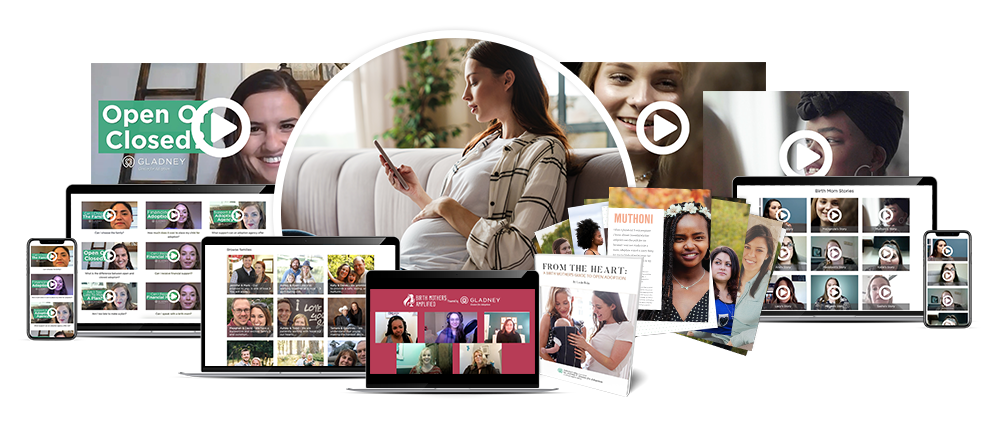 Salmon is a great pregnancy food because it's rich in Omega 3s, which are important building blocks for the fetal brain and retina. However, you'll want to avoid fish that are high in mercury. This includes tuna, shark, and swordfish. It could cause developmental problems in children.
You'll also want to avoid raw or undercooked meat or eggs. These could be infected with bacteria or parasites that could harm your baby.
Be sure to avoid alcohol while you're expecting. It could cause problems with brain development and increase your risk of miscarriage or stillbirth. You'll also want to reduce your caffeine intake.
Prenatal vitamins can also help your baby get the nutrients he or she needs for healthy development.
Strengthening Yourself
You may find yourself becoming overwhelmed with anxiety and emotions while you're expecting. It's critical to take care of yourself so you're ready for whatever the future brings.
Take a warm bath (but not too hot), drink some tea, and relax with a good book whenever possible. There are lots of wonderful resources out there that can help you get prepared for your future. Many books, podcasts, and online broadcasts can get you excited about the future and making new plans.
Do you want to go back to school or start a business? Open adoption makes it possible for you to continue pursuing your dreams while your baby grows into a healthy child. Remember that your adoption is a chapter that you can look back on as a catalyst for change in your life. It could be when you began to form great relationships and make big plans for yourself.
It's critical to communicate with those who support your decision. If you're not getting the kind of strength you need from your friends and family, that's okay. Reach out to your local community center or house of worship to find new friends who will encourage you in your journey. Or you can find online support groups with women who faced a similar situation and came out victorious.
Whomever you choose as your team, be sure that they are positive and supportive of your decision. If the voices around you become negative, you may feel your spirit begin to weigh heavily on you. Look for those who build you up and encourage you to be your best self. You're facing a new beginning, and it's a challenge you're ready to meet.
Many times during the adoption process, you may find that you're overwhelmed with the emotions you're feeling. This could even happen after the adoption is complete. When this happens, it's critical to have a counselor or friend you can turn to for advice and support. You'll want to comfort yourself with the assurance that you made the best decision you could, and the future is still very much yours to paint.
Maintaining Communication
Maintaining communication with adoptive parents may seem tricky at first. To keep the best relationship, try to be as positive as you can in your communications. You'll also want to maintain healthy boundaries so the relationship can continue moving forward in the best interests of your child.
Your child's life and future are the primary concerns of an open adoption relationship. As long as you focus on your child, you'll remain a part of her or his life for years to come.
Movin' On
Open adoption is a selfless decision and a beautiful choice when you're facing an unplanned pregnancy. Open adoption rules are kept in place to make sure your child has the best possible outcome.
With the right preparation and support system, your open adoption arrangement could be the fresh start that you build the rest of your life on.
Are you considering placing a child for adoption? Do you want more choices with your adoption plan? Do you want to regain more control in your life? Visit Adoption.org or call 1-800-ADOPT-98. We can help you put together an adoption plan that best meets your needs.