Cadynse from Texas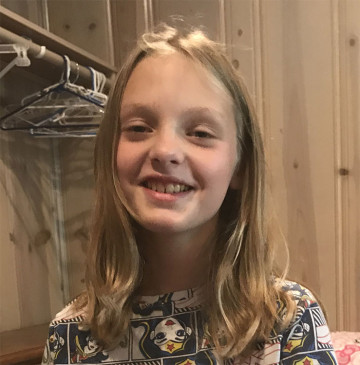 Age 10
Gender Female
Location Texas
Ethnicity NA
Case Number 94006
---
Cadynse is a friendly young lady that loves to play with others. She is very bonded and protective of her younger brothers (Carson and Keegan). She enjoys laughing, acting funny to be silly and make others laugh. She enjoys making arts and crafts, and really loves to make slime from scratch. She does not consider herself to be a "girly girl" and does not really like anything that is "princessy". Cadynse loves to go swimming, play cards, and play with animals and REALLY loves horses. She loves to be around animals, tending to them and taking care of them. Some of her favorite foods include ramen and of course, mint chocolate chip ice cream. She is not afraid to speak her mind and can easily express her feelings to others. She typically is an easygoing girl, but like other kids her age, will sometimes try to test limits, but is easily redirected and understands when she has done wrong. Cadynse is able to communicate her wants and needs without difficulty.
Meet Cadynse, Carson, and Keegan! These are three amazing kids that have a strong and tight bond with each other and who love to play. All three children are very energetic, loving, and LOVE ramen. Cadynse is the oldest and she tends to be very protective of her two younger brothers. Cadynse loves to make slime and listen to country music when she has free time. Carson is known to be very respectful and enjoys helping around the house. He loves to play video games, watch movies, and go swimming. Keegan loves to play outside, play with his nerf guns, and loves his stuffed animals. He loves to say "No" at first, but that just because he is shy and when he gets comfortable, he will talk a lot. Cadynse, Carson, and Keegan have each mentioned that they would like a two-parent household because they want both a mom and a dad; as well as, a family that looks like them and they wish to live out in the country.
Cadynse wishes for a "mom and dad". Cadynse's forever family will be able to offer supervision, structure, and a loving environment. Cadynse will also benefit from a two-parent household with a strong father figure would be ideal. Cadynse is pretty open to different locations, as long as she is with her brothers; but has mentioned that she would prefer to live outside of Texas "out in the country" as she puts it.