Christian from Texas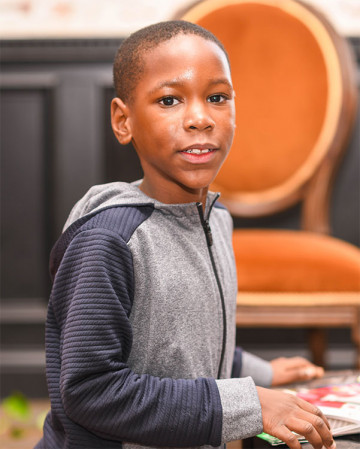 Age 8
Gender Male
Location Texas
Ethnicity African American
Case Number 102047
My Siblings Ki'yon
---
Christian is a sweet little boy who is very outgoing and fun-spirited little boy. He is very small in stature but has a big personality. He is a loud and funny child who likes to make jokes and play with his toys. Christian enjoys playing with Legos, action figures, and Hot Wheels. He loves his brother and enjoy spending time with him. He also likes playing video games on his tablet, especially ROBLOX and Minecraft. Christian is very imaginative and can always find something to entertain himself with. Christian enjoys being active and likes spending time at the park or the indoor trampoline park. Christian is very smart and does well in school. He would like to be adopted with his brother into a loving and caring forever family.
Ki'yon and Christian are both energetic and fun-loving children who like to be on the move. They are both very bonded to one another and have been throughout their entire lives. They laugh together, play together, and support one another. Ki'yon and Christian enjoys swimming, drawing, playing video games and watching movies together. In addition, another common interest that both shares is listening to music, laughing and just be silly together. Ki'yon is the oldest and loves to be around his brother. Ki'yon and Christian both outgoing kids and love exploring together. Kiyon and Christian enjoy motivating each other to make better decisions and to respect others. They would like to be adopted together into a loving and nurturing forever family.
Christian's forever family will be patient, kind, and able to set firm and consistent rules for him. He can find new environments and routines overwhelming, and patient and understanding parents would be an excellent fit for him. He is very loving and affectionate; however, he enjoys spending time alone and needs his parents to provide him with that time. Christian needs parents who will continue nurturing and growing that bond between both brothers.