Thirty-three years ago, a woman met a man at an alcoholics anonymous meeting and began a fling with him. Shortly after that, she was faced with an unplanned pregnancy. When she approached him about being pregnant, he dismissed her and admitted that he had a girlfriend. So, he did not want anything to do with her or the child. She approached her parents for help, but they said that they could not take on a baby at that time. They urged her to investigate adoption.
Left with the choice of parenting without any support or choosing adoption, she decided to contact an adoption agency local to her. She began her adoption journey and nine months later had a beautiful little girl that she nicknamed "angel." She bought her a giant teddy bear from the hospital gift shop, and as she watched that baby girl sleep she began to write her a letter with tears dropping onto the paper. She told her baby that she did not want to give her up, but that she did not have a choice. She expressed how much she loved her and that she hoped that she was doing the right thing.
Fast forward to the present day, that little girl was me. I was adopted from an agency at two days old and did not see my birth mother or any birth family member again until I was 22 years old because the adoption was a closed adoption. During those 22 years, my birth mother struggled and still does to this day with addiction and poor choices. She would occasionally ask for updates or pictures of me by going into the agency and filling out a request. My adoptive mom would answer those requests with letters and photos sent to the agency. While this was basically how putting a baby up for adoption looked back in the 1980s, it's extremely rare in today's modern adoption world to have a closed adoption.
Putting a baby up for adoption in 2020 can look like an array of situations. In fact, in 2020 the adoption community doesn't like to use the phrase "putting a baby up for adoption." Instead, they use the phrase, "placing your baby through adoption." The reason the adoption community uses that phrase instead is that the old and outdated "putting a baby up" phrase comes from a time when people would lift babies onto a platform from the train to start the adoption process. The adoption process in modern times is one where people purposefully choose a good family for their child and place their child with that family. They do not give up or put up a child to the highest bidder or whoever is around and looking for a child.
If you find yourself unexpectedly pregnant now, the first step you will have is to figure out the options you want to consider, and the next step is to research them before making a decision. Adoption is a very worthy option, but it is final and cannot be taken back. So, it's important to feel confident in the decision you make for your child's life. I also urge you to make sure that your decision is yours alone and that you do not feel pressured to pick one thing over another by outside commentators or pressures.
Being a birth mother to an adopted child is not only going to change your baby's life but yours will forever be impacted as well. To research adoption more intently, if that is what you would like to do, you can either go through a lawyer for a private adoption or you can go to an agency and sit down to talk with them about the process. Private adoptions with lawyers usually occur when you have someone in mind to adopt your baby like a family member or a family friend. If you do not know anyone who would like to adopt, then you can work with an agency to find a family you would like to place your child with.
When chatting with someone from either an agency or the lawyer's office, you will quickly learn the stories of other women who have decided to place their child through adoption and how they were able to handle the choice. This is where you begin to realize that the phrase you have always heard, "putting up a baby for adoption," is not an accurate phrase. Women faced with an unplanned pregnancy who consider adoption go through a lot of steps and considerable thought before deciding on a path for their baby.
Adoption is not just simply deciding that the birth parents no longer want the baby or never wanted the baby in the first place, but rather making a very intentional plan that they customize during the pregnancy to give their baby a different life than the one they could provide at that time. The adoption agency worker will then tell you about how things work at their agency and answer any questions that you may be wondering about. If you move forward, you will likely speak with their legal team next. They will go over how adoption law works in your state in an easy to understand way. They will ask you questions about your situation so that they can best help you with the legal aspects of adoption. It's not very likely that you will have to interact with them much as they handle all the paperwork, legal jargon, and court proceedings. Which, if you ask me, is a HUGE weight off your chest.
You will then get a caseworker who will help you throughout your journey and always be someone you can lean on if you need support or have questions. Sometimes agencies have dorms or living assistance that you can look into if you need those services.
I said earlier that I am an adoptee, but I am also a birth mother who placed two children, one in 2008 and another in 2010. I went with a private adoption agency for my first child and for my second child I went through an agency. The agency that I chose, The Gladney Center for Adoption, had a dorm. At the time I decided that it would be good to live there, even though I was local because I would have support from other women in similar situations as me. Plus, it was very similar to college dorm life; obviously minus the drinking and partying, but I got to watch tv late with friends, enjoy extracurricular activities, cook, and have access to a full pantry. I made life-long friendships and memories during that time. In hindsight, being around other women who were also going through the adoption journey really helped keep me grounded. So, if you have the option to look into maternity housing like this, it might be worth it!
Once you are all set up with a caseworker and you've begun your journey, it's time to start thinking about what kind of post-adoption life you'd want with your child. Would you want to see him or her often, to only write and send pictures occasionally, to be able to connect on social media, to text the parents when you are having a hard day so you can get a quick picture or update, or do you not want to have any contact with your child and his or her adoptive parents again? It is important to think about what kind of expectations you'd want after you have your baby and place him or her with a family.
There are typically three types of adoption plans post-placement: a closed adoption like mine that I described at the beginning, a semi-open adoption, or open adoption. As I stated before, it is very rare for women to choose a closed adoption plan today, but it can happen. If you are someone who would be leaning toward this option, here is some advice:
1) You are not abnormal for not wanting a connection with your child right now. It's painful to lose someone you love and being reminded of him or her so often can be hard for some people.
2) Keep an open mind and consider the adoption options carefully. You will not be able to have communication with him or her until he or she turns 18 and decide to seek you out if you choose a closed adoption. Once an adoption is finalized, the level of communication will not change.
A semi-open adoption is a great option because it means that you have limited contact for the first 5 years that you are still deep in grief, but then if you reach a point where you want and need more contact, you can request it from the adoptive parents. Together, if the adoptive parents agree, you can make a new plan to implement visits, updates, social media contact, letters, emails, or any other form of connection you choose.
Open adoption can work like that too. It is usually far more involved in communication and visitation for the child's entire life. I have an extremely open adoption with my firstborn since my parents are raising him. I see him practically daily and have lived around him his whole life.
Pregnant and considering adoption?
Get your free adoption benefits and support bundle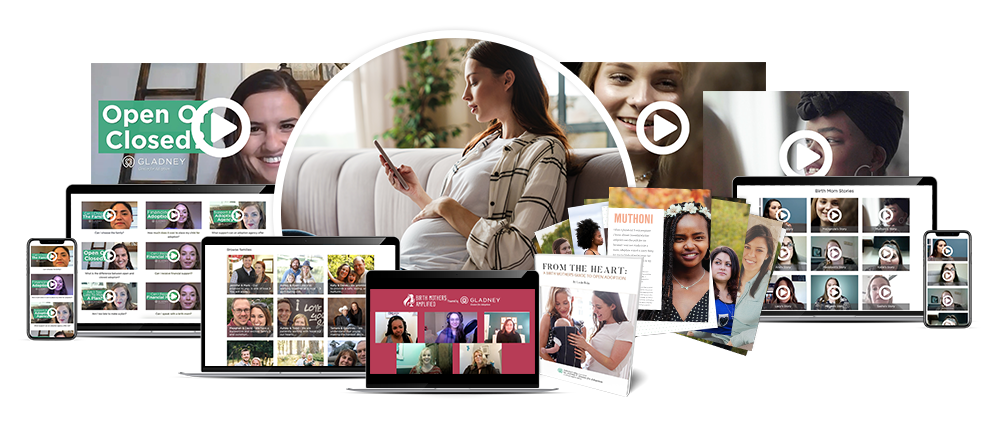 With my second child, I see her whenever we plan something. I'm connected to her mom on social media, and I can text her parents whenever I want. It did not start out that open though. We started out with a visit once a year and email updates with pictures. We progressed to social media contact and two visits a year. Now we are as close as any other family member's I have. The relationship has naturally progressed into the wonderful place where we are today. I am thankful the relationship progressed at a pace where everyone felt comfortable and respected.
Once you decide what type of adoption plan appeals to you, you can then find parents for your child. There are parent profiles all over the internet, and many people are looking for women who are putting up a child for adoption or rather placing a child through adoption. So, you can be as picky as you want. Usually, your caseworker will be able to help guide you to certain profiles once he or she hears more about what you'd like in a family for your child. This helps the mother to not be overwhelmed by all the endless profiles on the internet.
When I was choosing my daughter's prospective adoptive family, I noticed that they had a large extended family, close friend group, a dog, no children of their own yet and that they traveled often. They also found faith important and that was a big plus to me. At the end of the day, any of the couples I looked at would have been a great choice, but I knew in my heart who I wanted to choose for my baby and I believe you will too.
Once you have picked a possible family, you can connect with them to see if you still feel good about placing your child with them. I spoke on the phone with my daughter's prospective adoptive parents first and then I met them. Both the phone call and meeting them in person were awkward and I worried about whether they would like me or not. However, every single day since that first meeting that I have known them, I still feel the same way. They were meant to be my daughter's parents and they love her more than I could have ever imagined.
The last stage in putting a baby up for adoption or placing a baby through adoption is birth and placement. During birth, it's likely that you will need a lot of support. Things can get super emotional and confusing when you finally get to hold your baby in your arms. It's important to remember why you chose adoption in these moments. You can remind yourself why you felt adoption was the right plan for you and your baby before birth. If you still feel that way, you can move forward to placement. But if you do not, and instead feel like you are making a mistake please listen to your gut and take more time to process what you ultimately want to do. Adoption is final, so you really need to decide for yourself what is best for your baby. I'll also interject here that this is probably the scariest time for adoptive parents.
I have a sister who was planning to place her child through adoption. She even had the parents at the hospital while she was giving birth, but she decided to not move forward. It killed me to think of the pain that the couple must be going through to get so close to becoming parents, but I also realized how much pain my sister was in. Losing a baby, losing motherhood is hard and the epitome of sacrificial love. So while yes, it is incredibly hard and sad to tell someone that you changed your mind please know that if you cannot move forward, then you must follow your heart. If you truly believe parenting is the best option, then you can make that choice at any time.
Those who decide to move forward with adoption can sign relinquishment papers whenever their state allows birth parents to sign and then set up a placement date to hand the baby to his or her new family. While you may think that adoption ends there, life will forever be surrounded by adoption now. That baby can still be a huge part of your life as someone you see grow up through pictures and letters, but regardless of what you choose he or she will always be your baby.
Are you considering adoption and want to give your child the best life possible? Let us help you find an adoptive family that you love. Visit
Adoption.org
or call
1-800-ADOPT-98.