She's a country singer, a Grammy award-winning songwriter, a backup vocalist for Christopher Cross, a wife, a mother, and an adoptee. Marcia Ramirez fills many roles, but each of them arises from a decision a pregnant 17-year-old girl made many years ago. That girl chose the loving option of adoption for her baby girl, putting Marcia on the path to the wonderful life she has today—one she describes as "super blessed."
Over the course of her musical career, Marcia has performed with well-known artists such as Tanya Tucker, Patty Loveless, Pam Tillis, Mindy McCready, and Rodney Crowell. She's released five solo albums: Compromise, The Barefoot Sessions, Life Goes On, Beautifully Lived, and Abba's Child. Her TV appearances include spots on The ACM Awards, The Grand Ole Opry Live, Good Morning America, and The David Letterman Show. She's an in-demand performer at the world-famous Bluebird Café in Nashville.
A voice major in college, Marcia minored in piano. She's a multi-instrumentalist who played flute in her college band and now performs playing piano, guitar, and the mandolin. Not only does she sing and play music, but Marcia also writes songs as well. She won a Grammy in 2017 for "God and My Girlfriends," a song which appeared on Reba McEntire's album, Sing It Now: Songs Of Faith & Hope.
But this impressive list of musical accomplishments merely tells one what Marcia does. It does not reveal who she is and how she came to be where she is today. She ended up in Nashville, but her story began back in 1961 in New Braunfels, a small town in Texas, with a pair of teenagers who were very much in love. Marcia's mother, Valorie, was dating a young man, Raul, but her parents disapproved of the relationship. As fate would have it, Valorie unexpectedly became pregnant. This situation was totally unacceptable to Valorie's parents because Valorie was not only unmarried, but also the child she was carrying was biracial. Valorie was Caucasian, but Raul was Mexican. Valorie keeping and raising her child was totally out of the question.
Valorie's parents initially wanted her to have an abortion, but the doctor whom they consulted refused to perform an abortion because it was illegal. Nevertheless, he suggested her parents consider sending Valorie to a Salvation Army home for unwed mothers in a suburb of Tulsa, Oklahoma. Wanting to keep the situation hush-hush, Valorie's parents selected that option, telling everyone Valorie had gone to stay with her grandparents to obtain residency in Oklahoma in order to attend vet school there.
Meanwhile, Raul was cut out of the picture. He had no say in any decision regarding how Valorie's pregnancy was to be handled and what would happen to their child. When he found out Valorie had been sent to Oklahoma, he scraped together as much money as he could and bought a ticket to travel there. Reunited with Valorie in Oklahoma, Raul professed his love for her and proposed. He urged her to marry him so they could raise their child together. Valorie refused based on their young age, their financial inability to raise a child, and the fact that an adoption plan was already in the works. Devastated, Raul returned home, but the two young lovers continued to write to each other—professing their love.
Giving birth was traumatic for Valorie. Not only did she have to deal with the physical toll a delivery took on her, but she also experienced emotional turmoil as well. A cloth was put over her face when her baby was born so she could not see her child. A nun who worked at the unwed mother's home heard Valorie weeping one night and snuck her to the nursery so she could see her baby through the window. Valorie returned to her room and drew a picture of her daughter so she could remember what her child looked like.
Ten days after Marcia was born, Valorie's parents picked Valorie up from the unwed mother's home to take her home to New Braunfels. They told Valorie they would never again speak of this situation. Meanwhile, Marcia was placed in a foster home for two months to make sure she was healthy before being placed for adoption. In a parallel story to Valorie and Raul, Betty and Manuel Ramirez, ages 39 and 36, were a married couple living in Shawnee, Oklahoma. Manuel was a professor at a local Baptist college; he and his wife had a stable and loving home but no children. They deeply wanted to become parents and had unsuccessfully tried to conceive for years. Seeing adoption as an option to make their dreams of parenting a child come true, the couple began working with the Oklahoma Department of Human Services.
On February 13th, Betty and Manuel got a surprising call. They were told a baby was available for them, and they could come and get her. This couple was deemed a good match for Marcia because Manuel was Mexican and Betty was Caucasian—the same racial makeup as Marcia's birth parents. On Valentine's Day, Betty and Manuel picked up baby Marcia at the courthouse and took her home. Their new bundle of joy slept in a dresser drawer for a couple of days because they were totally unprepared for such a quick placement. Their good news was shared with the world in the form of a newspaper article telling about the best Valentine's gift the couple would ever receive.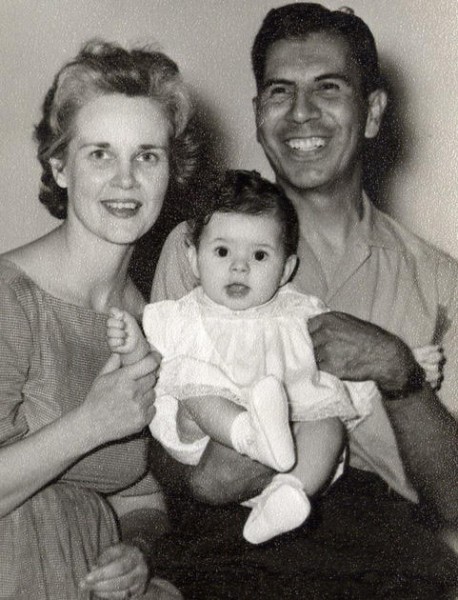 Manuel and Betty were always open with Marcia about her adoption. Marcia felt "so blessed" because her parents presented the fact of her adoption in a loving way. While they never sat Marcia down and told her she was adopted, they stressed she was "special" for being chosen to be their child. Manuel and Betty explained to Marcia that her biological mother simply couldn't provide the right kind of life for her, so she had chosen the option she felt was best for her daughter.
Growing up, Marcia was hesitant to ask too much about her adoption story. She did not want her parents to be hurt by her questions. But she did begin searching for her biological parents when she became pregnant with her first child at age 21. Curiosity prompted her to make calls such as one to the delivering doctor listed on her birth certificate. Of why she undertook a search, Marcia notes, "I'd never met a human being that resembled me before." Unfortunately, her calls were met with a dead end. Her search, according to Marcia, was not to fill a hole but simply to obtain information. Getting nowhere, Marcia gave up on her search and didn't try to locate her biological parents again until 12 years later when she became pregnant a second time. She was still hitting walls until she wrote to the Oklahoma Department of Human Services. Her request for information allowed her to obtain information on her parents, but their names were whited-out. Marcia could see she physically resembled their physical descriptions; she was the same height and weight as her mother and had dark hair and eyes like her father.
An application to the State of Oklahoma to locate her biological parents filed in January 2000 quickly led to the location of Marcia's birth mother. A call from Valorie to her biological daughter rapidly occurred. Marcia emphasizes she instantly knew it was her mother when she heard Valorie's voice for the first time on the phone. Although she didn't even know her mother's name yet, the voice was familiar. The two talked for three hours. Prior to connecting with Valorie, Marcia had expressed her feeling about her adoption in a song she wrote. Entitled, "The Choice You Made," the song allowed Marcia to thank her birth mother for choosing adoption for her. After speaking to Valorie on the phone, Marcia sent the song to her biological mother.
Valorie ended up flying to Nashville shortly after receiving the song to meet Marcia in person. The two spent the weekend in their pajamas, getting to know each other. Marcia learned more of her own story and much about her biological parents. Valorie got answers to questions she had wondered about for a long time. She could see from being with Marcia that adoption had been the right choice. Valorie was able to ask her daughter if Marcia was mad or upset with her for having made that choice; she was relieved to find out that the answer was in the negative. Marcia views adoption as a "beautiful, beautiful thing" that is a loving decision made to protect the child.
Once connected with her birth mother, Marcia moved on to meeting her four half-siblings and her mother's husband. All were aware that Valorie had placed a child for adoption and openly embraced Marcia joining their family.
A connection with Marcia's birth father took more time. Valorie, who ultimately did not end up together with Raul, contacted him to advise she had been in touch with their daughter. Raul's family was unaware of Marcia's existence, and it took them some time to process this information. Marcia ultimately traveled to Texas in August, several months after meeting Valorie, to meet her birth father and his family—a wife and two children.
At the end of their time together at their first meeting, Raul asked Marcia to come out to his garage. Once there, he climbed up into the attic and returned with a box which he presented to her. With tears in his eyes, he told Marcia that for years that box was all that he had had of her. But, he explained, he now had her and did not need the box any longer. In the box was the ticket stub from his trip to Oklahoma when he went to propose to Valorie and ask that they raise their child together. It also contained love letters Valorie had written to Raul while she was in Tulsa, waiting to give birth as well as faded Polaroid pictures of them.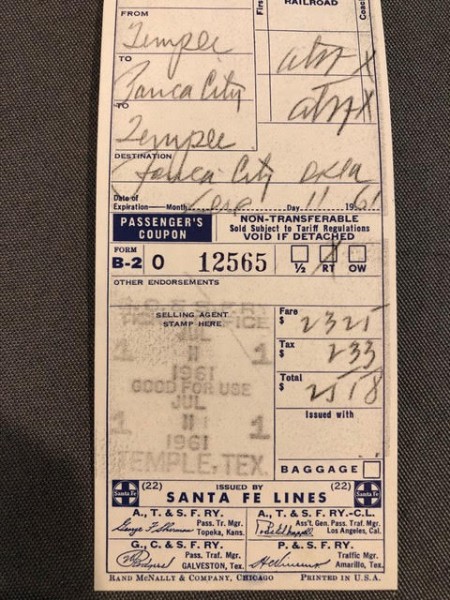 Once again Marcia turned to songwriting to process what had happened to her. She penned "Ticket To Tulsa" right after meeting Raul and receiving his box, intending to give the song to her dad. Sure to bring a tear to your eye, this song can be heard on YouTube at this link. Marcia laughingly explains she chose "Tulsa" for the song title because Raul's actual destination, Ponca City, Oklahoma, simply didn't fit in the lyrics.
Marcia was concerned at the impact the appearance of her biological parents might have in her adoptive parents' lives, the woman and man she called "Mom" and "Dad." Her husband suggested Marcia write a letter to her parents, sharing how much they meant to her and advising she had located her biological parents. In a surprising reaction to the letter, Betty and Manuel called Marcia, laughing and giggling; they were excited to learn of this development and wanted to hear all about it. Betty was relieved at the connection because she had been "afraid" Marcia might be rejected by her biological parents if she located them.
Raised an only child, Marcia now has six half-siblings. She gets along with her brothers and sisters, and they talk "quite often." The existence of these family members was a comfort to Betty. She had been worried about Marcia having no family there for her after she and Manuel passed away. Manuel and Betty even met Valorie and Raul in person. In a lovely gesture, Valorie wrote a letter to Betty, thanking her for being such a wonderful mother to Marcia, the mother she was not able to be.
With the pieces to her adoption story filled in, Marcia can see how blessed she is to have the blending of nature and nurture in her life. Her musical talents come from her biological father who was a singer and trumpet player in a family band; all his relatives were musicians. While her adoptive parents were not musically inclined in the least, they nurtured her musical talent by providing her with piano and voice lessons and a college education as a music major. Marcia believes she would likely have been a singer even if she hadn't been placed for adoption. Nevertheless, she recognizes she would not be at the place in her career she is now without the foundation and encouragement provided by her adoptive parents.
A firm believer that "art reflects your life," Marcia has incorporated both her adoption story and her faith into her music. Her most recent album, Abba's Child, is the first of her releases to be specifically faith-based. Her Grammy-award winning song, "God And My Girlfriends," has been a springboard for Marcia to create a women's ministry to encourage women to take care of themselves and to collaborate rather than to compete. Marcia often sings "Ticket To Tulsa" when she performs. Her story told in song often prompts audience members to talk with her about adoption after the show, and she has yet to receive anything but positive reactions to adoption.
To Marcia, adoption feels "so natural." Accordingly, she shares her positive views of the adoption option with others through both her words and her music. What started out as heartbreak for a teenaged couple years ago has given Marcia the ticket she needed for her wonderful life and some heartfelt music.