Barton Jeffs was a high school friend of mine. I hadn't seen him since graduation when I ran into him and his wife, Tracy, at an adoption conference several years ago. As we shared our adoption stories, I was surprised to learn they chose embryo adoption. (Because adoption laws do not apply to embryo adoption, most agencies use the term "embryo transfer" or "embryo donation.") I had heard about embryo adoption and even looked into it a bit, but decided it wouldn't work for us in our situation. I was very intrigued to hear their story.
Barton and Tracy have been married for 21 years. After years of trying to conceive, they began fertility treatments. After three tries by artificial insemination, Tracy became pregnant and gave birth to a son, who is now 17. When they were ready to add to their family again, they tried in vitro fertilization (IVF) without success. They decided to pursue foster care. Once they were approved for foster care, however, they were transferred to another State by the military. They decided to try traditional adoption, found an agency working in multiple States, and completed a home study. They were eventually matched with a newborn, but when they went for placement, the birth father decided not to relinquish custody and the baby went home with the birth mother.
Shortly after this failed adoption, Tracy was reading an adoption magazine and found an article about embryo adoption. She had never heard of embryo adoption but felt inspired to continue researching. The article she read was advertising an agency providing services for embryo donation, so she began with them. It didn't take long for Barton to agree that this was a path they should pursue. Tracy became pregnant after her first embryo transfer. She gave birth to a son, now 6 years old. When he was six months old, they decided to try the process again. Tracy had her second child through embryo adoption, a girl, now age 5. Two years later, Tracy became pregnant without any fertility treatments and they added another daughter to their family.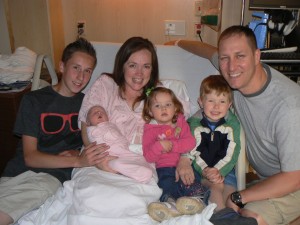 When I interviewed Barton and Tracy for this article, they were enthusiastic about sharing their story in hopes of helping other couples facing infertility learn about this option. Some of the reasons they chose embryo adoption include:
1. There is little to no waiting time.
There are plenty of embryos available. All of these embryos are donated by couples who attempted IVF. When these couples have completed the IVF process, they must decide what to do with the remaining embryos. They may choose to freeze them for future attempts, donate them for scientific research, donate them for adoption, or dispose of the embryos.
2. It's less expensive than traditional adoption.
Embryo adoption costs less than half the national average for an IVF cycle and significantly less than the cost of traditional adoption. The fees cover the matching process, legal paperwork for the donation and transfer of the embryos, and medical costs for the transfer procedure.
Travel fees and home study fees are the responsibility of the adoptive couple.
If your medical insurance covers infertility, they may cover lab fees and ultrasounds. You can also deduct medical expenses paid out of pocket from your income taxes.
3. The parents' medical information is available.
The donor couple submits a medical and genetic history similar to traditional adoption.
4. There's a choice for an open and closed adoption.
Many donor couples choose to remain anonymous. In these cases, the adoption is closed.
When the donor couple and adoptive couple want an open adoption arrangement, each couple approves the other and a contract is made for sharing of information.
5. Selecting donors
The adopting couple is given several donors' profiles to consider. In the case of closed adoption, there are no pictures or names associated with the file. Barton and Tracy selected donor couples that matched their own physical traits, such as eye/hair color, height, weight, etc. They also considered medical history in making their selection.
6. You have more control over pregnancy and delivery.
Being able to bond with and care for a baby while in utero was another reason Barton and Tracy chose embryo adoption. There are fewer worries about how the birth mother's health habits will affect the health of the newborn. You are in control of what you do during the pregnancy. Barton mentioned that his experience in the delivery room would never have happened with traditional adoption. He wouldn't have been involved at all in the birthing process.
7. Breastfeeding
Tracy was able to breastfeed her children naturally without supplementation.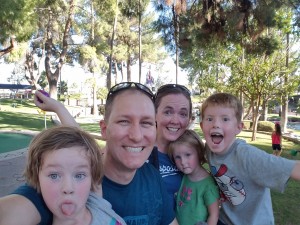 As I interviewed Tracy and Barton, I asked about the legal aspects and requirements for embryo adoption. They indicated that rather than adoption laws, property laws are followed. The agency facilitating the transfer of embryos helps with all the legal paperwork. They require a home study from the receiving couple to ensure a good, safe home for a child. Once the donor couple signs property rights of the embryo to the receiving couple, they have no rights to any resulting children.
Tracy's and Barton's embryo adoptions were closed. However, they are very open with their children about adoption. They take opportunities to explain what adoption means and have told their children when they are 18, they can seek out their biological donors if they desire.
They also share their story openly with family, friends, and the adoption community. If you have questions for Barton and Tracy, they would love to hear from you. Their email address is: awesomefam2@gmail.com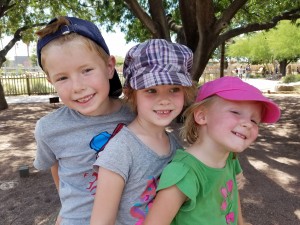 There is a Facebook Group called Embryo Adoption and Donation Support Group.
Are you and your partner ready to start the adoption process? Visit Adoption.org or call 1-800-ADOPT-98 to begin your adoption journey. We have 130+ years of adoption experience and would love to help you.