Maybe you've been waiting weeks, or maybe you've been in the adoption process for years; maybe your child is waiting for you across the ocean in another country, or perhaps your child hasn't been born yet. Whatever the case, I understand this time of year may be bittersweet for you.
I understand what it's like to decorate the tree and wonder when you'll have ornaments for the child you've been dreaming about and praying for.
I know what it's like to hang stockings from the fireplace mantle for Santa to fill and wonder if—or when—you'll get to make room for another.
I understand what it's like to sip on hot chocolate and watch Christmas movies and wonder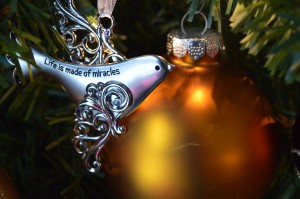 when it'll be your turn to start fun holiday traditions like cookie-baking and movie-watching with a child of your own.
I know what it's like to want a gift so grand it can't be wrapped with a bow and placed nicely under the tree, to wonder if that family you've been dreaming of is even possible.
The holidays—hallmarked as a time of gratitude and togetherness with family—may be bittersweet as you wait for a special addition to your own.
Be patient, and know however you're feeling this time of year is okay.
Remember your waiting will end one day.
It's hard to trust in His timing sometimes. It's hard to believe the wishes to grow your family haven't been ignored.
I know those feelings all too well.
But keep trusting. Keep believing.
May you find hope in this season of waiting.
May you find peace that your time of longing for a child will end.
And may you find joy in the journey, for there is no greater gift to give or receive than one of family.