As I walked today, I remembered some of the seasons of my life. I tend to introspect and let it go, but it was more of a controlled flow. In sharing my testimony today with a friend, I skimmed over one of the most life changing events in my life.
Choosing life.
More than choosing to live over choosing suicide, I chose to give life to not one, but two boys. Guilt, shame, and an internal strength that cannot be shaken tell me many things about who I am.
I am strong and powerful, and I am free to choose.
It also tells me how much I have changed. I remember being 26 and living in grief. It wasn't an easy time for me or my friends as they watched me crumble apart and slowly rebuild myself. In fact, it was ugly. The truth is, there are parts in transformation and aspects of our lives that are messy and can entangle us and hold us back. I remember the panic attacks and anxiety, the depression so severe that it shrouded my entire existence in a fog I couldn't break out of.
Almost four years later, I am living in California, as previously mentioned in a blog, and I am not the broken and lost woman hiding from her pain. I have encountered it and encountered the healer in a massive way that has changed me so much. I am a million miles away from who I used to be, and I look back and see the refiner's fire working, I see love changing everything.
When I gave my heart to the Lord 2 1/2 years ago I had no starting point to know where I would land, except up. I crawled not out of a well, but a sterile hospital room that held me captive and showed me no grace or hope. I had to make a choice of how I wanted to live: in a state of constant turmoil and inability to forgive myself or in the peace of God, and letting him heal me.
Part of the process was grieving and realizing my own value. Some of that has happened and is currently happening here. I am happy, and yet I feel a million different things at the same time. There are days when I am not sure how I got here, and all I have is a thankful heart that I broke free of the fog. And then there are the days when the fog creeps in and tries to win again.
A part of the healing for me, and a part of the process of healing, is change. Let people in. Trusted friends, loyal to the T, who stand beside you through the thick and thin, are powerful catalysts to helping. Having a community around you that sees the gold in you and supports you in whatever way you need is so important.
Another important key to change is communication. I write, draw, paint, and create so I can express what my heart is telling me. On day, it may be gentle and overflowing, expressing love. Another, it might be violent and wild and passionate. As my friend stated, religion has nothing to do with it. My take on this thought process is that if we are truly honest with ourselves, its okay to express the things you are experiencing. Facing the feelings, armed with truth about you, is a weapon that in the darkest times, will keep the darkness not just at bay, but keep you winning.
I am not saying that life is always sunny or perfect as a birth mom or a person in general, but life is life, and life goes on. I am making a conscious choice to stand up and take control and, at the same time, trust that God has me and won't let me down.
I am learning to respond to gentle, loving me and to accept good about me. Back home, before I left for Bethel, my pastor made a good point to me. He told me that the act of abandonment had happened a long time ago for me, that the guilt and lies of it were holding me back. I placed my son and entrusted his life into the loving family he is meant to be in. Time has only made that all the more obvious. Feeling unnecessary guilt was hard for me to face, and in a moment of clarity, the lie was demystified.
Pregnant and considering adoption?
Get your free adoption benefits and support bundle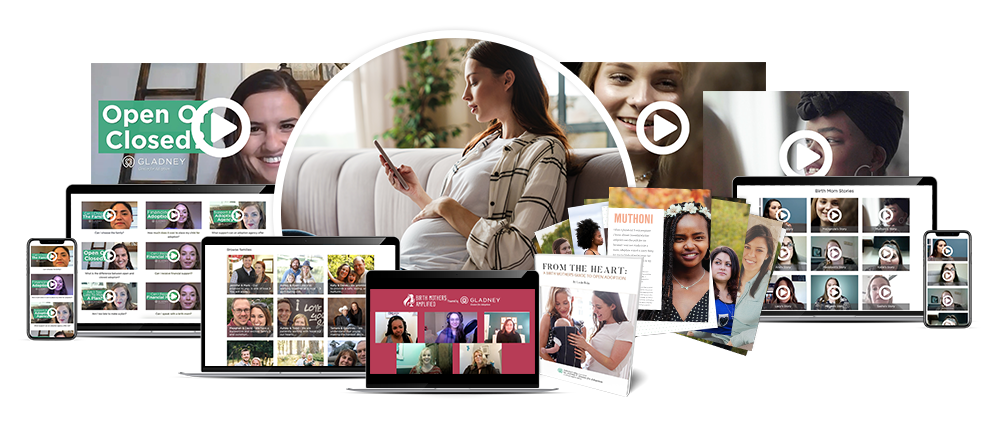 I was already forgiven. All I had to do was forgive me.
When I was pregnant with Jimmy, I remember reading blogs about being a birth mom, wondering if I would always grieve, or if I had to.
I have discovered that by choosing to partner with forgiveness, hope, and love, I have truly been redeemed and can finally see the person I want to to become.
I could go on forever, but this one needs to sleep, and I have far too much homework to do.
Live well, love well, and know you are powerful and free to make the best choice for you!