I remember the day the doctor told me I was pregnant.
I remember it like yesterday.
We had just moved to a new city. I wasn't feeling well and had to GPS my way to the clinic where a strange doctor insisted I take a pregnancy test despite my medical history filled with painful years of infertility treatments.
"Congratulations!" she said minutes after I reluctantly peed in a cup to appease her. "You're pregnant!"
My world spun. I cried in disbelief. Shock. And worry.
I actually thought I was going to pass out.
After years of infertility and finalizing the adoptions of our two beautiful daughters—both under the age of two – our family was happy. We were still getting into a routine after relocating for my husband's job, but we were comfortable.
And then suddenly it all changed.
Right there in that doctor's office, everything changed.
This baby wasn't planned, but her heartbeat and flutters in my belly were certainly a welcome blessing.
And as I've walked through the past nine months experiencing the miracle of pregnancy, I've realized it's amazing and beautiful and hard. Pregnancy is worrisome, sometimes uncomfortable, and it can be downright complicated.
But I cannot imagine how worrisome, uncomfortable and complicated it would be had we not been in a season to parent our baby.
Pregnant and considering adoption?
Get your free adoption benefits and support bundle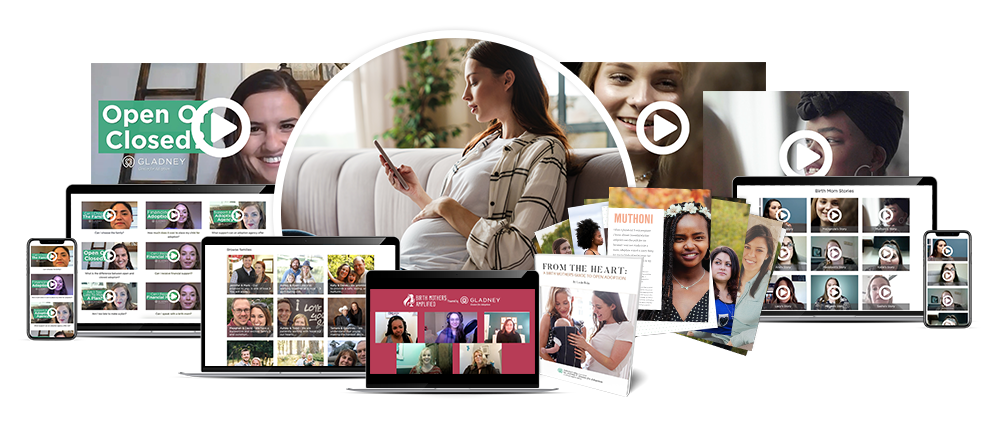 For months, I've gone to doctor's appointments earlier than people drink their morning coffee (Caffeine? What caffeine?). I've been pricked and prodded and my blood poured into more vials than I can count. I've been measured and weighed and told, "Eat more," and then, "Okay, eat less." I've made after-hours calls of panic after eating certain foods or feeling certain pains; I've swigged my prenatal vitamins with a side of anti-nausea meds well into the second trimester.
As consuming as this temporary lifestyle has been for me emotionally and physically, I cannot fathom what it would be like to place my baby girl in the arms of another mother. To go through all that pregnancy entails – the amazing, the beautiful and the hard – and not take her home with me.
Being pregnant has changed my view of birth moms.
Not only do I have a new level of understanding with what some of these women experience while carrying a child—the hormones, the swollen feet, the intense cravings for Hot Tamales – I feel like I have an even deeper respect and appreciation for the decision they make at the end of the journey.
Having carried a baby inside of me, I have even more admiration for a birth mom's ability to say, "I love you, child. So much so, that even though I've spent nine months taking care of you and feeling you flutter in my belly, I want you to have more than I can give you right now."
That's love. That's unconditional, selfless love.
And that sacrifice—that deep, true sacrifice for the love of her child – will never be forgotten by me.