If you're in a scenario where you realize that parenting an older child isn't for you or that you don't have the means to fully take care of your child anymore, it's a good and normal idea to think about adoption. You've probably read and even heard a lot about placing a baby for adoption, but are you now wondering how to give a child up for adoption? In this article, I'll discuss the adoption placing process for older children, kinship adoption, the types of adoption, and positive adoption language.
Can You Give a Child Up for Adoption?
You can give a child up for adoption. Some states and adoption agencies have an age limit for older child adoption; 4 years old is usually the maximum age. Still, some agencies will accept older children for adoption placements. There are plenty of big decisions to make when you give a child up for adoption, so do your research on the best adoption agencies near you.
Positive Adoption Language
You're reading this article because you'd like to know how to give a child up for adoption, but you're not giving up on parenting your child. The positive adoption language you should use is how to place a child for adoption. We use positive adoption language because it shows respect within the adoption community.
But what about outside the adoption community? How can you respond to the snarky remarks? You could start by educating friends, family, and others about the appropriate adoption terminology and know when to step in and educate and when to let it go. Positive adoption language not only shows respect, but it also builds self-esteem and shows the spirit of adoption.
Should I Place My Child for Adoption?
Should you place an older child for adoption? Of course, the choice is up to you, but it helps to look at your life circumstances to see if adoption is the right decision for your child. Here are some ordinary cases that caused birth mothers to place their older children for adoption.
Homelessness
Motherhood isn't for them
Financial instability
Unemployment
Different life goals
Unstable relationships
Not wanting to be a single mother
Father is out of the picture
Lack of support
Too young to raise a child
Family disapproval
Health issues
Better life choices for the child
Work/life balance
Placing your child for adoption is your decision to make. You have the freedom to choose the best life for your child, and you're always allowed to change your mind.
If You're Already Parenting
Being a parent is a 24/7 job, and if you're feeling overwhelmed with parenting, there is help. There are resources and services you can have access to as a birth mother, and there are also temporary care services that are at no cost to you. But if you find yourself in any of the above situations, it's beneficial to think about placing your older child for adoption. An adoption professional can assist you, even if you just need someone to talk to about your parenting troubles. You shouldn't ever feel ashamed when choosing what's best for your child. Even if you don't end up placing your child for adoption, there are parenting classes, financial goal planning, and respite care.
Kinship Care
What is kinship care? Kinship care is when extended family members such as grandparents, adult siblings, uncles, aunts, or other family members raise the child that the birth parents place for adoption. Kinship adoption is an excellent option if you know of a family member willing to adopt your child. Kinship adoption can also happen if the parents are deemed unfit by the court—the social worker will find any available family member capable of raising the child.
Sibling Groups
If you have children who are siblings, you're probably wondering if siblings will remain together if they are placed for adoption. If you have multiple older children that you'd like to place for adoption, most agencies place siblings in groups to be adopted together.
So what are the benefits of keeping siblings together in adoption? First, the siblings will feel much less anxiety if they are together than if they are separated. Second, the siblings will always have that close bond and not feel like they're alone while going through the adoption. Third, siblings can help each other adjust to a new family. Fourth, siblings won't ever have to worry about having to search for their other siblings.
While there are more benefits with siblings being adopted together, there are cases where siblings get separated. For example, some adoptive families might favor one child over the other sibling, or there's a sibling with special needs, and the adoptive parents might not be ready for sibling groups. Once separated, the siblings lose contact with one another, and that's heartbreaking within itself.
What Will the Adoption Counselor Talk to Me About?
Speaking to an adoption counselor does sound nerve-wracking at first, but there's nothing to be nervous about. The adoption counselor is there to help you and your child find a great and loving family and help you with any other services you need. The adoption counselor will talk to you about:
Your adoption options
If the father knows about your adoption plans
The child's health information
Finding a great adoptive family
Meeting the adoptive family
Counseling services
Adoption transitioning
Future plans
The adoption counselor will assist you in creating an adoption plan for your child and help you find resources while going through the adoption placement process. There are government resources you could be eligible for like SNAP (food assistance), Medicaid, WIC (if your older child's younger than 5 years old), and cash assistance
What Are the Challenges With Placing an Older Child for Adoption?
While there are many great things about placing an older child for adoption, there are also challenges with placing a child for adoption that both you and your older child could face. When it comes to custody, the parent with primary custody might disagree with putting the child for adoption. The wait time for your older child can last for several years, and that could make your child feel unwanted. The transition from being with you to being with another family can be challenging for an older child to handle, so counseling and education services can be helpful in this situation. Transitioning can also be hard on you because you'll no longer be the primary caretaker of your child once he or she is adopted.
Finding an Adoptive Family
Just as there are hopeful adoptive families looking to adopt a baby, there are plenty of adoptive families looking to adopt older children. Your adoption counselor will give you adoption family profiles that you can look through to choose a fantastic adoptive family. All the adoptive families have the required background checks and will go through adoption training.
It's normal to feel overwhelmed when going through all of those family profiles, and that's okay. Take your time going through each one, and you can even ask your older child to help you with your decision. Once you find the family that you'd like, you can let your adoption counselor know and set up a time and place to meet them.
Pregnant and considering adoption?
Get your free adoption benefits and support bundle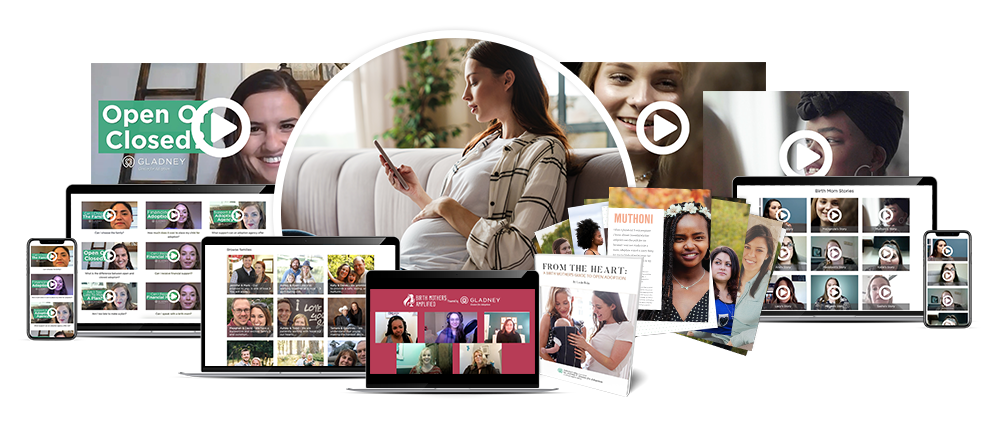 Would a Family Adopt My Child Who Has Special Needs?
Of course! There are adoptive families out there who will be more welcoming to adopt a child with special needs. Whatever your child is diagnosed with, you can let your adoption counselor know, and the counselor will make it known to any adoptive family looking to adopt your child. You can also talk about your child's special needs with the hopeful adoptive family once you meet them.
Meeting the Adoptive Family
When it's finally time to meet the adoptive family, both you and your child can talk about your feelings on meeting their new potential family. Reassure your child that it's just a meeting for everyone to get to know each other. The hopeful adoptive family will be more than willing to get to know your child and for your child to feel comfortable. One of the ways to get to know the adoptive family is to think of any questions to ask the hopeful adoptive parents, and you can see if your child has any questions for them. Your older child can talk about his or her favorite things like hobbies, games, toys, and music.
Terminating Your Parental Rights
One of the hardest things about adoption is the termination of parental rights. With older children, the process might be that much harder because you've been the parental figure for your child's whole life. Remember just why you're wanting to place your older child for adoption, and that one day you can reunite with him or her again. Voluntary termination of parental rights usually happens in court in front of a judge. The judge will look to see what is in the best interest of the child, and if the judge believes adoption is best, the termination of parental rights will be completed once you sign the papers.
The Post-Placement Visits
There has to be a certain number of post-placement visits that must take place, depending on the state laws. You and your older child might feel apprehensive about the new family, but the adoptive family will always want to do the best they can as parents.
The social worker will supervise the visits and ask both the adoptive family and your child questions about the placement. The post-placement visits make sure your child is safe and has what he or she needs in the home.
Life After Adoption
It might take some time for both you and your older child to adjust to life after adoption. If you're struggling with your decision, you can always talk to your adoption counselor about how to cope with your feelings. While you might not legally be your child's guardian anymore, you'll always be his or her birth parent. If you've chosen an open or semi-open adoption, you can prepare to visit your birth child and plan fun activities to do together. You can also give and hear about life updates and write letters to your child.
If you've chosen a closed adoption, you can always have an adoption reunion once your child is an adult. You can also take time to reflect and focus on what you want to do with your life, like career goals, educational endeavors, travel destinations, and anything else you can think of.
Placing a child for adoption at any age is no easy task. While you might feel like you've failed at parenting, you didn't. Don't let the negative feelings and negative adoption language you hear from others put you down. You didn't give up on parenting your child; you've paved the way to making a great future for your child. You've made a selfless decision to think about your child's best interests, and you've helped people with their dreams of having a lifelong family.
Are you considering placing a child for adoption? Not sure what to do next? First, know that you are not alone. Visit Adoption.org or call 1-800-ADOPT-98 to speak to one of our Options Counselors to get compassionate, nonjudgmental support. We are here to assist you in any way we can.