Thanksgiving is upon us! My kids are never so excited as the day after Halloween when Christmas music is on the radio and the holidays begin rolling in. The holiday season brings joy, cheer, excitement, and also many fun traditions that are unique to each family. My little ones LOVE this season and especially the traditions that are covered in sugar and icing! While it's tempting to jump straight on the Christmas train, Thanksgiving is one of the best holidays to celebrate all the blessings that adoption has brought into our lives.
Thanksgiving traditions in our house are a lot more about crafts than events. Amongst the fifteen different ways you can make a paper turkey, every year we make a Thankful Tree. I learned about this craft from a MOPS (Mothers Of Preschoolers) group I was a part of, and the kids took to it right away as it was a craft we kept up with the entire month of November. The idea of this craft is to create a way to express what everyone in your family is thankful for each day. After creating the tree, each family member will add one leaf each day, writing on the leaf something for which they are thankful.
For this craft you will need:
One hole punch
3 – 4 sheets of construction paper
Scissors
One vase, any color or size
Multiple tree branches based on family size
A wire cutter or sharp scissors
A pen or marker
Twine or ribbon
Your first mission is to gather branches.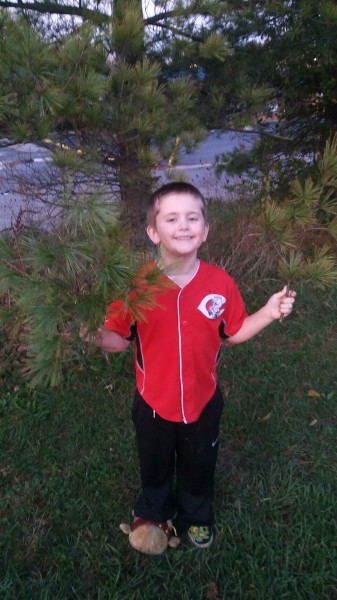 As you can see from the picture, this may or not include putting on proper shoes for your branch hunt. We typically use a branch that we can take all of the leafs off, but this year, my six-year-old Elliot wanted more of a Christmas tree vibe. Get as many branches as you need to make your tree look full. You can always add more later if you run out of branches. We are a family of seven, so we needed a lot of branches!
Once you have your branches, you can work on cutting out your leaves.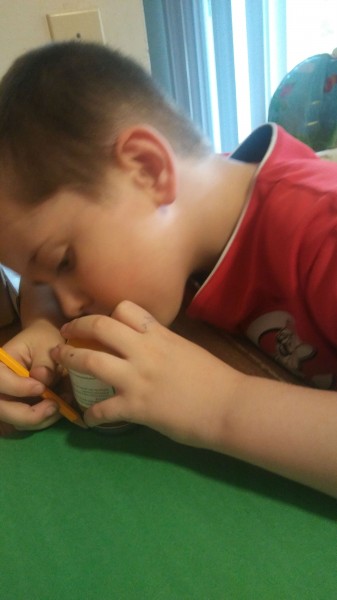 The shape of the leaves is up to you. You can go circle, square, leaf-shaped, or free-hand. We chose the closest circular object, a jar of baby food, to trace. Elliot chose four different colors and we traced about 30 leaves to start.
After tracing and cutting out all of our leaves, hole-punch each leaf and tie a ribbon through each.

As you can see from the picture, the length of the ribbon is not set in stone.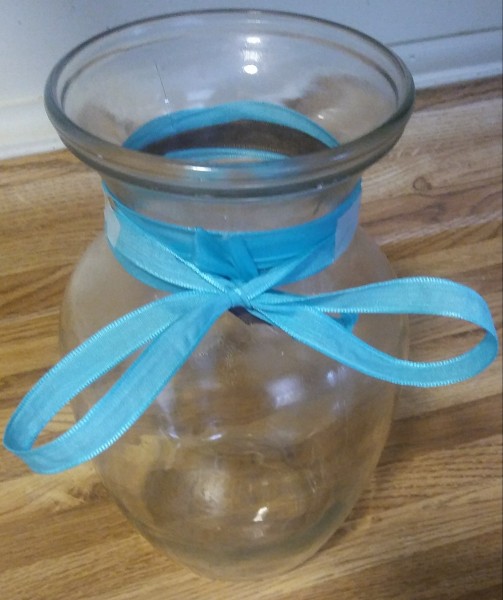 You can also tie ribbon or twine around the vase for a decorative touch. As an optional addition, you can add pine cones or sand into the vase. We used pine cones one year and cinnamon potpourri another. This year, with a 2-year-old, a 3-year-old, and a crawling 8-month-old, we decided to eliminate any extra moving parts!
All that is left is to hang the leaves!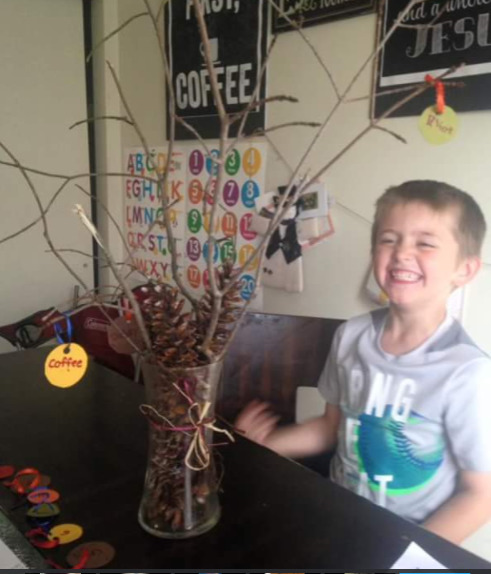 This picture is from last year, to give you an idea of the leafless version. As you can see, we were and still are thankful for coffee! Always coffee! You can hang the leaves all at once and take them down to write on them each day. However, my kids love to see the tree "grow" day by day, so we keep the leaves in a bag for daily use.
For this tradition, we are able to focus on adoption, among other things we are thankful for, by describing all the way adoption has blessed us and how much our family has been bettered by the addition of our youngest two children and their birth families. On one leaf, we might put an adoption date, on another, the name of my children's birth mom. We have written the names of other family members as well as simply stating we are thankful for open adoption. We are so incredibly fortunate and thankful that open adoption has been possible for us! There are so many ways adoption has touched our lives. As November is also National Adoption Month, what better way to celebrate than to talk with our kids about how thankful we are for their stories?