"Kids! Family meeting!"
A normal response to this may be, "Ugh, another one, Mom and Dad?" or, "Yes! Maybe they're going to tell us we're going to Disneyland this summer!" My siblings and I usually respond with, "Awesome! Do we have a secret sister, too?"
Odd response, I know. Let me explain.
I was 16 years old and a Junior in high school when my parents called a family meeting one October night. I had a 17-year-old brother and an 11-year-old sister who joined me down the stairs to see what Mom and Dad wanted to talk to us about.
I remember sitting on the couch, and my mom looked so nervous. I thought my mom was going to tell us she had cancer. I felt sick. Instead, she told us that she had placed a baby boy for adoption when she was 19 years old. "What?! How could you keep something like that a secret from me this whole time? And why are you telling us now?" I asked. She said that she recently received a letter from him. She let us read it.
The letter started out asking her if she gave birth to a baby boy at a specific hospital on a specific day in 1978 and placed him for adoption. "If so, continue reading," it said. He went on to tell my mom that he had hired someone to help him find her. He told her about how he had a happy life, that he was a student at BYU-Idaho, that he was married, and his wife was pregnant with their first baby. He included three pictures of himself.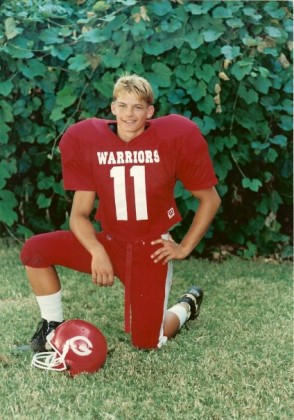 One of the pictures included was a football picture from his teen years.
I sat looking at this letter in shock. I was confused about why I had never known about him. I was curious who the birth father was, where this half brother of mine had grown up, and why my mom placed him. I was relieved that my mom didn't have cancer after all.
My mom explained that when she was younger, she found out she was pregnant while dating a man who was very abusive with her. When she found out she was pregnant, she didn't feel ready to be a mom, and she worried about the baby being raised by a violent father. She said that it was the hardest thing she had ever done. Back then, adoptions were very closed. She had no idea where he ended up or if he was happy. All she knew was that he lived in California and thought his name was Ben. He did grow up in California, but his name was not Ben; it was Josh. She talked about saying good-bye to Josh in the hospital in a broom closet so she could be alone with him for a few minutes. The hospital she had Josh at had never had an adoption happen there before, and the staff was very confused about what was allowed. They would not leave my mom alone with Josh, not even before she signed the papers. It was a traumatic experience for my mom, but she said she always knew it was the right decision.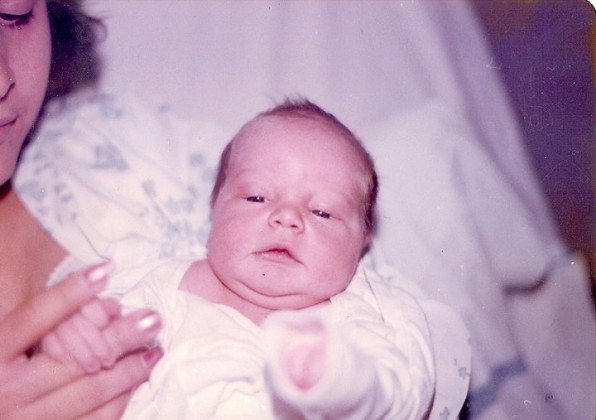 My mom with Josh soon after he was born.
My mom said she never told us because she was nervous. She said she ultimately didn't know how to bring it up at that point and that she was so nervous about what we would think of her.
I have never thought less of my mother after this experience. It made me love and respect her even more. I couldn't imagine my mom going through something so heartbreaking. Years later, my husband and I were unable to get pregnant. We ended up adopting two beautiful children, and we felt whole-heartedly that open adoption would be the right decision for our family. I kept thinking of my mother at a younger age and how I wish she could've known what happened to Josh. This is when adoption really came full circle to our family.
The first time we met Josh was pretty surreal. He and his wife came to our home. I had never seen my mom more nervous in my life than that day. But when he showed up and my mom saw him and hugged him, it seemed her nerves faded away and there was just love in the room. I remember thinking he looked nothing like me, that he was a really good-looking guy, and seemed really nice. It was so fun hearing about his life growing up and getting to know him.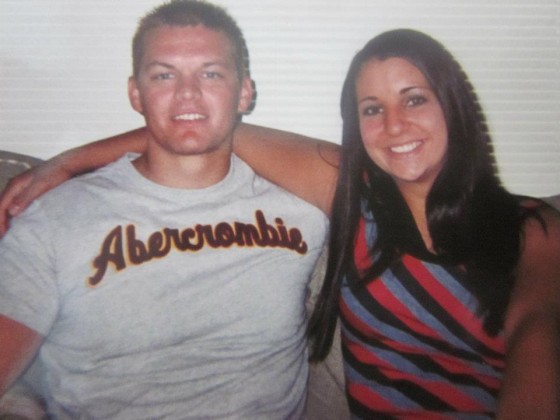 Josh and me a few months after we first met.
He lived in Idaho, and we lived in Utah. We both made trips to see each other regularly. It was so fun to have this new relationship with a half brother who was almost 10 years older than I. We all hit it off right away.
To this day, we enjoy a great relationship with him. We got to meet his sister just a couple years before she tragically passed away. I remember her thanking my mom over and over again for giving her a brother. We have met his amazing mother and get to see her at family events. Sadly, we never met his father, who had passed away. My mom is so thankful that Josh ended up with his loving family.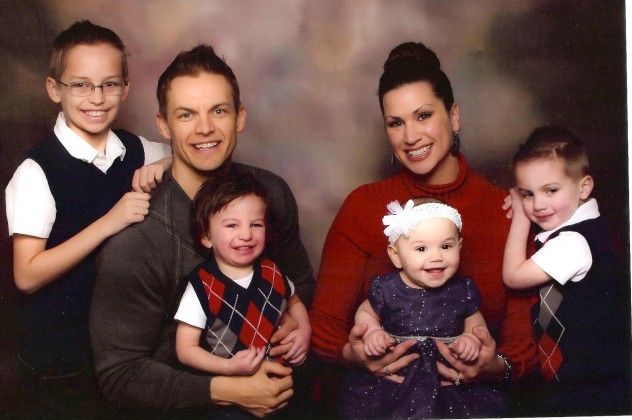 Josh with his wife and four beautiful children. They are expecting a baby boy this summer.
Looking back, I think this family meeting was much more exciting than any Disneyland announcement ever would've been!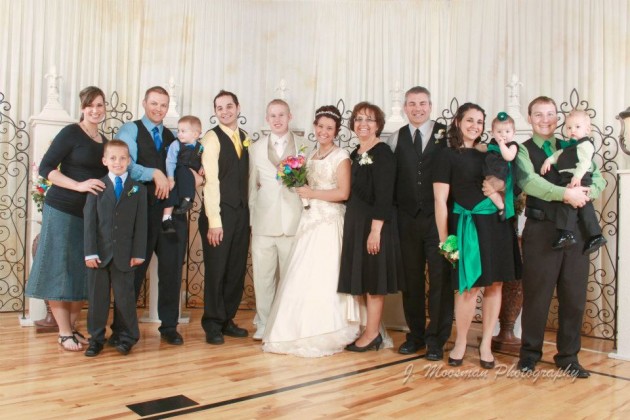 Josh with his family, my brother, my sister and her husband, my mom and dad, me and my family at my sister's wedding a few years ago.