Ahmadrick from Texas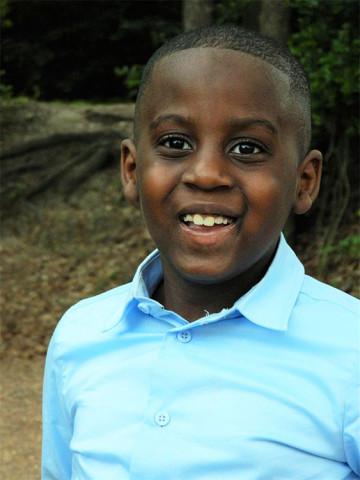 Age 9
Gender Male
Location Texas
Ethnicity African American
Case Number 92947
---
Ahmadrick is a fun and silly little boy who loves to be outside. He has the best time chasing the squirrels around his foster home. Being the only boy with two big sisters is sometimes difficult, so he does enjoy time to be alone and play video games. Ahmadrick likes watching different movies, especially those that involve super heroes. He listed his favorite superheroes as Superman, Batman, and Thor. Ahmadrick loves animals and hopes to have a pet in his forever home. Ahmadrick loves pizza, pasta, and macaroni and cheese. His favorite subjects at school are science and reading. He loves being outside and enjoys going camping, fishing, and playing football. He enjoys dancing, skate boarding, martial arts, cooking, and looking at cars. Ahmadrick is interested in trying new things and shows interest in many different types of activities.
A'Zaria, Ahmadria, and Ahmadrick have a typical sibling relationship. A'Zaria loves her younger siblings as she was a caregiver for them for many years. She has worked on stepping out of that caregiver role and being a kid. Ahmadria enjoys playing with her siblings but really enjoys one on one time with caregivers. Ahmadrick misses his other two younger siblings more than the older sisters, but they all wish to maintain a relationship. All three children are very active and interested in a variety of activities. They enjoy comedy and making each other laugh. They each love animals and hope to have a home with a pet. The siblings love being outdoors camping, riding their bikes, or going on walks. Each child has their own set of interests and love to show off their talents!
Ahmadrick hopes that he will be able to have a forever family with a mom and dad that are active. Ahmadrick's family will be able to be both loving and structured. His forever family will have time to give him focused attention to help him have confidence and have the ability to support him educationally as he catches up to his peer group.