Alinah from Texas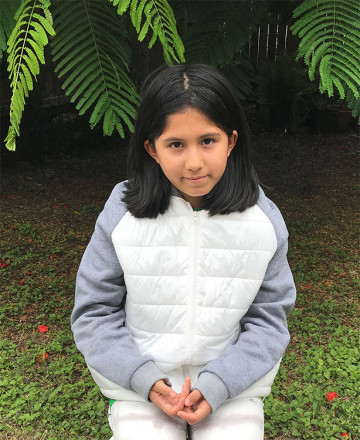 Age 11
Gender Female
Location Texas
Ethnicity Hispanic
Case Number 86385
---
Alinah is a spunky and outgoing child who is social with everyone she meets. She has a bubbly personality and her own personal style to go with it. Alinah describes herself as both "sporty and girly." She has a caring side and a big heart for those who care for her. Alinah shares her likes and dislikes. Alinah enjoys dancing, coloring, reading, and dressing up. She also likes kickboxing, swimming, and dancing her socks off! Alinah has goals of one day becoming a cheerleader. A couple of her favorite foods are pizza and tacos. She also enjoys attending church every week.
Mya, Alinah, Jenissa, Andrea, Martin, and Matthew are ready to find their forever family. Although they have individual interests, they enjoy many activities together such as playing with toys, enjoying the outdoors, and visiting parks and restaurants. The children enjoy celebrating all occasions, having fun times together on trips to the beach and zoo, and love competing with one another in bowling. Martin and Matthew are the youngest of the group and spend a lot of time with their oldest sister, Mya. Mya takes care of them and guides them through their daily activities. Mya is usually in charge when it comes to games or leading in tasks with her siblings. Alinah, Jenissa, and Andrea have a close bond and usually help Mya with caring for Martin and Matthew. Mya, Alinah, Jenissa, Andrea, Martin, and Matthew are close to one another and can usually be found entertaining each other with games and activities.
Alinah desires to be adopted by a two-parent family. She needs a patient family who will provide her with guidance as works to develop appropriate ways to direct her emotions and changes in mood. It is important for Alinah to be adopted with her siblings. She will benefit from a family who is active and will encourage her to participate in community activities. Alinah likes having fun, is respectful, and wears her heart on her sleeve. She needs a family that will provide her with a structured and stable home. Alinah will benefit from a family who will keep her focused and moving forward.