Havanna from Texas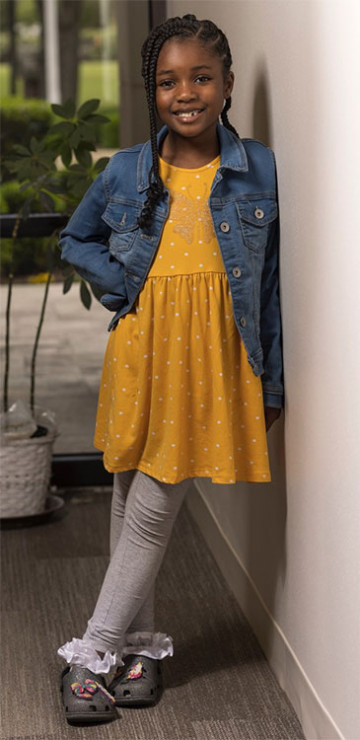 Age 7
Gender Female
Location Texas
Ethnicity African American
Case Number 100307
My Siblings Heaven
---
Havanna is a sweet and imaginative girl. She loves to be active outside by playing in the park or riding her bike. She enjoys working on her tablet and watching her favorite TV shows. She will tell you her favorite food is broccoli but truly enjoys chicken nuggets and fruit. She enjoys making people laugh and being the center of attention. Havanna's most prized possession is a photograph of her with her sister. She also enjoys playing with her Barbie dolls and her favorite Disney princess is Ariel. She likes to dress up, dance, and sing while pretending to be a Disney princess. She loves to make colorful drawings and use Disney coloring books. Havanna enjoys socializing with others and views everyone as family. Havanna will be a great addition to a loving forever family.
Heaven and Havanna are sweet, loving girls that thrive on attention and love. Heaven and Havanna love each other a lot and play very well together. Both girls have amazing imaginations and know how to use them! Heaven and Havanna's favorite things to do together are sing Kidzbop songs, dance, work on crafts and play dolls. They love playing with Barbie dolls, as they are able to make up stories about the doll's lives. Heaven and Havanna have disagreements like sisters and then are best friends the next minute. They are very protective of each other and do not like to see the other upset. Havanna is great at comforting Heaven when she is sad. They are great at sharing their toys or snacks together. Heaven is the leader and the joker of the family. Havanna is sweet and loves to be the center of attention. They will be a great addition to a loving forever family.
Havanna's forever family will be a loving and patient family. Havanna's family will set clear boundaries while still allowing her to express her personality and interests. Havanna's forever family will give her the attention and structure that she needs to continue to meet her goals. Her forever family will be supportive of her needs. Her family will be is willing to be in contact with positive biological family.