Kiyaun from Texas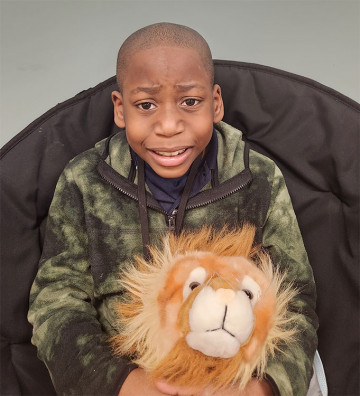 Age 9
Gender Male
Location Texas
Ethnicity African American
Case Number 106970
My Siblings Karaun
---
Ki' Yaun is a loving, funny and kind child. He loves being active outside. Ki'Yaun enjoys all things outdoors, including exploring, running, kickball, basketball, baseball and football. He wishes to be a professional football player when he becomes an adult. Ki'Yaun's favorite past time also include watching movies, making paper airplanes and playing games on his tablet. Ki' Yaun also enjoys learning how to cook new things, especially Cajun food. His favorite foods are chicken, tacos and pizza. Ki' Yaun will use his words to express his wants, desires and needs clearly. Ki' Yaun is growing into himself academically. Ki' Yaun is hesitant around adults until he becomes comfortable with them. Once comfortable, he will seek out love and affection from trusted adults. Ki' Yaun enjoys playing with other children.
Ka' Raun and Ki' Yaun have a loving, close, supportive sibling connection. Ki' Yaun is a protective big brother. Though he's the youngest, Ka' Raun is equally protective over Ki' Yaun. Ki'Yaun and Ka' Raun have normal sibling behaviors. They play well together but can be a little competitive with one another as well. Ka' Raun and Ki' Yaun can be reserved initially but will open and talk more once they get a feel for the person. They enjoy playing football, gaming on their tablets, swimming and being helpful around the house. Ka' Raun and Ki' Yaun are free-spirited and very outgoing. Each child has their own interests. Ka' Raun enjoys making things with his hands. Ki' Yaun enjoys exploring and learning new things.
Ki'Yaun will do well with a fun-loving and active family. Ki'Yaun's family will be flexible, and prepared for the rollercoaster ride as it relates to understanding and meeting his needs. Ki'Yaun's family will be patient and nurturing as he adjusts to the home. Ki'Yaun does well in a home with structure, many activities and outings, positive reinforcement, and where he can be himself. Ki'Yaun loves to be the center of attention and does well when reassured that he is loved and wanted. Ki'Yaun's greatest wish is to find a forever family who is willing to also adopt his younger brother. Ki'Yaun will thrive in a very structured environment where there are rewards for good behavior and when tasks are carried out and completed as asked.