Nevaeh from Texas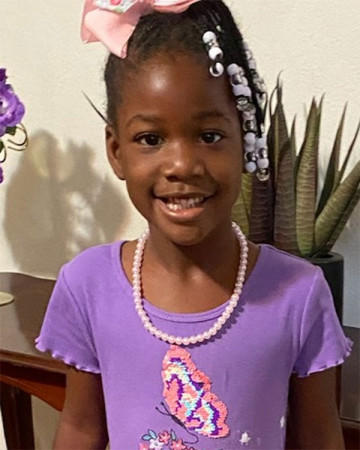 Age 7
Gender Female
Location Texas
Ethnicity African American
Case Number 95632
---
Nevaeh is friendly and enjoys giving out hugs. She likes to talk and play with her twin brother. Nevaeh loves to play outside rather than indoors. She is able to play well with others and independently. She likes a challenge while playing board games and video games. She has a great appetite and enjoys outings. She is keen to interact with people and can easily be engaged in playing with a variety of toys. She likes to be the leader. She is a lively child and likes singing, dancing and playing with dolls. She is a talker and can communicate well. She enjoys being physically active. Nevaeh likes playing with her older sibling and enjoys playing with other children her age as well. She enjoys coloring and her favorite color is red. Neveah will be a great addition to a loving and caring forever family.
Richard, Neveah and Krissa are friendly and talkative little children. Richard, Neveah and Krissa are children who love to smile and talk. They all love to give hugs and be helpful. Richard, Neveah and Krissa are very bonded and like to play with each other. They enjoy compliments and praise. Nevah and Richard like coloring and talking with each other this is a regular routine for them. Krissa likes to sing. Eating all types of food is another thing that the siblings share along with being little helpers in the kitchen. They all show each other emotional support, companionship, love and comfort. Krissa is the oldest and has the brightest smile she likes to be the leader. Neveah is the talker and enjoys big hugs. Richard is the only boy but has great creativity. This group of siblings will be a great addition to a loving and caring forever family.
Nevaeh may benefit from a two parent home. Her forever family will be patient and offer consistency. He parents will encourage her and be supportive of her. Nevaeh's forever family will be very supportive and open to adopting Nevaeh and her siblings.