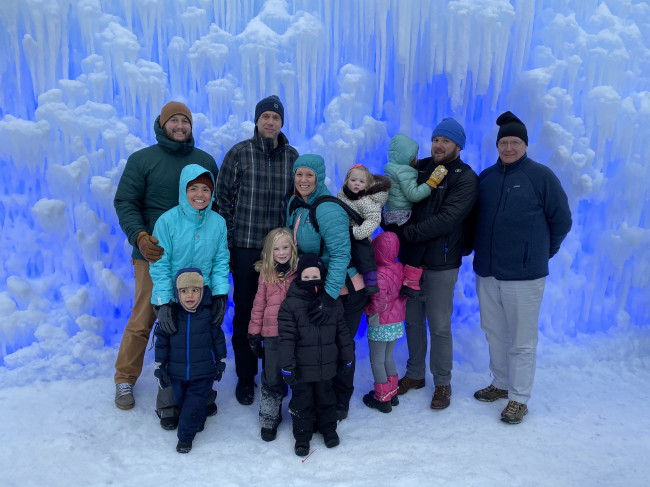 Ice Castles with Gordon's family.
Hi!
We spend a lot of time together as a family.
Our names are Gordon, Jessica, and Burton, and we are the Hardcastle Family. We hope you can get to know us a little bit better as we share a few things about ourselves. We are all about family time. On the daily you can find us playing ninjas or pirates trying to find treasure, reading books together (we have so many favorites it's hard to name just one but we are fans of the Franklin the Turtle series which is extra special because Gordon read those books when he was a little boy. Many of our Franklin books were the same ones Gordon used to read), playing board games like Zingo, and riding our bikes around our neighborhood or to our little town's country store to get some $.25 ice cream cones or buy some penny candy. We enjoy talking about our day each night at dinner time together. Burton likes to trick our dad and tell these elaborate stories about what we did that day. They usually involve dinosaurs, lions, bears, or poop. He's four years old and potty talk is hilarious to him right now. On the weekends we try to do an activity together. Recently, Burton saw people ice fishing on the lake in our town and asked if we could try it. None of us are fishermen but we researched all about it and that next Saturday we were out on the lake with success as Burton caught his first fish! We also like to go snowboarding together and teaching Burton this skill has been so amazing. He's quite the little shredder and gets better each time we take him. We also spend a lot of time with our extended family. Burton loves playing with his cousins who range in age from 24 to 2 years old. We go on yearly trips with them to Jackson, Wyoming, Bear Lake or trying to find the sun in Southern Utah during the winter months. We also do day adventures with them to places like The Ice Castles or go check out Monster Truck Jam. We also get together every Sunday for family dinner alternating between Gordon's family and Jess's family.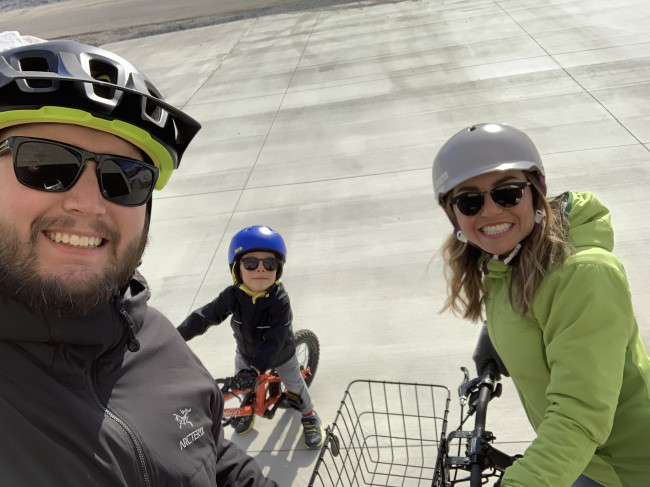 We enjoy going on family bike rides.
A little bit more about us:
We want our son's adoption to be a strength for him.
Gordon and Jess have been married for 13 years. We met in college in a public speaking class. Gordon didn't ask Jess out until the last day of the semester just in case the date didn't go well. Well it went great, we dated for 2.5 years and the rest is history! We always look forward to date night when we can reconnect. And it usually always includes our own personal pints of Ben & Jerry's ice cream. When we have individual free time Gordon likes to build or restore things (he recently built our new home!), go riding on his dirt and mountain bikes, or plan his next guys trip with his friends. Some things Jess likes to do are hike, practice Pilates and yoga, listen to audio books (the genre is always changing but I'm really enjoying child development books right now like "The Yes Brain" and "Listen"), and get together with her friends for laughs and quality girl time. Our family values include our faith, compassion and empathy, forgiveness, individuality, fairness, serving others, balance, patience, sincerity, connection, and fun. When biologically creating our own family wasn't a possibility for us, we explored other avenues to begin a family and chose to pursue adoption. We feel so blessed to have been able to start our own family through adoption. The adoption of our son, Burton, has been one of our greatest joys. We love his birth parents and their families so much. Our adoption is open with them, in varying degrees. We try to be available to their desires and work together to make sure our relationship always has Burton's best interest in mind. We want Burton's adoption to be a strength for him. The more people in his life supporting and loving him the better. Our own families have also been supportive of our choice to grow our family through adoption. Burton is treated exactly the same as all the other family members. He is deeply loved.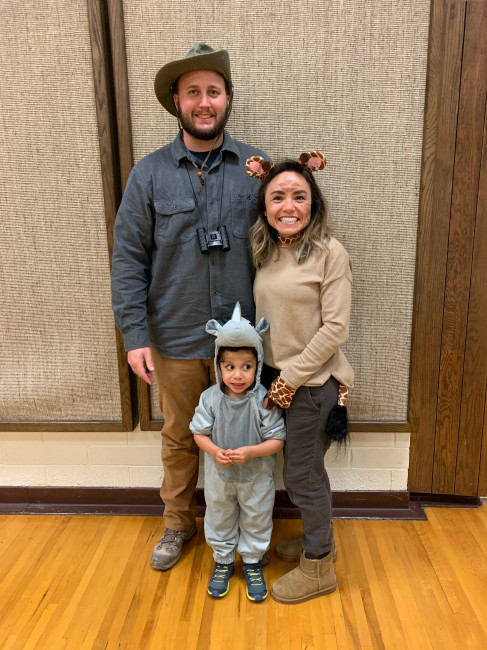 Halloween is one of our favorite holidays!
Thank You
We believe if we are able to add to our family through adoption again our family connection will only grow deeper and stronger. We had the chance to see what a family of four feels like as we recently provided foster care for Jessica's toddler nephew this past year after her brother passed away unexpectedly. Our nephew was able to be reunified with his mom and even though we full-heartedly supported this decision, we miss the extra chaos and loving bond we all had with one another. That's us in a nutshell. Thank you so much for taking the time to get to know us a bit. We feel very grateful you took the time to read our letter. Thank you.