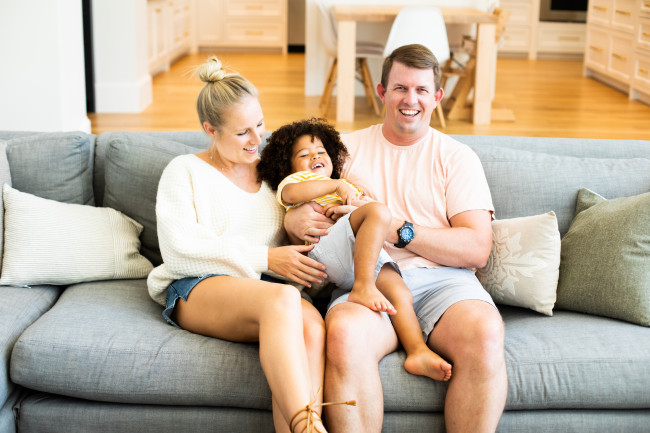 We're cheering you on!
Hi there!
You got this, girl!
We're John ("JJ") and Lauren ("Lo"), and we are currently chasing our toddler son, Miles, and his faithful sidekick, our sweet old dog, Jack. We know you're in the midst of making some really important decisions that will impact your life as well as the life of your child, and we want you to know, you're doing awesome. No one has ever been you, carrying this child, experiencing this pregnancy in these unique circumstances. So let go of any pressure to "get this right" and instead, embrace this opportunity to create beautiful futures for the both of you. You should know there are a bunch of people in Texas and in California – our extended families – who are praying for you right now, that you would feel peace, and that you would have the strength to press on and make YOUR best decision for your son or daughter, whatever that may be. You got this, girl! JJ + Lo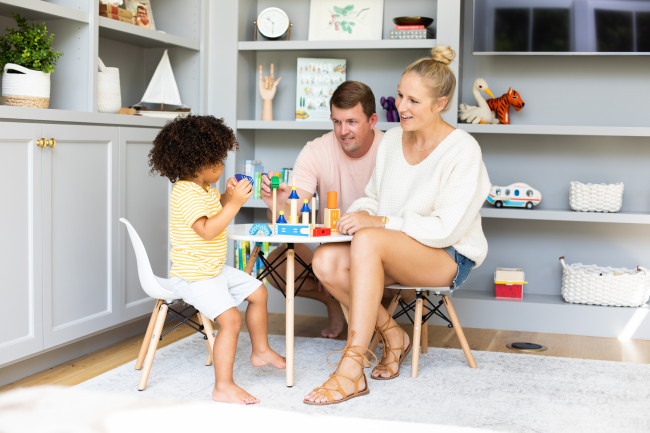 We want our children to be proud that adoption is a part of our family's story
Why Adoption
We are not experiencing infertility but have chosen adoption to start our family and to continue growing our family, God willing!
Adoption is something we've talked about ever since we started dating. Lo has always dreamed of forming her family through adoption, and JJ loves kiddos however they come! We are not experiencing infertility but have chosen adoption to start our family and to continue growing our family, God willing! We are blown away by the selflessness & sacrificial love of birth moms, and we feel called to show our respect & our support by nominating ourselves as hopeful & loving parents of a child we believe was no mistake. We believe Miles' life was planned & purposed since the beginning of time, that his birth mom was specifically chosen to be his first home, and that God formed our family with joy & intentionality. We trust that the Lord knows the future of our family, and that he is waiting with childlike expectation for us to meet the next little blessing we will be lucky enough to call our son or daughter!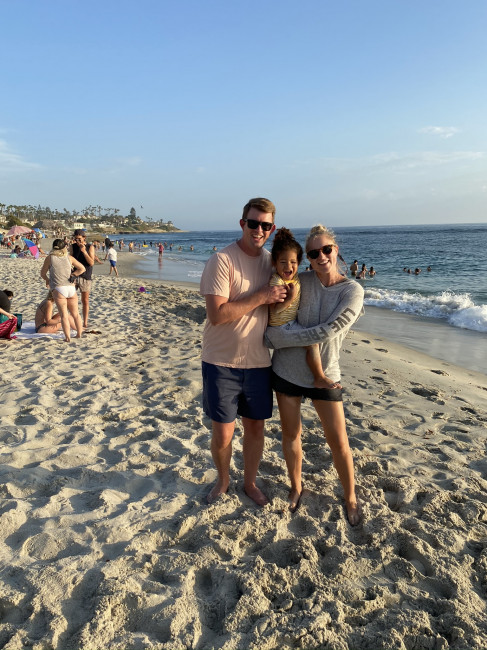 We visit our California family often & love the beach!
Meet JJ + Lo + Miles
We have the best time doing life together & can't wait to include another little person in our fun!
Meet JJ - JJ was born & raised in Texas, and attended college in Oklahoma. He's one of seven siblings and is teased about being "the favorite." Family gatherings now number 25+, and it's the most wonderful, joyful chaos! JJ works as a custom home builder, helping families build their dream homes. Miles LOVES visiting JJ's job sites & thinks his dad has the coolest job EVER! JJ is a jack of all trades – if it involves being outdoors & a proficient level of athleticism, you can bet he's done it and is really good at it! He is seen by our friends as an easygoing, fun-loving, welcoming guy who makes people feel cared-for. He is always calm, cool, & collected, and is never one to complain. He accepts challenges, setbacks, and successes in stride, and is open for whatever God has for him in each new day. Meet Lo - Lo was born & raised in Southern California, and moved to Texas after college graduation. With a business degree & a background in fashion, she helped build a home & fashion accessories company that employed refugee women resettled in Texas from all over the world. While Lo loved her work and had never planned on stepping away after kids came, it became clear that being with Miles full-time was the best choice for our family. Lo loves being with Miles full-time! Teaching him to swim, exploring wildlife at the lake nearby, doing art projects, baking, reading, playing... Lo loves being an active, present mom, and can't wait to add another little person to this party! Meet Miles - Miles is by far the greatest source of joy in our lives! He is so much fun! Miles is very active, strong, & capable. People are always shocked by how well he's climbing, swimming, riding his scooter – you name it – for how young he is. He loves being outside and is often swimming, exploring the lake & creek behind our house, riding his scooter, or playing with his trucks in our yard. Miles is very loving, and hands out hugs, kisses, and "I love you's" constantly. He is so excited to be a big brother, and has been pretending his stuffed animals are babies, wrapping them in blankets, carrying them around lovingly, and patting their backs. Miles is SMART. He doesn't miss a beat and has the best sense of humor already. He loves books and will often "read" by himself during rest time or bedtime. Miles is one of 13 cousins on JJ's side alone, and he thrives in our big family environment. He is the only grandchild on Lo's side, and has them completely wrapped around his little finger!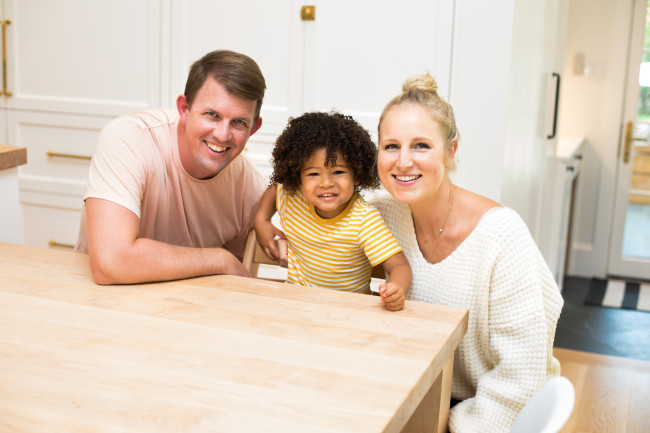 Miles' birth mom blessed our socks off when she chose us to be Miles' parents – you too are creating a beautiful legacy and you should be so so proud!
Open Adoption
We know you love your son or daughter more than anyone could fathom. And we promise, if we become his or her parents, we will do the same.
One thing we'd like you to know about us is that we're hoping for an open relationship with our next child's birth mom. We have been so thankful for Miles' sweet birth mom! We maintain a blog for her, sharing tons of pictures & updates throughout the year, and get together for visits even though she lives out of state. We love her & her sons, and want Miles to have access to them & fun memories with them for years to come. We are proud to tell Miles of how much his birth mom loves him, and we are so thankful he gets to experience that love in person. We understand everyone is different and has different needs at different times. In no way do we want you to feel pressure to commit to any visitation or communication off the bat, but we would ask that you would consider ways in which you feel comfortable being available to your child, should he or she have questions, or want a relationship of some kind. We want to know you too! But this is not about us, it's about you and your biological child, having a bond that only you will have. We can be many things for this precious child, but his biological parent is not one of them. You will always hold a special place in his or her heart, and we want to cultivate that and protect that as best we can. We know you love your son or daughter more than anyone could fathom. And we promise, if we become his or her parents, we will do the same. All our love, JJ & Lo