When I was a sophomore in high school, I sat in a desk in my health class and listened to a girl speak to us about her journey of adoption. She got pregnant at 18 years old, right after she graduated. She continued to tell us that she loved her daughter so much. She couldn't give her everything she wanted to give her child, so she decided to placed her baby girl for adoption. The heartbreak she went through was unspeakable, and I only got a small glimpse of it.
She talked about it with pride, and I could tell that she loved sharing her story. That girl inspired me. By the time the discussion was over, I was thinking to myself that if I were ever in the middle of a crisis pregnancy, then the best thing for me to do for my baby would be to place her for adoption. I never thought even for a second that I would actually be faced with the same choices.
I was only 17 when I found out that I was pregnant. I was a junior in high school. The birth father (my boyfriend at the time) and I were excited! Scared of the unknown, but excited. I never once questioned her existence and the world's need for her in it because I truly believe that there is not one baby out there that isn't supposed to be here for some reason or another. Abortion was not even an option for me.
Telling my parents was the second hardest thing I have ever done. They couldn't even eat dinner that night, they were so shocked and upset.
Seeing them this way broke my heart. Even though they were torn up about it, they were there to support me throughout all of it – they didn't tell me I had to place my baby; they were willing to help me in whatever way that I needed. They did tell me that I needed to think of what was in the best interest of my baby. I would have had so much harder of a time if they hadn't trusted me to make the decision myself. I learned that as "grown up" as I think I am, I will always need them and their love and support.
After we made sure there was a heartbeat, my parents helped me schedule a meeting with a caseworker. Mine was Krystal. Oh my goodness, I told that girl everything! I thought she would just talk about adoption and try to get me to place. It wasn't like that at all! She wanted to help me decide what was best for me. She taught me about adoption, and about single parenting. Krystal was one of my biggest supporters; she became not only my educator, but also my advocate and my friend, and I grew to love her with all of my heart. Basically, my options were to keep and single parent, keep and get married, or place for adoption. At one particular meeting, she helped me make a pros and cons list. We did pros and cons for single parenting, and compared them to the pros and cons of adoption. The results made my heart ache, and my stomach churn. The pros for single parenting didn't even compare with the pros for adoption, and there were so many cons for parenting compared to adoption.
"No, I can't do that, I can't place my baby, no."
This thought went through my head over and over again. I was at a complete loss at what to do. I felt so alone at times, knowing what was the best thing for my baby, but not knowing how I would ever be able to come to terms with it, let alone follow through with it. I turned to God. It was the only peace that I could find. I knew that I could never do this alone. I was able to have that "aha" moment that lots of birth moms talk about. I knew without any doubt in my mind that this was what I needed to do. Once I knew, I never looked back.
One of the happiest days of my life was my 20-week ultrasound. I was so excited, and I was lucky enough that the birth father was also able to come. I was so sure I was having a boy, and I loved the idea of it. The ultrasound took kind of a long time, but I loved every minute of it. I was so excited that I had to control myself from shivering. When she told me I was having a girl, I had no idea what she was seeing on the screen, but I was so elated! It was so fun to finally be able to call my baby "her" and "she."
Trying to choose a family was so overwhelming!
There were so many to choose from, and I needed not just a couple, I needed the couple. I looked for couples that didn't have any kids, because I wanted mine to be their first. I guess I wanted to be the one to give them their first baby. I wanted to keep it really personal. I didn't want to talk to too many couples, because that was just more people that I had to get their hopes up and then let them down. They had already been through so much, and I didn't want to add to the list of heartbreak. Along with that, I only wanted to meet one couple – the couple that I would choose. I had to take leap after leap of faith in contacting my first couple, my second and third, to meeting a couple. It was all so foreign and new, but I loved getting to know the couples I contacted. They all had such a special interest in me, not just what I was offering. They had a genuine interest in me, and they all became my friends. I had a really hard time deciding, mostly because I didn't want to hurt my new friends. Telling them that I wasn't going to pick them was such a hard thing to find words for; there was no sugar-coating it.
The couple that I ended up choosing is just absolutely amazing – apart from my "no other kids" theory! They already had adopted two children, a girl and a boy. My daughter would get to have siblings! It wasn't originally what I had wanted, but for weeks after telling them that I had chosen them, I was on Cloud Nine. It felt like the day after Christmas, and I knew that it was the joy and love I felt that would help me get through this seemingly impossible thing.
Pregnant and considering adoption?
Get your free adoption benefits and support bundle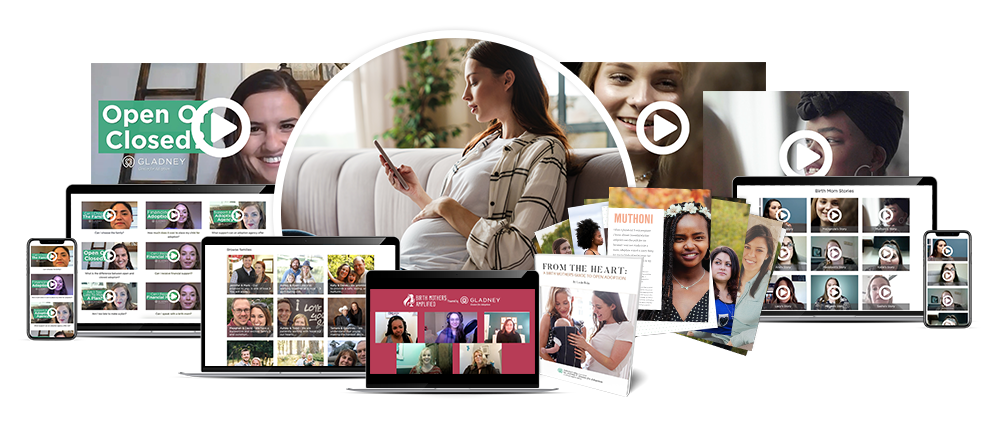 I was getting closer and closer to my due date, and I was so ready to meet my sweet daughter!
I couldn't wait for the time that I would get to spend with her in the hospital. I was three days from my due date and decided to go on a power walk. My family all went with me, and it wasn't a "power" walk for them at all, but oh I was so sore the next day, and all with no success. Two nights later I woke up because I felt something strange. Could my water have broken? I had never had any contractions, not even Braxton Hicks. And then, I finally felt my first contraction at three in the morning, laying in my bed! I woke my mom up and told her that my water had broken, and we went straight to the hospital. Luckily, I had my hospital bag mostly ready, so we just jumped in the car and were on our way.
My labor was super easy, which is something lots of people can't say, so I was lucky! I was only in labor for 9 hours from start to finish. I had kind of an audience for my daughter's birth – my mom, my daughter's birth father, his mom, and the adoptive mom. My daughter was born after three pushes, and I can still remember the first time that I finally got to lay my eyes on her. She was the most perfect and beautiful person I had ever seen. I didn't want her to ever leave my sight because I have never felt so much love for one person in my life. Nights in the hospital were my favorite part of all. I kept her on my chest to sleep, and I tried to stay awake for as long as possible because I wanted to take advantage of every minute. I just stared at her and admired every feature in her face, and her tiny fingernails and little leg rolls and the rhythm of her breathing. I would whisper to her how much I loved her and how much I was going to miss her when all of this was over, and all the things that I wanted for her would be hers soon.
When placement finally came, I felt grief and sadness, but I also felt joy and love for my daughter.
Placing my daughter was the hardest thing I have ever done. I am now eight weeks out, and I still feel a lot of grief. But, I have never for a second regretted my decision. I did something amazing. I nourished this child, I brought her into the world and felt the deepest love for her possible, and then I put her needs above my wants and gave her the most beautiful gift. Because of me, she will get the life that she deserves. I'm a birth mom, and I am proud to say it. I've learned that sometimes, blessings come in weird forms. I love adoption, it has changed my life forever!
Did you like this story? You can read more like it by downloading the FREE eBook, Stories From Birth Mothers. Click here to get it now.