I have been absolutely blessed by adoption and I just want to shout it out to everyone, I LOVE ADOPTION! I will admit before I started this process, I did not know about adoption and had heard all of the myths out there. I remember thinking to myself, if I were to ever get pregnant I would never place my baby for adoption. I wouldn't be strong enough for that. I couldn't imagine my child growing up with anyone other than me, and I knew my own mother would not let me place her grandchild.
Boy, I never would have guessed my view on this would have changed so drastically!
To start my story, I will take you back to where it all began. I had met this boy in high school and we would hang out because we had mutual friends, but nothing really came from it. After I graduated, we found ourselves hanging out more and more, which turned into dating and eventually becoming a couple. I thought he was great, and, at first, he treated me like a princess.
We had one big difference between us, and that was religion. He became curious about my faith and eventually joined my church. During this process, he lost both of his jobs and moved in with my family. Things were actually going great! At this point, we had started talking about marriage but knew that it probably wouldn't be for a little while.
Although my standards included no premarital relations, temptation got the best of me. I became pregnant in the winter of 2010. I was very scared and ashamed at first, but everyone was so supportive!
We met with our local church leader and decided to become officially engaged and plan our wedding. Being in and out of the hospital because of my pregnancy, I thought it was best to wait until after the baby was here to get married. We may have made a mistake, but I was going to try to make something positive from it. We were starting to get things ready to begin our new family, but in the back of my head, I had an uneasy feeling. I would meet with my church leader, talk to friends and family, but I would always get the same type of response. "You're pregnant, emotional, and very hormonal— it is all in your head." I didn't think it was all in my head, but I tried to move past it. I would pray and ask for guidance from my Heavenly Father, and I got my answer: Leave it alone. Maybe everything was just all in my head. The next day I tried to have a conversation with the birth father, apologizing for having these thoughts and feelings. Well, my Heavenly Father didn't want me to take the blame for something that wasn't my fault and the truth came out that very next day. After having quite the blow-up and finding out truths about the man I was about to marry and start a family with, I decided it was best that we call off the wedding.
At this point, I was seven months along and had no idea what was going to happen. I found myself crying in the bathtub, not knowing what to do next. While having my little breakdown–out of nowhere–I thought of the word "adoption." Right then a calm feeling came over me. I felt at peace. I knew right then that I needed to look into it. I walked upstairs and told my mom that I needed to make an appointment with an agency. Up until now, my mom was ready to be a grandma, so she had a really hard time when I suggested this to her, but she supported me 100%– my dad too!
I went into the agency and from then on I started meeting weekly with my caseworker. (Right here I just have to step in and say how amazing my caseworker and everyone involved was, and continues to be!)
Back to my story, the birth father kind of disappeared after we broke up and I was making this decision on my own. The things I found out about him had me very worried. I knew that I couldn't have him around my baby and I knew that I wasn't ready to be a single mother. I still felt like I was a child myself and it wouldn't be right to put the responsibility on my parents for raising my child as I try to finish college. I knew my little girl deserved a family, and especially a father. I prayed constantly for guidance and I knew my Heavenly Father wasn't just going to tell me what to do–I had to make a decision and He would let me know if it was the right thing for my little girl and me. It was getting closer and closer to my due date. My caseworker said that no matter what I decided, I needed to be prepared so that I didn't find myself at the hospital without knowing what I was going to do. I decided I would start looking at couples and see where it would lead me.
My caseworker handed me a piece of paper one day and asked me to describe my 'perfect' family–the family you would want your child to be a part of. I listed every little detail down to their hair color, their interests, their jobs, EVERYTHING! I am a die-hard fan of the school I go to and their football team so they HAD to be fans also. My caseworker just told me to take that paper home and keep it. She never did see my 'wish list'; it was just something for me to think about. I took it home and never really looked at it again.
Shortly thereafter, I went online to look at profiles. I put in all my criteria and families kept popping up. I would look at them, though they were cute, marked a favorite here and there to go back and look at, no family was really jumping out to me.
A little while later, my caseworker emailed me about five families and when I saw the picture of 'my family,' I knew that that was where my child belonged! I looked at their picture and profile every day; I had it memorized. My mom was ready to be a grandma, so even though she supported me, she was having a really hard time thinking she was about to lose her first grandchild. She would look at the families but didn't want to hear about them all the time. However, I was just so excited once I found them I had to share with her.
The family had also adopted their son and his birth mom wrote a letter on their profile and the last line read, "I didn't lose my son; I just gained an extra branch to my family tree." That really helped my mom and me.
I met with them that weekend and it was an instant connection–like we had known each other forever. I knew they were the family for my child and my caseworker allowed me to tell them right then and there, but I decided to wait and think of a cute way to share the big news!
I went shopping to find a T-shirt that said 'Big Brother' and an onesie that said 'Little Sister.' I decided I would tell them at this little Mexican restaurant I used to work at (I needed the waitresses in on my surprise). My family and I went into the restaurant earlier that day to bring the shirts and tell them what we had planned and what they needed to do. At this restaurant they give you chips and salsa before your meal, so halfway through dinner, I asked for a refill. Instead of being full of chips, it would have the cute little shirts inside. It was so awesome to see their reaction, and it was a night I will never forget! We have seen each other at least once a week since I chose them, and I haven't looked back since.
My adoptive mom went to the last few doctor appointments with me and we started going to lunch every week. I had also decided for my parents and my 'new family' to be in the room when I gave birth. My adoptive mom helped me through the delivery and my adoptive dad cut the umbilical cord. It was a very special experience for us all.
Pregnant and considering adoption?
Get your free adoption benefits and support bundle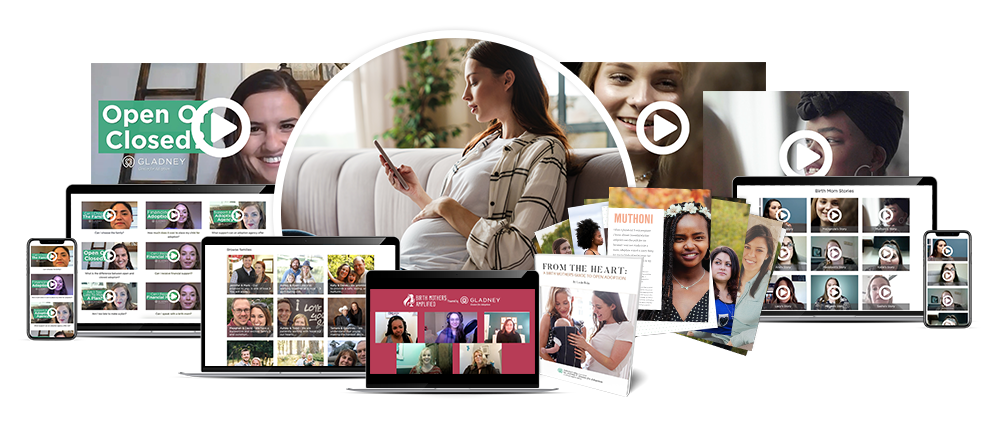 The nurse asked my adoptive mom, "Are you her mom?" She replied, "No, I am her sister!" That is exactly what we are, SISTERS! After the baby was born, I had found my 'wish list' one day and realized that had I described my adoptive family in every way, shape, and form. It was like I knew them before I even met them; it was amazing. Since the placement, those weekly lunch/dinner dates haven't stopped! We get together at least once a week, if not more, and do everything together! We spend every holiday together, and I am fortunate enough to be able to babysit whenever needed. My dad gets to babysit her every Tuesday and Thursday as well and they have such a special bond it is hard to get them apart.
As I mentioned earlier before adoption came into the works, I was getting everything ready for the arrival of the baby, but once I had made my decision I gave my new family everything we had for the baby so far. They are even saving some special things I originally bought for when I start my own family. It will be even more special to me then than when I first bought it.
Only my close family members knew I was considering adoption; I didn't tell anyone. My friends were planning baby showers for me and I just made up every excuse I could think of as to why I thought we should wait until after the birth. I needed to make this decision on my own and I didn't want anyone else's opinions weighing in. I didn't tell my best friends until two weeks after I gave birth and it came as a surprise to everyone. I placed on a Thursday and my new sister said I could come over that night and hold her if I needed to, but I waited until Sunday to go over there. I really thought it would be hard to see her for the first time, but I was actually so happy! She has the world's best brother to protect her, such an awesome father that holds the priesthood of our faith, and an amazing mother who is her everything! You can see the love and happiness in all four of them and that is what gives me such joy!
This was by far the hardest decision of my life, but I wouldn't have it any other way. I didn't give my baby up, I gave her more. I placed her with the family I couldn't give her. I did this because of how much I truly do love her and always will. I am so grateful for my new family. I don't think I could have done this without them and their love.
My parents thought they were losing their first grandchild, but little did they know, they would be gaining two! My mom and dad are still grandma and grandpa to both kids! I would like to say that this kind of openness might not work for everyone, but the relationship we have is just natural; nothing is forced. It is amazing how you can feel so overwhelmed, but once you make your decision everything seems to fall right into place. I had a really difficult time at the hospital and many tears were shed, but if tears are shed now it is out of happiness and not out of pain. Now, don't get me wrong, there are still times when I think what things would have been like with her and moments when I actually wish I still had her, but no matter what I know she is where she belongs. Those moments are brief and I don't have many, but it is human nature to wonder. It really makes me sad when people think negatively about adoption. I want to turn my experience into something positive. Every opportunity I have I will try to get rid of those negative thoughts and myths that I once heard myself. Did you like this story? Read more like it by downloading our FREE ebook, Stories from Birth Mothers. Get it here.
Are you considering placing a child for adoption? Not sure what to do next? First, know that you are not alone. Visit Adoption.org or call 1-800-ADOPT-98 to speak to one of our Options Counselors to get compassionate, nonjudgmental support. We are here to assist you in any way we can.