Are you an expectant mother and/or birth parent looking to place your child for adoption in New Jersey? If you answered yes, then reading this article will increase your knowledge and confidence about the adoption placing process. Whether you go through the adoption journey with an agency, an attorney, an adoption specialist, or on your own, there will be a detailed guide for each route. The adoption placing process in New Jersey may feel complex, but there is an abundance of helpful and informative links in this article to help you make the right choice for your child such as "Pregnant & Considering Adoption? 10 Things To Know." Also, if you're contemplating placing an older child for adoption, here's a great article to reference.
Here's what you need to know about Adoption NJ.
Choosing What Kind of Adoption You'd Want For Your Child
There are three types of adoption you can choose from: open, semi-open, or closed.
An open adoption typically involves the following:
– You are more likely to maintain a long-lasting relationship with the adoptive parents and your child after the adoption.
– Depending on what you and the adoptive family agree on, you may receive yearly letters with photos of your child or visitation times to spend with your child.
– You can avoid the ongoing worry of whether or not something bad is happening to your child.
– You'll have the empowering feeling of choosing the adoptive family you'd want your child to grow up with.
– There's no need for your child to wonder who you are as he or she gets older.
A semi-open adoption typically involves the following:
– Your identity is completely confidential, so interactions with the birth parents are assisted by an agency.
– You and the adoptive family can still communicate through letters or email.
– The agency can provide updates on the child, so you'll have fewer worries about him or her.
A closed adoption typically involves the following:
– There's absolutely no interaction between you and the adoptive family.
– You'll have full closure after your child is born/placed for adoption.
– Communication is only with an attorney or agency.
Researching the Adoption Process of the State of NJ
Adoption.com is one of the most popular websites to find hopeful adoptive families. There's plenty of loving adoptive parents with profiles there. Just simply search for New Jersey, and you'll see prospective parents from the state of New Jersey just waiting to adopt your child. The site also has pregnancy support and counseling that comes at no cost to you. The adoption professionals are trustworthy and supportive throughout the adoption plan process, and they are dedicated to helping you find the right family for your baby.
There are also forums from and for birth parents on Adoption.com, where you and others can discuss views and feelings (positive and negative) about the whole adoption placing process. There are forums about Adoption NJ as well. You'll also find many informative articles and educational resources for expectant and birth mothers under both Adoption.com's unplanned pregnancy section and on Adoption.org in the pregnancy category, like "How Do I "Put a Child Up" for Adoption" and much more.
Finding an Adoption Agency in New Jersey
New Jersey has many agencies, and this article "Adoption Agencies in NJ" has a great list of websites and agencies to start your search. There are both private agencies and public agencies. Make sure to find an agency that not only works well with expectant mothers and birth parents, but also one that works to find the perfect family with your wishes and requests in mind. Once you've done your research on agencies in New Jersey that interest you, don't be afraid to call. The agency will be there to answer any questions or concerns you have and will offer many adoption NJ services for you, such as these:
– Counseling services
– Educational classes
– Financial assistance
– Medical assistance
– Transportation
– Confidentiality
– Housing options
– Adoption choice options (whether you'd like an open, semi-open, or closed adoption)
– Legal assistance
– Providing many family profiles
– Giving you the option to parent your baby with no added pressure to choose adoption
Going through with the agency, you'll have many helpful resources, and most agencies are no cost to you as a birth mother. The agency will ask you an array of questions to help match you with the right family for your child and may ask questions such as the following:
– "Would you like an open or closed adoption?"
– "What are you looking for in an adoptive family?"
– "Do you have a preference on the religion, race, marital status, education, gender, occupation, etc. of the adoptive parents?"
– "Tell us all about your adoption plan."
Once they get all the information they need, they'll give you family profiles they believe will be a good fit based on the requests you made.
Through the adoption NJ family profiles provided to you, you'll first get to know the eager adoptive families in scrapbooks, videos, or letters. Then, once you choose a family and if you wish to meet the family face-to-face, either the agency or adoptive parents will contact you to let you know of a meeting place (a restaurant, their home, or your own home if you'd like). You should think of some good questions to ask the adoptive family. This article features questions of birth parents I personally interviewed and has some very thoughtful questions to ask hopeful adoptive families.
When you go to give birth to your child, the agency will notify the adoptive parents. You'll sign the consent papers 72 hours after the baby is born if adoption is indeed what you've decided for your child. Your agent will help you through the difficult emotions that'll arise after the birth and will help put you at ease, knowing your baby is with a wonderful family that'll take the utmost care of your child.
Hiring an Adoption Attorney Instead of an Adoption Agency
If you'd like to search for adoptive parents on your own, consider hiring an adoption attorney. Adoption NJ attorneys are throughout the state, so start with researching the ones closest to you. Many attorneys provide private adoption placement services which will help you with the complications that are likely to arise when setting up an adoption plan with eager adoptive parents. When you consult an adoption attorney, they'll make sure your rights are respected and protected so the best interests and privacy of both you and your child are preserved. The attorney will do the following:
– Advocate for both you and your child.
– Help lawfully make and keep your adoption plan the way you want it.
– Make sure all legal requirements of adoption NJ are upheld.
– Explain each decision and the pros and cons of the choices you can make as a birth parent.
– Let you choose the adoptive family and help you learn what you wish to know about them.
– Help you write a written agreement with the adoptive family about contact expectations after the adoption has taken place.
Pregnant and considering adoption?
Get your free adoption benefits and support bundle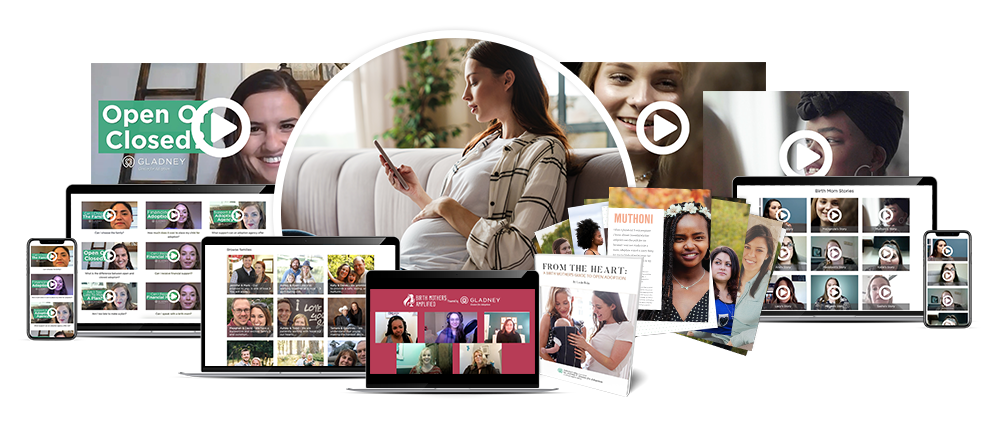 Keep in mind that the adoptive parents will have to pay the legal fees when you use an adoption attorney; this is legally permitted. This link, explaining all about an adoption attorney, is a great guide about adoption attorneys and may come in handy.
The Laws of Adoption NJ
As an expectant mother and/or birth parent wishing to place your child for adoption, it's very critical that you have knowledge of the legal aspects of adoption and know your rights. New Jersey law allows anyone over the age of 18 to adopt a child if she or he is at least 10 years older than the child and meets the following requirements:
– Have a place to live with a room for the child and his or her belongings
– Financially stable to care for the child (the state will review the income, expenses, and finances of the family wanting to adopt the child)
– Pass the home study process
Regarding adoption expenses, the family wanting to adopt your baby are authorized to pay for these things for you:
– Medical and hospital expenses for both you and your baby (including transportation)
– Counseling services (religious, vocational, and/or psychological)
– Legal fees
– Living expenses throughout your pregnancy (rent, food, clothing, shelter, etc.)
– Payments up to four weeks after the baby's birth
You can consent to the adoption of your baby 72 hours after your baby's birth. Before implementing the consent, the agency or social worker will remind you that you're signing over the rights of your baby permanently. At any time within the 72-hour time frame, you may choose to withdraw your permission to adopt and stop the process. Be cautious of that decision because if you choose to end the adoption process, you'll be responsible for the medical payments and fees that were supposed to be the adoptive parents' responsibility. Your consent must be signed and carried out by an officer, judge, or attorney permitted to grant it. Once the consent is in writing, you are no longer allowed to withdraw the adoption, and your rights are officially terminated.
If you're consenting to the adoption of your child who's over the age of 10, the child must be present at the last adoption hearing, and his or her feelings will be considered during the whole adoption process.
In New Jersey, both of the birth parents must consent to place the child for adoption, except if one or both of you has lost parenting rights through one of these circumstances:
– The father of the child denies the child is his
– There is no objection in written form to the child being adopted within 20 days of being notified
– The father has disappeared and can't be contacted or located
– Proper care of your child or contact your child was neglected
The state of New Jersey observes the Safe Haven Infant Protection Law that allows you to put your infant that's under 30 days old in the care of police or emergency room services. You'll ensure the child won't know your information or why you're placing him or her with protective services. Just know that doing this terminates your parental rights, and the baby will be put in foster care to await adoption.
Some Final Things to Consider for Adoption NJ
After the adoption, if you chose to have an open adoption, you'll probably be able to keep in contact with the adoptive family and the child by either receiving yearly letters and pictures of the child or in-person visits, as long as it's okay with both you and the adoptive parents. However, any adoption agreements made between you and the adoptive parents after the adoption won't be enforced by any laws in New Jersey.
After deciding how to go about your placement journey, you will most likely feel an array of emotions ranging from sadness and doubt to humility, knowing that you took the measures you felt were best to be sure your child got the best life possible. In New Jersey, you can still receive counseling and support after the adoption process is finalized. Know that you're not alone with these difficult feelings. If you're having trouble handling the overload of emotions after placing a child for adoption, I suggest learning from this birth mother who went through a similar situation. Talk to other birthparents about how to cope with those feelings.
Placing your child for adoption in New Jersey is a hugely courageous decision, so no matter what you do, take things one step at a time and remember you're doing the best you can do. And we're here to help you.
Are you considering placing a child for adoption? Not sure what to do next? First, know that you are not alone. Visit Adoption.org or call 1-800-ADOPT-98 to speak to one of our Options Counselors to get compassionate, nonjudgmental support. We are here to assist you in any way we can.