Halloween is a great opportunity to start a family tradition. Many families enjoy making memories like spooky themed menus, trick-or-treating, or yard décor. But if you are still searching for a tradition to involve the entire family, costumes are the place to start. Here are a few ideas to help you make this Halloween one to remember.
Costumes on a Budget
Some of the best Halloween costumes utilize what you already have. Look in your closet, garage, or the thrift store to find something that can be turned into a memorable costume. Hit up the after-Halloween sales to buy future costumes for the best prices of the year.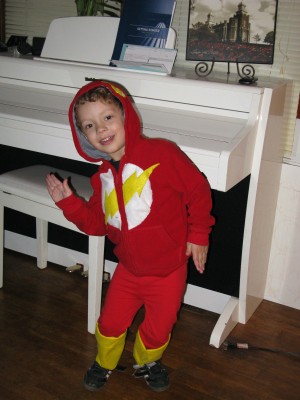 Plan for the Future
Want a costume you can reuse? Halloween costumes can make great dress-ups for children. Add some boots and gloves to super-hero pajamas, and you have a costume plus usable pajamas they will love to wear! One year I found a $5 fleece zip-up jacket, appliqued some felt in the shape of a lightning bolt, and created my son's Flash costume. The jacket became a favorite piece of clothing to wear year-round.
Choose a Theme
Choose a favorite story, historical event, or movie and make it happen! It can be fun for each member of the family to become a character and think about similarities and differences. Make a family night to prepare by reading or watching a show to get it just right. And children will have even more fun if adults join in the fun with dressing up.
Photograph, Photograph, Photograph
Pictures can make the memory last. Although the costumes will only be worn once or twice, pictures will live on. Keep an album to compare growth and costume ideas from over the years. It is bound to be a favorite for years to come. Your children can be proud of the costumes that were a success, and laugh at the ones that were not. There is no shortage of great backdrops for the season either. An old barn, a decorated yard, or even a pumpkin will help to give your photos a polished look.
Here are a few of my favorites: