Located in north-central Texas, Fort Worth is the 16th largest city in the United States. Home to the Stockyards National Historic District, an incredible zoo, and the U.S. Bureau of Engraving and Printing Western Currency Facility, where a whopping 60% of the U.S. currency is printed, Fort Worth offers a wealth of things to do and explore. If you live in Fort Worth, Texas, and are experiencing an unexpected pregnancy, this article will walk you through the first top things you need to know about Fort Worth adoption.
The first thing to know about Fort Worth adoption is that you are not alone. Every year thousands of women find themselves unexpectedly expecting in the United States. It can be a scary and challenging time for you and the expectant father, and you may feel like no one has ever walked the path you find yourself on now. The good news is that there are incredible birth parents who are happy to share their stories with you. You can read them on the Adoption.com website and hear first-hand what their experience with adoption was like.
But just as every pregnancy is different, every expectant parent is different. You may feel like parenting a child is something that you would like to do. Or you may feel like this is not the right time in your life for a child. You may have educational or career goals, you may feel like you are with the wrong partner, or you may feel like another child is too much for your family. Whatever your reason, know you have options and know you can choose how your adoption story unfolds – or if it unfolds at all.
1. There Are Many Kinds of Adoption
In Texas, there are essentially two types of adoption that expectant parents consider: private domestic adoption and kinship adoption. Private domestic adoption is the most common form of adoption in the United States.
Private domestic adoption refers to the placement and adoption of a child where both the expectant parents and the prospective adoptive parents reside within the United States. Unlike international adoption, private domestic adoption is governed and regulated by state laws. However, thanks to the Interstate Compact on the Placement of Children (ICPC), the expectant parents and prospective adoptive parents do not need to reside in the same state. State law is applicable where the expecting parents reside. So for Fort Worth adoption, Texas adoption laws would apply.
In private domestic adoption, you, as the expectant parent, may choose the prospective adoptive parents for your child either through using an adoption agency or by using an adoption facilitator. You may also choose to place your child with an adoption agency, which will choose the right prospective adoptive parents for you. Once the child is born, should you choose to place your child, you will consent to your child's adoption by the adoptive parents, and your parental rights will be terminated. The adoptive parents will then become the legal guardians of your child. Because adoption is a legal action, you will have an attorney who will work with you. The adoption is then finalized in a court of law. It can be overwhelming to think about the steps needed to complete an adoption, but a good adoption agency will walk you through every step of your journey.
The other type of Fort Worth adoption some expectant parents might explore is kinship adoption. Kinship adoption is similar to private domestic adoption, but in kinship adoption, the prospective adoptive parents are biologically related to the adoptive child. Infant kinship adoption does not occur too frequently. Still, if you do have biological family members with whom you may wish to place your child, the journey to kinship adoption is similar to private domestic adoption in that you would need to engage a family law attorney, and the adoption would need to be finalized in a court of law.
When you are unexpectedly expecting, the birth father may or may not be in the picture. If he is in the picture, you will need to inform him of your intentions to place your child for adoption.
2. A Good Agency Can Be Your Guide
Finding out you are unexpectedly expecting can feel like stepping into an elevator and having that elevator suddenly go into free fall. It may be that your world is turning upside down right now, and the decisions you have in front of you may feel like mountains. Take a deep breath. You are not alone, and just as there are many others who have faced this moment, there are many incredible adoption agencies out there that can help you find your way.
There are many adoption agencies to work with, but a good, nationally recognized adoption agency will be with you through every step of the process. At Gladney, for example, the first step is to consult an options counselor who will help you think through the various options you have. If, after discussion and reflection, you decide you want to move forward with placing your child, then the adoption agency will put you in touch with counselors who will help you work through the incredible emotions and decisions surrounding placing a child. If the expectant father is in the picture, your counselor will help you find a way to share the news of your pregnancy if you have not done so already. If for any reason, you do not feel comfortable sharing the news of your pregnancy or if you feel unsafe meeting the expectant father, your counselor may do so on your behalf. In some instances, your adoption attorney may do this as well. If the expectant father is not in the picture, then your adoption agency will research the putative father registry to see if the expectant father is registered there. If the expectant father is registered, he will be notified of both your pregnancy and your choice to place the child. The expectant father then has sixty days to respond. If he does not respond, he has no legal rights to the child, and you, as the expectant mother, can make whatever decision you feel is best for yourself and your child.
3. You May Choose Your Child's Placement
One of the biggest questions many expectant parents have is – Can I decide where I place my child? The answer is a resounding yes, but only if you want to do so. Your adoption agency will help you think through what type of adoptive parents you want for your child. Do you want your child to be raised in an urban setting, like Dallas or Fort Worth? Or do you picture them somewhere on the plains or on a ranch? Do you imagine your child being raised in Texas, or are you open to them living in Connecticut or California? How important is religion to you? How important is it that your child looks like their adoptive parents? What values and traditions do you hope your child has? What hobbies and passions do you hope they have? Do you envision your child in a two-parent household, or are you open to single parents? What about same-sex parents? Working with your counselor, you will talk through all these factors to hone in on which prospective adoptive parents might be right for you.
A good adoption agency will have a number of parent profiles for you to review. Read their words, listen to their stories, watch their videos, and go through their pictures. Remembering there are truly no wrong answers, what speaks to you? The good news is that every prospective adoptive parent with a profile has gone through the home study process and completed both child abuse and neglect and security clearances. Through the home study, they too have considered what they hope to find in both a birth parent and an adoptive child.
Pregnant and considering adoption?
Get your free adoption benefits and support bundle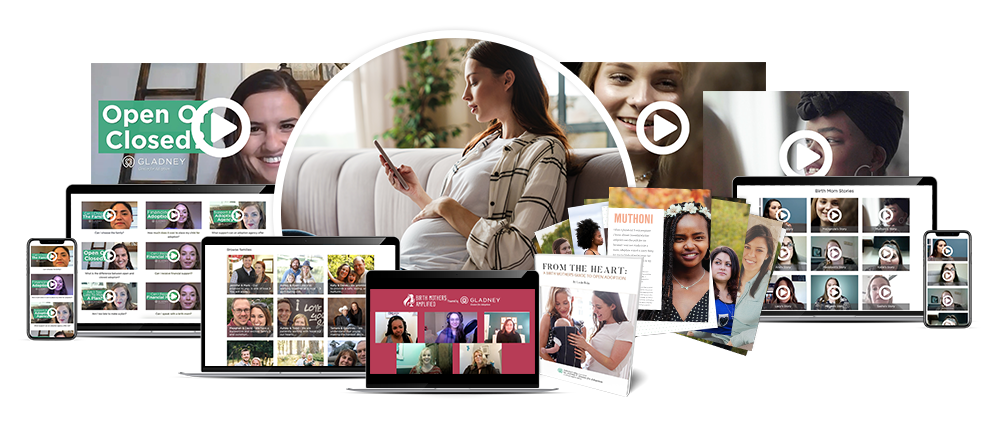 Another thing to consider when evaluating prospective adoptive parents is what kind of adoption you want to have. In the United States, there is both open adoption and closed adoption, though semi-open is the most prevalent. Open (or semi-open) adoption refers to the level of contact you have with the adoptive parents and your child. Contact may be in the form of letters, emails, video chats, telephone calls, or even in-person gatherings. The level of contact is up to you and the adoptive parents, and a post-adoption contact contract is recommended. In fact, post-adoption contracts are legally enforceable in Fort Worth adoption, so both sides must agree to the terms before the adoption is finalized. Conversely, should you wish to pursue a closed adoption, then the adoption agency will place your child, and you will not have any knowledge of with whom the child was placed. The child will grow up understanding they are adopted, but they may not obtain any information as to their biological parents until they are 18 years of age.
4. You Will Have Support Throughout Your Pregnancy
Choosing to place a child is an incredibly difficult, loving decision to make. In the state of Texas, it will cost you absolutely nothing to place your child. Texas adoption laws place no limits on birth parent expenses, so you can expect to have any attorney, counseling, or medical fees not covered by your insurance or Medicaid to be covered by the prospective adoptive parents (by way of your adoption agency). Reasonable living expenses and transportation expenses related to your health, legal, and counseling appointments may also be covered. Your adoption agency will help you outline what expenses you need to be covered, and all reimbursements will be provided by them (on behalf of the prospective adoptive parents). When the adoption is finalized, typically, these expenses are presented to the court, though there is no concrete mention of this in the Texas adoption law statutes.
In the lead-up to your delivery day, your counselor will work with you to develop a hospital plan to ensure your wishes are met when the child arrives. Delivery day will be physically and emotionally draining, so it is important to think about things, such as who you want in the delivery room with you and who you want to hold the baby first, ahead of time. Your counselor will inform the hospital staff of your wishes, and should you change your mind at any time, that will be okay too.
5. You Must Consent to the Adoption
When your child is born, you may choose for the child to remain with you or for the child to go under the care of the prospective adoptive parents. This is a decision you will make ahead of time, though again, if your wishes change the day of, that will be okay. The birth mother may not consent to the adoption until 48 hours after the child is born. The birth father may consent to the adoption at any time after the child is born or even during the pregnancy. If, after the child is born, you decide to parent, then your adoption agency will support you in your decision. You have absolutely no obligation – legal or otherwise – to place your child should you not wish to do so. Even after consenting to the adoption, in Texas, you have 11 days to revoke consent after it is given. If you do not revoke your consent to the adoption after 11 days, the adoption will become finalized, and you will officially become a birth parent.
But your Fort Worth adoption journey does not end after you place your child. One of the benefits of working with an adoption agency is that they will help you discern your educational and career goals. They can even support you financially post-placement to meet them. Additionally, you will have access to support groups of incredible individuals, like yourself, who are fellow birth parents. It is not uncommon to experience sadness, doubt, depression, and even relief post-placement, and these support groups can be instrumental in helping you on to your next chapter.
Interested to learn more about Fort Worth adoption? Gladney Center for Adoption is actually based in Texas, and they have tons of offices throughout the state where counselors are on hand to answer any questions you may have. And remember, speaking to a counselor does not mean you are making a decision. It means you are doing your research to decide what is best for you and your child. And if you do choose adoption? Know you are making the most loving, caring, selfish decision you will ever make.
Find Resources Near You
Are you considering placing a child for adoption? Do you want more choices with your adoption plan? Do you want to regain more control in your life? Visit Adoption.org or call 1-800-ADOPT-98. We can help you put together an adoption plan that best meets your needs.